Written by Kyle Dennis and Scott Matusow. Both authors have long positions in Halozyme.
It's very rare that we come across a speculative biotech company that we feel warrants a longer-term hold. It is hard to find these companies because we not only look for an undervalued company with a deep pipeline, but also strong management that is driving shareholder value. Sometimes it is wise to trade catalysts in the biotech sector while other times holding for a long period can net huge gains.
Halozyme (HALO) is one company we feel can capitalize on its pipeline and drive shareholder value in the longer term. Halozyme is a biopharmaceutical company that engages in research, development and commercialization of human enzymes. The management has proven it can successfully bring a drug in its pipeline from clinical trials and move it all the way through approval, already completing this three times. Additionally, larger biopharmaceutical companies have taken notice of Halozyme's pipeline and have agreed to several strategic relationships.
With products treating indications for diabetes, breast cancer, Non-Hodgkin's lymphoma and rheumatoid arthritis, Halozyme has a wide pipeline. We feel Halozyme provides investors with a unique opportunity to invest in a company that has a proven track record of success, while still having multiple products that can drive shareholder value in the future.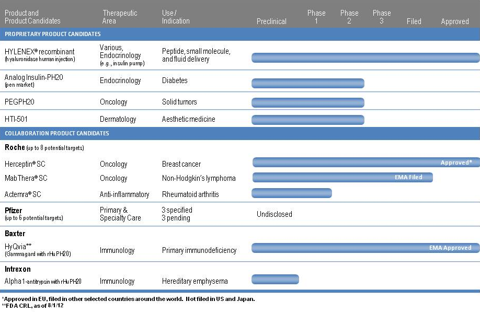 Halozyme's proprietary Enhaze technology consists of a recombinant (synthetic) enzyme called Hylenex (rHuPH20). It enables better absorption of existing drugs into the body subcutaneously. This particular enzyme temporarily degrades hyaluronan so that drugs pass through the skin with more ease. Hyaluronan is a structural component of the subcutaneous space that is just beneath the outside surface of the human skin. When the enzyme is injected into the skin subcutaneously, hyaluronan is compromised for up to twenty-four hours so that small molecules such as monoclonal antibodies and large therapeutic molecules can easily pass through the skin into the blood. With the hyaluronan temporarily degraded, molecules as large as 200 nanometers may pass freely through the subcutaneous space.
There are many benefits from allowing the drugs to be delivered subcutaneously as opposed to intravenously. Just recently this asset has been validated by two major events. First being the massive collaboration and license agreement with Pfizer, which will allow the company to combine up to six of their drugs with Halozyme's patented recombinant human hyaluronidase enzyme, rHuPH20, while Halozyme may receive up to $507 million in milestones and royalties. Three of these six drugs have already been chosen by Pfizer but not specified.
The second event is the European approval of Herceptin SC which uses Halozyme's proprietary Enhaze technology. Herceptin SC enables the delivery of Roche's Hereceptin. With sales of Herceptin adding up to over $6 billion in worldwide sales last year, this approval could equate to a lot of cash for Halozyme. Baxter's HyQvia uses Halozyme's technology as well, and also got marketing approval in the EU in May. With this recent validation of Halozyme's rHuPH20, as well as a number of near-term catalysts, we believe Halozyme is still significantly undervalued.
Product Catalysts:
Herceptin SC was one of two monoclonal antibody therapies combined with Halozyme's proprietary delivery technology to have received a positive opinion by the CHMP (Committee for Medicinal Products for Human Use). The second therapy is MabThera SC, or Rituximab, with trade name Rituxan.
Rituxan was approved in the US in 1997 for the treatment of non-Hodgkin's lymphoma. With validation of the approval of the monoclonal antibody Herceptin SC, it's looking like MabThera will also be getting a good opinion in favor of the line extension application for MabThera to be used subcutaneously. The CHMP meeting is scheduled for September 16-19th. It is also extremely important to note that a member of PRAC (Pharmacovigilance Risk Assessment Committee) gave MabThera a positive endorsement and perhaps signals good news coming later this week. Here is what committee member Doris Stenver stated in the minutes released from the May meeting of this year:
As per agreed criteria, the PRAC endorsed without further planary discussion the conclusions of the Rapporteur on the assessment of this updated 9.1 of the RMP for the above mentioned medicine provided in support of a variation for a line extension to add subcutaneous route of administration.
The Pharmacovigilance Risk Assessment Committee (OTCPK:PRAC) is the committee at the EMA that is responsible for assessing and monitoring safety issues for human medicines. From this statement and endorsement, it is reasonable to speculate that MabThera will be getting a positive opinion this upcoming week.
Halozyme is developing PEGPH20 ((PEGylated recombinant human hyaluronidase) in combination with gemcitabine (chemotherapy) for the treatment of patients with stage IV metastatic pancreatic cancer. Positive results were released at ASCO in June of this year pertaining to the Phase Ib trial studying PEGPH20/gemcitabine. Preliminary safety and efficacy data were released with very good response rates. Halozyme is to present more extensive data on it pancreatic cancer therapy at the 32nd European Cancer Congress (ESMO) at the end of September of this year.
Overall survival and progression free survival rates will be presented at a poster session at ESMO. Pancreatic cancer is one of the most difficult cancers to treat with non-chemo therapies, so a breakthrough here would definitely be welcomed in this market.
We believe Halo could see a similar run in stock price to what Celldex Therapeutics (CLDX) saw over the last year or so. Celldex is developing rindopepimut, an immunotherapy that targets the tumor specific oncogene called EGFRvIII, and CDX-011, a fully-human monoclonal antibody-drug conjugate (ADC) that targets glycoprotein NMB (GPNMB). CDX-011 might have the most potential for Celldex, as it targets GPNMB. GPNMD is a protein overexpressed by multiple tumor types, including melanoma, breast cancer and gliomas, which have huge market potential.
Cancer drugs that treat unmet needs tend to receive more speculation value over others, mainly because the companies who make and market these drugs can charge pretty much what they want for the treatment. Insurance companies under current law are required to pay for these treatments. This is why we see some of these small-cap biotech companies with potential unmet need drugs being acquired for hefty premiums.
The third catalyst is a floating catalyst with no real set time or date, yet an extremely large one. In December of 2012, Pfizer (PFE) partnered with Halozyme to develop up to six of its therapies with Halozyme's delivery technology. Three drugs have already been chosen by Pfizer and three more are still pending.
There has been no news yet of which drugs have been targeted by Pfizer, but in late June there were talks of Pfizer developing a subcutaneous heart drug in clinical trials. We can speculate that this would be a subcutaneous version of Pfizer's Inspra if the rumors were true. Despite what the targeted therapies are, it's a sure bet that a news release on which three are in development will be quite a ground-breaking catalyst.
Insider Buying and Option Activity
Recently, company director Kathryn E. Falberg bought $681.6K of the company's stock, at an average cost of $6.82 a share. This "buy" was not an option grant, but an actual open market buy, where she is actually risking her own money. Falberg has had major success before investing in a company where she was a sitting board member. On 08/31/2010 Falberg bought 50,000 shares of Jazz Pharma (JAZZ) at an average price of $8.72 a share. Jazz has three major drugs on the market - Xyrem for the treatment of cataplexy and excessive daytime sleepiness in patients with narcolepsy, Erwinaze to treat acute lymphoblastic leukemia, and Prialt for the management of severe chronic pain. All of these have proven to be successful for the company. Lately, the buzz surrounding Jazz has been its rumored acquisition interest, causing a further rally in the stock to over $88 a share.
Halo reminds us of Jazz Pharma quite a bit, as its business model is similar -- starting out as a royalty based company, and using those royalties to grow its proprietary products. Also, David A Ramsay, Halozyme Therapeutics's VP and Chief Financial Officer, recently acquired 130,000 shares on September 16, 2013. Ramsay now owns 236,735 shares of the company.
Baker Brothers LLC holds at least 6,553,150 shares of Halo, which is also significant, considering the recent success it has had with ACADIA Pharma (ACAD), buying shares when Acadia's stock was selling for under $2 per share. Many investors felt ACADIA was a long shot at best to receive positive data from its 2nd Phase III trial of pimavanserin, which is designed to treat Parkinson's disease psychosis (PDP). However, on November 27th, 2012, the company reported positive data results, prompting a huge rally in the stock that has continued to this day. Pimavanserin, if approved by the FDA, could be worth billions to the company and its investors.
The Bakers received much notoriety for its Acadia buy, as the stock has appreciated over 1000% in less than one year. While we do not feel Halo has the type of price appreciation potential as Acadia, we do believe the stock will see gains over 100% in the next year or so.
A key characteristic of a good biotech company is the ability of management to lever assets and drive shareholder value. Obtaining partnerships allows for the company to bring products to market at a reduced cost. This generates a cash flow to further other products in the pipeline. On the company website, Chief Executive Officer Gregory I. Frost states:
Expanding our pipeline through collaboration with leading biopharmaceutical companies is a mainstay of Halozyme's business strategy.
It's reassuring that the CEO knows that building the company through partnerships is a smart long-term strategy. By diversifying the pipeline, the company de-risks some of its assets to try to further its proprietary drugs.
It is usually a positive investment factor when a company's technology is backed by several big biotechnology companies. We have found that the companies that are able to obtain validation from several large biopharmas have a higher rate of success. On its website the company states:
We enter into collaborations with biotechnology and pharmaceutical companies to help improve their existing products, to advance the development and commercialization of our partners' new products, as well as to supplement our own internal pipeline. We currently have technology licensing agreements for our proprietary rHuPH20 enzyme technology with Hoffman-La Roche, Pfizer, Baxter Healthcare, ViroPharma Incorporated and Intrexon. These partnerships generate funding for our company through licensing fees and development milestones. We also participate in the future success of these programs through commercial milestone and royalty payments.
Roche, Pfizer and Baxter (NYSE:BAX) are three strong partners to have as a developmental company. Through these partnerships, Halozyme is able to receive milestone payments to fund their operations. These milestone payments are key because Halozyme burns $53M.
Biotech Investors are always looking for the next small-cap company that in time becomes a mid to large cap company. As mentioned, Jazz Pharma was trading at $8.32 when Kathryn E. Falberg bought 50,000 shares of it. Falberg has been a big winner with Jazz, and obviously, she feels she will be a big winner with Halo. Falberg's $681.6K buy of Halo is very significant here, and investors should take note of this.
Halo is engaged in a smart business model, raising money via royalty deals with various well-known and respected large pharmas. This should allow for steady growth and proper leverage for its proprietary pancreatic cancer drug. Management appears to be very capable here, unlike many developmental small-cap biotechs who have potentially good products but poor business management. First and foremost, biotech is a business, and in the end, after all the hype and excitement wears off a company's "potential." it will always come down to earnings. We feel Halo has an excellent chance to be another Jazz Pharma. When considering Falberg's open market buy, we aren't alone in our opinion here.
Our one-year price target opinion is somewhere between $18 and $21 a share, depending on the success or failure of PEGPH20 in further clinical trials. Our short term target opinion is $10 to $10.25 running into the near-term catalyst events by the end of the current month.
Disclosure: I am long HALO. I wrote this article myself, and it expresses my own opinions. I am not receiving compensation for it. I have no business relationship with any company whose stock is mentioned in this article.
Additional disclosure: Disclaimer: This article is intended for informational and entertainment use only, and should not be construed as professional investment advice. They are my opinions only. Trading stocks is risky -- always be sure to know and understand your risk tolerance. You can incur substantial financial losses in any trade or investment. Always do your own due diligence before buying and selling any stock, and/or consult with a licensed financial adviser.