Sometimes the diamonds get lost in the coal bin. Hertz Global Holdings, Inc. (NYSE:HTZ) has a reasonable valuation and high expected earnings growth. As quarterly earnings are reported, valuation calculations can change overnight -- even without a surprise report. Should HTZ hit its numbers over the next four months, the stock will carry a P/E of 14 and have an earnings growth rate of 42%. That spells opportunity. This article looks more closely at the "why" and "how" for this situation. At the end of the article, I present a case for HTZ returning 33% per year to a buyer who holds the common stock for the next two years.
Accurate Estimates
Sometime around Oct. 28, Hertz will report their third-quarter earnings. As of Sept. 13, Yahoo Finance reports that eight analysts expect a mean of 80 cents per share for the quarter. A fairly tight consensus of nine analysts predict $1.89 for the current year and $2.44 for the coming year. Should we believe the expected numbers? Hertz has surprised to the upside 11 out of the last 12 quarters, meaning that actual numbers reported have been more than 2% above the census estimated number over 90% of the time. The one other quarter was in line with the census. There were no quarters in which Hertz did not match or exceed the estimates (within 2%). Bottom line: Consensus estimates have pretty good validity.
Getting Year-Round Returns
Third quarters have always been Hertz's big profit quarters. Over the last three full years, third quarters have accounted for 77%, 53%, and 47% of full-year earnings, respectively.
Click to enlarge images.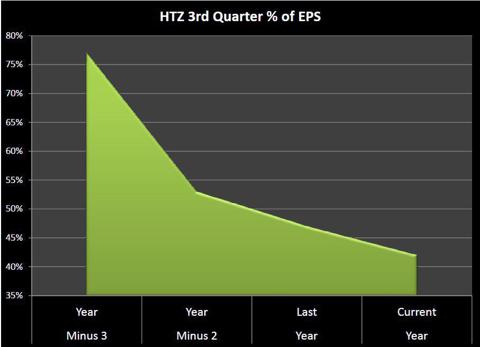 The current year, if estimates are correct, will bring in a third quarter at 42% of full-year earnings. So this third quarter weighting is declining, the result of Hertz getting a better year-round return from their fixed-cost investments. Good stuff here.
Valuation
The current annual EPS estimate for HTZ is $1.89, a 42% increase from the last full year's $1.33. Estimates for the next year's EPS of $2.44 and $3.00 represent growth rates of 29% and 23%, respectively.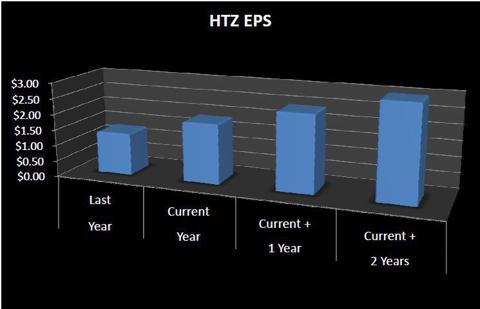 Remembering that stock prices are typically indicators of future earnings, the key question is: What P/E should the market assign to a company's stock that is growing at such a rapid rate? I tend to be conservative in this portion of my analysis; I only use PEGs below one.
A good yardstick here is to look at the market P/E for Avis (NASDAQ:CAR). CAR carries a P/E of 21 and is not expected to grow EPS at anywhere near the speed of HTZ. Based on the expected growth rate, I would be very comfortable (and conservative) expecting HTZ to carry a P/E of 18. Note that means I am allowing for a substantial P/E compression from today's P/E of 35.
Making the Call
So, HTZ seems to have a high probability of hitting $1.89 and then $2.44 in annual earnings per share. It also seems reasonable that HTZ should carry a valuation of at least 18 times earnings, based on the industry, and on the earnings growth rate predicted. The math is simple, a stock will price at its P/E times its earnings. The call: HTZ stock price in two years will be 18 x 2.44, or about $44 per share. That is a return of about 33% per year each for both this year and next. I believe that the Oct. 28 third-quarter report will confirm and support this thesis, and a buyer would be advantaged by entering the stock prior to the report.
The Risks
This analysis is based on estimated future earnings for HTZ. Although Hertz's track record for hitting earnings estimates is excellent, a failure to achieve the expected growth would undermine the thesis.
Disclosure: I am long HTZ since January of 2013 and do not intend to add to or sell that position in the next 72 hours. I wrote this article myself, and it expresses my own opinions. I am not receiving compensation for it (other than from Seeking Alpha). I have no business relationship with any company whose stock is mentioned in this article.