Nice chart from ChangeWave showing Apple (NASDAQ:AAPL) challenging RIM's (RIMM) market share. Been negative on RIM for a while and I think the share losses will continue--not just from Apple but most especially Android.
Click to enlarge: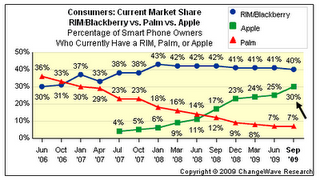 Forget the current chart though, what will the chart look like 4 years from now?

I think the lines may look somewhat similar, with Apple up as the top blue line, and Google's (NASDAQ:GOOG) Android as the challenger. Here are a couple of reasons why with a final prediction at the end:
Apple's software platform and OS are too closed. It's a bit too capricious and is rather blatant about keeping competitive apps off the iPhone. This pattern is very similar to the OS wars between Apple and Microsoft. In the end, the crappier software won the day because their platform was open.
Google is a bit different than Microsoft in the sense that they are not horrible coders. In fact, they are quite good at software which is the most important piece of the handset puzzle. Google also has a huge base of web users that can be leveraged into the mobile handset world. And again, unlike Microsoft (NASDAQ:MSFT), Google does not make bad software.
Apple's strategy gets it higher margins in the short term, but what happens in the long term as Android starts to challenge its growth? The same thing that occurred in the war for the desktop can happen again in the war for the handset.
Android is really quite good. The platform has a lot of potential.
My last call was that Apple would trounce Blackberry and Nokia (NYSE:NOK) would continue to lose share. I think that trend will continue. My next call--3-4 years out is that Android will eventually cap Apple's market share growth and eventually win this war--or at least most of the major battles. I think Apple risks the same outcome as before--snatching defeat from the jaws of victory if it doesn't loosen its grip on its platform.
To appease the disclosure gods. Minor position in Apple Calls (most of the position was sold after earnings), and Long Google Leaps.