Over the past two months, the IPO market has heated up, allowing companies and private investors to access liquidity by selling new shares to the public. While the performance of these deals have varied from company to company, Verisk Analytics (NASDAQ:VRSK) turned out to be one of the better managed, more profitable transactions for investors. The stock was offered to the public on October 7th at $22 per share and closed above $28.50 on Tuesday for an attractive gain of nearly 30%
The deal was underwritten by Bank of America (NYSE:BAC) and Morgan Stanley (NYSE:MS) along with a syndicate of supporting cast. Although Bank of America was not considered one of the top tier underwriters for the majority of this decade, their acquisition of Merrill Lynch during the financial meltdown has given them access to a large pool of retail and institutional investors which makes placing IPOs and secondary offerings a bit easier.
It is interesting to watch the trend in underwriting fees which used to be incredibly lucrative for these introducing firms. While the profit margins are still relatively fat, Verisk Analytics only offered the underwriters 88 cents per share for the offering which represents a 4% haircut. A few years ago, this underwriting discount could easily have topped 8 to even 10% of the offering price.
Looking at the details of the transaction, it immediately becomes clear that the entire amount of the $1.8 billion raised in the offering goes to selling shareholders with no capital actually flowing to Verisk as a company. This would usually be considered a black mark against the deal, but Verisk is a different animal. The company was actually owned by a broad assortment of top tier insurance companies including American International Group (NYSE:AIG), Berkshire Hathaway (NYSE:BRK.A), CNA Financial (NYSE:CNA), Hartford Financial Services Group (NYSE:HIG) and Travelers.
Verisk was created by these insurance companies as a third party risk analysis and decision support vehicle. Verisk has built a well-recognized skill base in determining risks associated with a number of different industries, and providing decision support tools allowing clients to properly price, manage, and avoid risks associated with their individual businesses. The decision to spin off the company appears to be an important liquidity event for these insurance companies, many of which could use some additional stability in their balance sheets.
Earnings have been relatively stable over the past five years with Verisk growing pro-forma EPS from 79 cents per share in 2004 to $1.26 per share in 2008. The first two quarters of 2009 showed attractive growth with revenue increasing by 14% and 16% respectively and earnings up 9% to 16%. So far there have been no official consensus estimates for the full year or for 2010 due to the fact that so many underwriters were assisting on the deal and they are barred from issuing an opinion on the stock for about 30 days. Over the next several weeks we should see these research firms quickly initiate coverage and offer guidance for earnings.
The risk assessment business will likely face significant demand over the next several years as Wall Street and Main Street adjust to the new dynamics of a (hopefully) post recession world. With VRSK now operating as its own independent business apart from the founding insurance companies, the firm should be able to diversify its client base and expand into promising industries. In fact, the company recently hired Vince McCarthy who has extensive experience in corporate finance and M&A (Mergers and Acquisitions). The title of Sr. VP – Corporate Development and Strategy indicates that the company is exploring opportunities to broaden its reach and develop new business lines.
Investors in VRSK are paying a relatively high premium for the potential growth. Currently, the published PE for VRSK is 21 which is in line with Risk Metrics Group (RMG) which operates in a similar field. I would expect a bit of a pullback in the stock over the next two weeks as the 30 day restriction on trading is lifted and a few investors cash in on their profitable position. However, the long-term prospects for this industry are very good and I expect VRSK to begin a steady climb once the IPO trading dynamics have played out. Investors may want to try to accumulate shares near $24 if they have the opportunity with the intent of holding into the $30's over the next 12 months.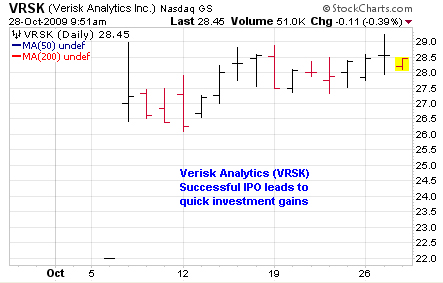 Disclosure: Author does not have a position in VRSK