Although AT&T Inc.'s (NYSE:T) share price of $34.50 is close to my fair intrinsic value of $37.50, it still pays a strong 5.25% dividend yield ($1.80/share) to its shareholders. AT&T also generates ample free cash flows to buy back shares, to sustain the dividend and to grow the dividend by 2-3% annually. I do not believe AT&T is an undervalued stock because its forward PE of 12.75X (based on projected FY 2014 EPS) is higher than its March 2009 forward PE of 9.4X (based on its adjusted FY 2010 EPS of $2.29). However, I do not believe AT&T is an overvalued stock because its forward PE of 12.75X is lower than its September 2007 forward PE of 19.9X (based on FY 2008 EPS of $2.16).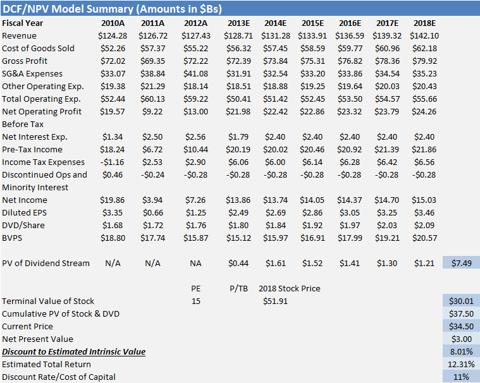 Source: Morningstar Direct and my forecasts
Evaluation of AT&T Wireless
The good news for AT&T shareholders is that revenue growth at AT&T Wireless continues to offset revenue declines at AT&T Wireline. The bad news is that Verizon Wireless (NYSE:VZ) has been outperforming AT&T Wireless over the last three years since AT&T lost its exclusive right to sell Apple's (NASDAQ:AAPL) iPhone and iPad devices. This explains why Verizon Wireless's revenue growth rate has exceeded AT&T Wireless's over the last three years. AT&T Wireless's Q2 2013 revenues grew by 5.7% versus Q2 2012 levels. Wireless service revenues grew by 4.1%, aided by 19.8% growth in data revenues. Equipment, voice and other services revenues grew by $53M (0.44%) in Q2 2013 versus Q2 2012 due to increased smartphone sales offsetting reduced access and airtime charges during the quarter. AT&T Wireless's data revenues grew by $885M (19.8%) in Q2 2013 versus Q2 2012 due to 50% growth in smartphone data usage.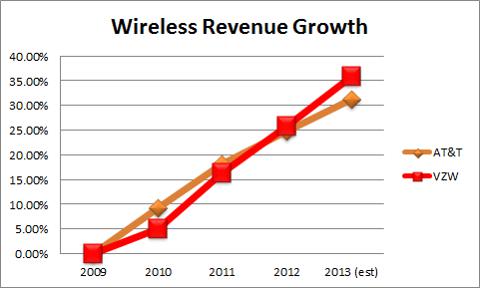 Source: Morningstar Direct
Verizon Wireless has the lowest postpaid churn rate at 0.93% in Q2 2013 and AT&T Wireless has the second lowest postpaid customer churn rate at 1.02% in Q2 2013. Both AT&T Wireless and Verizon Wireless saw incremental year-over-year growth in its churn rate in Q2 2013. AT&T Wireless's total customer churn rate was 1.36% in Q2 2013 and it was 18bp higher versus Q2 2012. AT&T sold 6.8M new smartphones during the quarter and more than 35% of its smartphone customers are on LTE. AT&T increased the proportion of postpaid subscribers with a smartphone from 64% in Q2 2012 to 73% (49.5M) in Q2 2013. However, Verizon Wireless sold more smartphones than AT&T Wireless did in Q2 2013. Verizon Wireless had 7.5M smartphone activations in Q2 2013 and 51% of its activations were Apple's iPhone.
AT&T Wireless's operating income was $4.65B and it declined by 7.8% in Q2 2013 versus Q2 2012. AT&T Wireless's operating income declined due to higher handset subsidy costs associated with upgrade activity and growing smartphone sales. AT&T Wireless' continuous growth in data revenue partially offset its higher smartphone subsidy costs and results in its operating margin declining from 31% in Q2 2012 to 27.1% in Q2 2013. AT&T Wireless's smartphone sales represented 88% of postpaid devices sold (up from 82% in Q4 2011 and 77% in Q2 2012) and provide a lucrative $20/per month and up revenue stream for data service. ARPU for postpaid customers increased by 1.8% year-over-year as data services ARPU grew by 17.6% increase but voice, text and other service ARPU declined by 4.8%.
AT&T and Verizon have been migrating smartphone customers towards "Mobile Sharing Plans" in which customers can share one pre-allotted data subscription across multiple devices. More than 13M of AT&T's wireless customers are on AT&T's Mobile Share Plan and this represents 18% of its postpaid customer base. The number of AT&T Mobile Share accounts reached 4.3 million in the fourth quarter for an average of about three devices per account. However, this pales in comparison to Verizon Wireless as 36% of its retail postpaid accounts are now on its "Share Everything" Plan.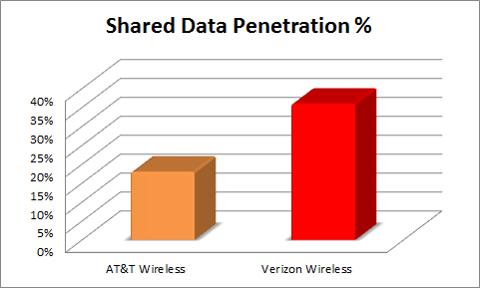 Source: MRQ Reports for AT&T and Verizon
AT&T Wireless has successfully converted 70% (35.1M) of its smartphone subscribers into usage-based data plans from its unlimited data plans as of Q2 2013. This compares to 62% as of Q2 2012 and 45% two years ago. Although AT&T Wireless added 551K postpaid customers for the quarter and 847K for H1 2013, Verizon Wireless added more postpaid customers than AT&T during the period. Verizon Wireless added 941K net new customer for Q2 2013 and 1.6M for H1 2013. Verizon Wireless added 140K prepaid customers in H1 2013 while AT&T Wireless lost 173K prepaid customers during the period.
AT&T stakeholders hope the U.S. Department of Justice will not block its $4B acquisition (which includes $2.8B in assumed debt) of prepaid carrier Leap Wireless. AT&T's stakeholders still remember its 2011 attempt to buy T-Mobile US Inc (NASDAQ:TMUS) from Deutsche Telekom and how the DOJ blocked it due to anti-competitive concerns. AT&T Wireless recently completed the acquisition of 700 MHz band B block wireless spectrum from Verizon Wireless in exchange for $1.9B and Advanced Wireless Services Spectrum licenses in four large metro areas in the Western US.
Although AT&T Wireless lost 414K reseller customers during the quarter versus net reseller customer additions of 472K in Q2 2012, its reseller revenues increased by 30% year-over-year. This was because reseller subscriber losses were primarily concentrated in low-margin accounts. A positive note for AT&T Wireless was that it added 484K connected devices customers during the quarter versus 382K added in Q2 2012 even though Sprint (NYSE:S) now sells the iPad. That was a positive surprise since I had concerns that Sprint selling the iPad would serve as a headwind to growth for AT&T Wireless's connected devices product channel. This helped AT&T Wireless grow its connected devices customer base by 11% from 13.7M as of H1 2012 to 15.2M in H1 2013.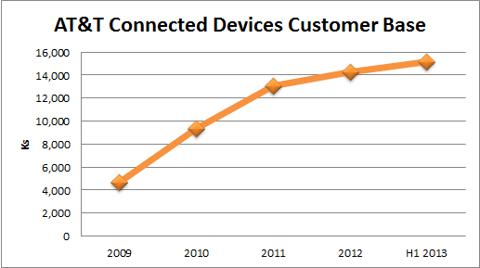 Source: AT&T's 2010-2012 Annual Reports and Q2 2013 10-Q Report
Corporate Cash Management Highlights
Although the wireless communications industry is now highly saturated, AT&T Wireless is spending $14B to upgrade its network in order to win back market share it ceded to Verizon Wireless. This will result in AT&T's total capital expenditures exceeding $21B for 2013, an increase of nearly 8% versus 2012 levels. I expect AT&T to generate $14B of free cash flows and $35B of operating cash flows in 2013. AT&T plans to spend $20B in total CapEx in FY 2014 as well as FY 2015. AT&T continues to reward its shareholders with dividends and share repurchases. AT&T spent $4.9B for dividend payments for H1 2013 and $9.1B to repurchase shares during the period.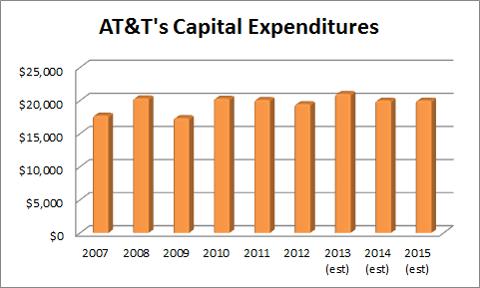 Source: Morningstar Direct and AT&T's FY 2013 Management Guidance
Evaluation of AT&T Wireline
AT&T Wireline is mitigating the decline of its traditional wireline business with strategic communications products and services. AT&T Wireline's strategic communications products and services portfolio includes Digital TV, High Speed Internet and Video services to residential and business customers. AT&T U-Verse's subscriber base increased by 114% over the two years, from 4.4M in Q2 2011 to 9.4M in Q2 2013. Wireline data revenues grew by 5.9% versus last year's quarter and 5.3% in H1 2013 versus H1 2012 and almost offset the revenue declines from voice and other wireline services. AT&T Wireline's business segment income declined by 10.7% due to higher operating expenses combined with declines in wireline revenues. However, AT&T Wireline's EBITDA of $8.7B exceeded Verizon Wireline's EBITDA of $4.3B in H1 2013.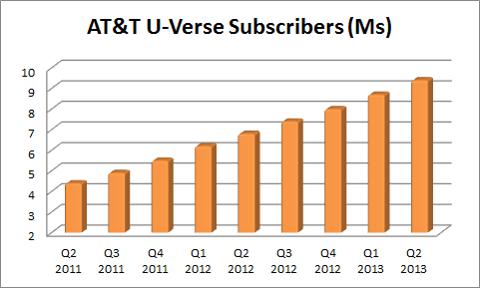 Sources: Q2 2013 Conference Call for AT&T
Conclusion
In conclusion, AT&T (5.25%) and Verizon Communications (4.44%) offer investors strong dividend yields that significantly exceed the S&P 500 (2.04%). AT&T's dividend payments in H1 2013 represented 60% of its free cash flows and I conclude that it can cover its implicit dividend obligations. I expect AT&T and Verizon to maintain and steadily expand their dividends by 2-3% annually as these firms form a de facto duopoly in the American telecommunications marketplace. Verizon Wireless has stronger financial performance than AT&T Wireless does. Verizon's recent announcement that it will acquire Vodafone's 45% non-controlling ownership interest in Verizon Wireless will give its EPS an immediate 10% boost once the acquisition is consummated. However, AT&T still performs better in the Wireline communications segment than Verizon. I conclude that AT&T and Verizon are more appropriate for income-oriented investors instead of growth investors for these firms. My conclusion is because I expect Verizon and AT&T to continue generating single digit revenue growth while maintaining above-average dividend yields.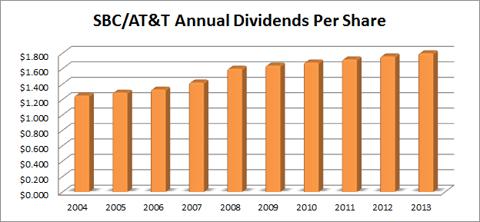 Source: AT&T/SBC Dividend History
Disclosure: I am long AAPL. I wrote this article myself, and it expresses my own opinions. I am not receiving compensation for it (other than from Seeking Alpha). I have no business relationship with any company whose stock is mentioned in this article.