Anyone remember those high growth industries called cloud computing, big data, smartphones & tablets? They are all growing around 20-30%, that's good right? Good, not great.
Electric cars, now that's a great growth industry.
I've still yet to find a bigger/faster growing industry in 2013 that BEV (Battery Electric Vehicles), where Tesla (NASDAQ:TSLA) isn't just the clear leader, but is many supercharged miles ahead.
We are in a day where analysts continually drool over rapid and sustainable growth rates. Ironically, electric vehicles have gone almost completely unnoticed.
Look at the data. BEV sales are on pace to climb 208% in 2013. With over 32,000 units sold in the US alone through August of this year, the BEV market will be worth over $1.5B this year (assuming an ASP of $35,000).
Investors unfamiliar with Tesla continue to have a difficult time valuing the company. Here is how I can most simply rationalize Tesla's performance over the course of 2013.
The probability of Tesla becoming a major auto manufacturer and permanently disrupting an industry that sold over 84M units in 2012, increases with every delivery/production milestone. Thus, the stock has been trading based on the fulfillment of these milestones, not traditional valuation metrics based on current financials which are a dramatic understatement of the company's future potential.
So what's the next milestone? Delivering the 21,000 Model S units in 2013. Luckily for bulls, this will most likely be achieved, and without much difficulty.
Below are my 6 main reasons for believing Tesla will be forced to revise 2013 delivery guidance higher in the near future.
1. Production now running over 500 per week, at least 26,000 annualized.
In August it was reported that Tesla had ramped production to over 500 units per week. That means the Tesla factory is pumping out at least 6,500 Model S units per quarter. Even at that pace, Tesla will deliver 23,050 units in 2013, well above management's guidance of 21,000 units.
In Q1 Tesla delivered 4,900 units, then in Q2 that number increased to 5,150. Overall Tesla sold 10,050 units in the US in the first half of 2013. If Tesla can scale average production in Q3 & Q4 to 550, then that would result in 14,300 units being built in 2H 2013. Which means total deliveries would fall between 24,000-25,000 in 2013.
In any of these scenarios, Tesla will beat its own guidance substantially.
2. EV demand is historically heavily skewed towards Q3 & Q4.
At this point the only barrier to increasing deliveries appears to be production. The Electric Drive Transportation Association reported an incredible increase in Q3/Q4 BEV (Battery Electric Vehicle) sales, in both 2011 and 2012.
If this seasonality is a real trend, then watch out. In 2012 well over 60% of all BEV sales occurred in the second half of the year. In both 2011/2012 December was a particularly strong month, most likely because of the cars being a popular holiday gift. I don't see why Tesla demand couldn't follow a similar pattern, resulting in a surge in demand in Q3/Q4.
3. Management has consistently guided for significantly higher demand than 21,000 units per year.
It's no secret. Tesla's management has stated in both of its past two shareholder letters (I, II) that global demand is likely well above 21,000 units annually. Take a look for yourself.


These comments by management insinuate that the only thing holding deliveries back this year will be production. If production really has scaled to over 500 units per week (as alluded to above), then this additional demand is beginning to be realized.
4. Search and social data indicate Tesla is doing better than ever.
Taking a totally different approach and analyzing Tesla's Social media data, gives us eerily similar results. Demand and awareness of the brand is rapidly increasing.
Searches for the term 'Model S' have gone through the roof since the beginning of the year and the best part is, demand seems to be global.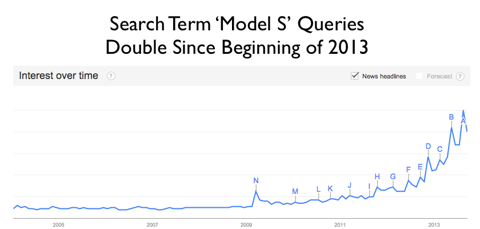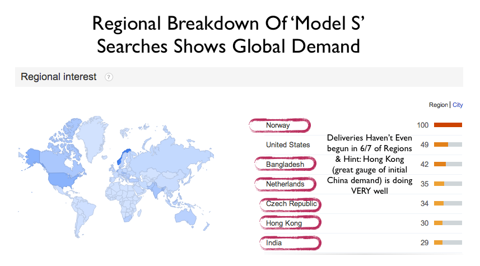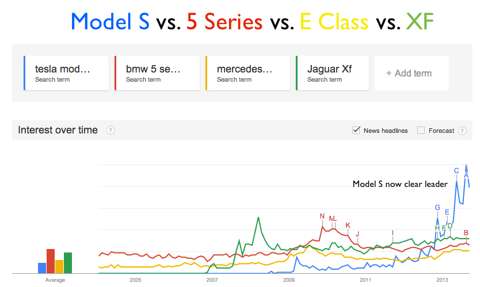 5. VIN Data suggest deliveries could be as high as 6,500+ in Q3.
Thus far the most effective way to monitor Tesla's deliveries in real time has been VIN Data.
Both the major forums (I, II) have reported VIN #'s above 21,000 that have already been delivered. If the VINs (Vehicle Identification Numbers) have any correlation to the overall amount of Model S units produced then Q3 will likely be a very good quarter.
Tesla delivered about 2,700 units in 2012, therefore the rest have been produced in 2013. According this data (VIN 21,000 delivered before the end of Q3) Tesla will have created 18,300 in 2013. If we assume 1,500 were either cancelled or built as loaners/service-cars/showroom-cars, then we arrive at a conservatively estimated 16,800 units delivered to customers through Q3 2013.
In Q1 & Q2 Tesla delivered 10,050 Model S units. This insinuates at least 6,750 units will be delivered in Q3, at a rate of 519 per week. Not far off Tesla's own comments of production rising to levels above 500 per week.
6. European and Asian markets demand coming online in the next two quarters.
Tesla is currently seeing annualized demand of 20K units for the Model S in North America. Asia and Europe both have huge auto demand, and could even be bigger markets than the US for Tesla in the long term. So here's a look at what's going on in these two markets as Tesla begins to deliver cars to both Europe and Asia in late 2013.
Asia
What's Happening?
i. First store to open in Mainland China by end of 2013, rumored to be 3X as large as average US location. Usually opening a big store means a company has big plans or expectations for that region. Although it's unclear exactly why Tesla is opening such a big showroom, I doubt its without reason.
ii. Preorders in Hong Kong (without official announcement of price/sale) were enough to more than double the number of EV's in the city (300+). Hong Kong isn't generally known for its flourishing EV community, but for some reason consumers have taken a different approach towards Tesla. Even without any real information from the company, consumers were willing to put down $5K for one of regions first reservations. Has this ever happened for any other car company in China? The hype is real, at least for now.
iii. Preorders for the Model S officially went live in late August, an update from Tesla on reservations/pre-orders could be imminent. As mentioned above, Tesla received 300+ orders in Hong Kong with just 1 gallery, no marketing and no official pricing.
iv. Luxury vehicle market is soaring; if Tesla's brand success can translate overseas, Tesla could sell more Model S units in China than the US. It sounds crazy, but China has one of the fastest growing luxury auto markets in the world, and is on pace to outsell the US in just 7 years. This isn't a trend that's going to change anytime soon. China's economy continues to grow above 7% annually, and disposable income is on the rise. With a population almost 3X the size of the US and huge pollution problems, it's no secret why Tesla has got its eyes on China.
Europe
What's Happening?
i. Model S was the best selling car in Norway in the first week of September. Forget about luxury cars, Tesla's Model S was the best selling car in all of Norway, in any category, in September. This a remarkable feat, and was no doubt aided by several months of orders being squeezed into the first part of the month. Regardless, it shows that even European consumers have very high initial demand for EV's and Tesla in particular.
ii. Elon Musk has mentioned over 800 cars will be delivered in Norway this year. Even though Tesla will only deliver cars to Europe in the second half of the year, Norway will account for almost 4% of the company's overall sales in 2013. Norway has a population of just 5M, if similar demand translates to other regions of Europe such as Germany, France and the UK (where the combined pop. is 200M+), then demand could be well over 20,000 units annualized.
iii. European PMI inching positive, turnaround for auto demand drawing closer. As reported here by the IB Times, Europe's manufacturing appears to be picking up. If any kind of recovery begins to pick up steam in the Eurozone that could be a huge tailwind to orders in 2014/2015.
Conclusion
VIN numbers have had a remarkable track record of staying ahead of analyst estimates in 2013 for Tesla. And right now the VIN #'s are saying that 21,000 units is far too low of an estimate for 2013.
Management's consistent comments about having no problems with demand, will finally be appreciated and accepted by the market, as production begins to scale.
If Tesla can deliver 6,750 in Q3 as the VIN data implies, that would bring overall deliveries to 16,800 in 2013. To reach management's goal of 21,000, Tesla would only have to sell 4,200 in Q4. Considering the power tailwind of seasonal demand skewed towards Q4, this appears to be a very low estimate.
With European and Asian markets coming online in the second half of 2013, demand will see a boost. Tesla appears to already be scaling production to meet the new demand its seeing after opening up orders just a couple months ago in the eurozone.
Who knows, the squeeze may not be over. Only 1/3 of the Tesla shorts have covered. As of August 30th, 2013 there were over 21.5M shares still short. That represents approximatley 17% of the company's market cap, a position of more than $3.5B.
Put the clues together. Production data (VIN) indicates we are tracking well above 21,000 units in 2013. Management has stated numerous times there isn't a problem of demand. Reports have been confirmed that production has scaled to 26,000 annually. European and Asian markets are about to go live.
Disclosure: I am long TSLA. I wrote this article myself, and it expresses my own opinions. I am not receiving compensation for it (other than from Seeking Alpha). I have no business relationship with any company whose stock is mentioned in this article.