Back in early August, when I wrote my first Apple (NASDAQ:AAPL) article - "Apple Is Significantly Undervalued And Poised For A Bull Run" - I gave a detailed explanation of Apple's growth prospects. One of the major catalysts I mentioned was the release of a low-end iPhone that would be directly targeted at emerging markets. I estimated that if a 2013Q4 launch occurred, the low-end iPhone could generate at least $17 of additional EPS for Apple in FY2017. While I still believe that analysis to be true, the company's recently revealed iPhone 5C strategy has put a damper on my forecast. Don't take that as me flipping on the stock - my valuations did not include a low-cost iPhone to begin with, stating that it was merely a long-term catalyst. I still firmly believe that my initial $585 Target Price for Apple is viable, and, as I will discuss further on in the article, there are potential catalysts that are materializing that could propel my valuation even further.
DoCoMo
The first catalyst I want to talk about is Apple's recent deal with Japan's largest telecom provider, NTT DoCoMo. DoCoMo (NYSE:DCM) has a subscriber base of right around 60 million -- a far cry from China Mobile's 740 million, but enough to contribute a noticeable figure to Apple's bottom line. Furthermore, DoCoMo is said to have promised that 40% of its sales will be iPhones upon the company's debut release, and nearly 7 out of 10 previous DoCoMo subscribers who left the company did so to get an iPhone. These two reasons make me believe that (1) DoCoMo's subscriber base will grow much faster now than it did without an iPhone, and (2) the deal will generate a generous amount of earnings for Apple. Demand for the new iPhone products is extremely high in Japan, as Japanese iPhone lovers recently waited in line outside an Apple Store as a typhoon was about to hit the area.
Recently, DoCoMo, as well as competitors KDDI and SoftBank, have announced that they will offer the iPhone 5S for free with a 2 year contract. So right off the bat, iPhone competition has reached new heights in Japan as greater supply (due to DoCoMo's entrance) and greater demand (due to lower subsidized pricing for customers) have already begun to boost Apple's iPhone sales in the area. Another major point - DoCoMo was the largest seller of Android phones in Japan last year. Given the company's recent announcement to shift sales mix drastically to Apple, Android-based phone manufacturers such as Samsung and Sony are likely to see a substantial drop in sales in the nation. The DoCoMo deal represents a solid one-two punch for Apple.
Below, you can see how I estimate DoCoMo's contribution to Apple's earnings for the year 2014.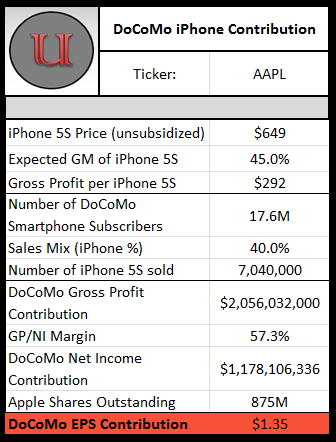 To run through this real quick, I am using the announced $649 iPhone 5S unsubsidized price combined with my estimated gross margin of ~45%. DoCoMo has stated that they will have approximately 16M smartphone subscribers by the year ending March 31st (see above articles), and at least 40% of their sales will be iPhones. I apply a 10% growth to DoCoMo's smartphone base of 16M (a combination of organic company growth and smartphone penetration) to get an estimated 17.6m smartphones sold. Multiplying the gross profit per iPhone of $292 by the 7.04M iPhones estimated to be sold gives an estimated 2.056B in gross profit for Apple. Now, apply my estimated GP/NI margin for Apple to the 7.04M subscribers (to account for SG&A expenses, tax, etc.) and divide that by my estimated shares outstanding by year end 2014. The result is an EPS contribution that equates to $1.35.
China Mobile
With the DoCoMo deal in place, China Mobile (NYSE:CHL) is the sole major telecom operator on the Pacific Rim that does not offer an iPhone. But before I go into potential valuation numbers, I want to address the recent reports that China Mobile already has 42M iPhones on its network despite the fact that it doesn't even (1) officially carry the iPhone, (2) have a compatible 3G network, and (3) the majority, if not all, of these 42M iPhones were bought unsubsidized. I am not fully sure whether to believe if this report is true or not - but if it is, the demand for iPhones in China is much larger than I (and many others) have originally anticipated. Given the fact that Apple has recently gained regulatory approval to run iPhones on the TD-LTE 4G network - which will likely go into effect later this year - it makes a China Mobile deal all the more likely. In addition, don't forget demand for the new iPhone offerings is already ramping up in China, with China Unicom already reaching 100k iPhone reservations, despite the company not even announcing subsidy and contract plans yet.
Below is my estimate for what a China Mobile deal could mean for Apple's bottom line, assuming a deal between the two comes later this year.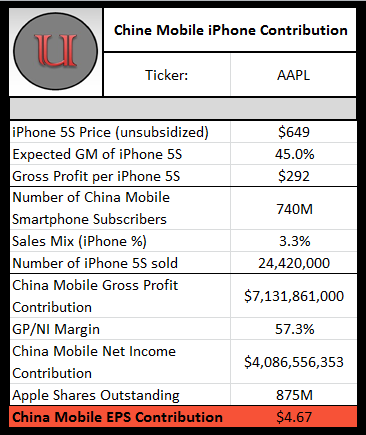 Basically, the same thing is going on in this valuation as it was in the DoCoMo valuation. Only difference is that I am using the current value of 740M subscriptions with the assumption that there will be a 22% smartphone penetration rate in China Mobile's user base. I estimate Apple will take a ~15% share of that smartphone base, which would give Apple a 3.3% share of China Mobile's subscribers. Therefore, I calculate that the incremental EPS contribution of a China Mobile deal for 2014 is $4.67.
**I would just like to point out that I am using iPhone 5S numbers - not iPhone 5C numbers. There could be an adjustment in my estimates depending on the mix of iPhone 5Cs sold in China Mobile's and DoCoMo's new iPhone subscriptions.
Don't fret the iPhone 5C bear case yet
I would like to make a few more side notes on why Apple's unexpected high pricing of the 5C is not the end of the world.
- First and foremost, the company can still release a low-cost iPhone if it so desires - there is no stopping it. The size and scope of Apple makes the project easily accomplishable. Perhaps the company is utilizing a "wait-and-see" approach with its deal with DoCoMo (and impending one with China Mobile). Don't think that just because Apple didn't, doesn't mean it can't.
- Apple has always positioned itself as the crème de la crème of technology, particularly in markets like China and Japan. While I am not really buying into the fact that a low-cost iPhone would change that mindset with its customers, the current strategy with the 5C does not hinder Apple's brand positioning at all.
- Apple's fundamental positioning has not changed one bit from when I wrote "Apple Is Significantly Undervalued And Poised For A Bull Run". Like I said in that article, do not buy the hype - good or bad. Base your decisions on the fundamentals, as consumer sentiment can change with the wind.
Conclusion
So despite the recent iPhone 5C announcement (and the bears that came bumbling out of hibernation with it), Apple is still a great fundamental play selling at quite the discount. And it will only get better.
Disclosure: I am long AAPL. I wrote this article myself, and it expresses my own opinions. I am not receiving compensation for it (other than from Seeking Alpha). I have no business relationship with any company whose stock is mentioned in this article.