Ameritrade (NASDAQ:AMTD) and E*TRADE (NASDAQ:ETFC) report earnings yesterday. AMTD reported earnings of $.26 before the bell beating analyst estimates by $.04. The online broker said Q4 profits declined by 8.9% but trading activity reached the highest quarterly level ever.

Average client trades per day surged to 411,000 in Q4, up 35% YoY and up 5% sequentially.
Client assets increased to $302 billion, up 8% from $278 billion a year ago.
Net new client assets $5.4 billion.
TD Ameritrade posted a profit of $156.7 million or $.26 cents a share below the $172 billion reported a year earlier.
Revenues increased by 1.3% to $657.9 million.
FY 2010 guidance and valuation for AMTD:
The average AMTD analyst estimate for 2010 EPS is currently $1.26, in the middle of the company provided range. Analysts have the revenue estimates at $2.68 billion for 2010 also in the middle of the range provided by company management. Our proprietary YCHARTS valuation model has AMTD valued at just under $20 a share so we see the upside limited with the stock currently at $19.36.

E*TRADE reported after the bell yesterday. Analysts expected continued strong performance from the brokerage unit. The loan portfolio results and guidance are key. E*TRADE took huge losses over the past several quarters related to the loan portfolio. Analysts are expecting a loss of $.06 on revenue of $202M.

Source: Yahoo! Finance
Recent Events
Analysts at Citi and FBR Capital upgraded ETFC shares but the stock has traded sideways. In addition, Citadel diversified its holdings selling a large number of shares recently that put pressure on the stock.
Valuation
It is hard to put a value on E*TRADE given the negative earnings but the price to sales ratio tends to provide a good signal for companies that are experiencing rough times. ETFC is currently trading well below its peers.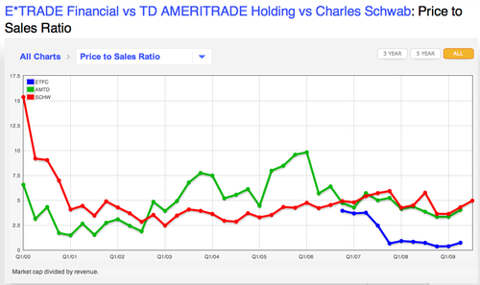 E*TRADE continues to deal with the hangover from the credit crisis but recent guidance suggests the worst is over. On 9/15/09, E*TRADE provided guidance on the loan portfolio with estimated net charge-offs of $350 million to $375 million and estimated provisions for loan losses of $300M to $375 million.
E*TRADE Business Update Highlights 9/15/09:
Exchanged $1.7 billion of high yield debt for zero coupon convertible debentures which reduced annual interest payments reduced by $198 million.
QTD DARTs 17% increase YoY.
Record accounts 8.5% increase YoY to 2.7 million brokerage accounts.
Home Equity delinquencies significantly lower, down 34% YTD.
1-4 Family delinquencies gradually lower, down 12% YTD.
Loan loss provision and internally generated bank capital reaching break-even point.
29% decrease in loan portfolio from 9/30/07 to 6/30/09, $32.3 billion and $22.9 billion respectively.
77% reduction in undrawn home equity lines.
Here is the deck E*TRADE management presented 9/15/09
ETFC Summary
Consider recent analyst upgrades
Improving loan portfolio trends
Much lower interest expense
Brokerage business strength
Relative price to sales valuation
Potential for acquisition
If the economy improves in 2010, expect E*TRADE to trade up significantly from here and the loan portfolio trends to continue. There is significant risk in ETFC given the level of uncertainty in the loan portfolio and the real estate market overall but we see the risk/reward as positive at these levels.
Disclosure: Long ETFC