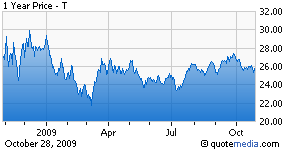 AT&T (NYSE:T) reported results last week that indicated strong performance in the company's TV business. AT&T's fiber optic TV service called U-Verse has added more subscribers so far than expected.
By offering competitive TV-internet-phone ("triple play") bundles AT&T has drawn customers away from cable and satellite providers. We expect U-Verse TV Subscribers to be 2 million subscribers by the end of 2009 and over 6 million by the end of the Trefis forecast period. In comparison, cable operators Comcast (NASDAQ:CMCSA) and Time Warner (NYSE:TWX) currently have about 24 million and 15 million subscribers respectively. The strength of AT&T U-Verse subscriber growth is particularly worrisome for satellite TV providers DirecTV (18 million subscribers) and Dish Network (14 million subscribers) which are not able to offer their customers triple play bundles.
If AT&T's subscriber count were to increase to 14 million (comparable to Dish (NASDAQ:DISH)) over the next few years, there could be $30+ billion of additional upside to AT&T's market cap. We have a Trefis price estimate of about $33 AT&T, representing significant up side to AT&T's current price of $26 based in part on our belief that AT&T's TV subscriber wins will continue.