We have two days of the Federal Reserve dominating the news cycle in the financial world and it is during these two days when we will find out the plan as it pertains to tapering. Our view is that the economy needs the extra juice to continue to move along, especially considering we have another battle brewing on Capitol Hill, which could cause a slowdown in growth, spending, etc.
The market is expecting tapering of $10 billion, so anything above that number would be a negative and anything below a positive... although we could see the market finally look at good news and say it is bad while sending shares lower regardless. One can spin it however they want, but at the end of the day the total figure will matter as well as what the Fed says they see happening in the economy.
Chart of the Day:
This chart below pretty much sums up what the Democrats and Republicans are fighting over. It is not always about the spending of today, but what those programs mean for tomorrow. Look at the growth in the Medicare program and the growth in the expected cost. The government picks up a big portion of that tab via the Medicare tax, but it would appear that the rate would need to be increased to continue to support the growth in this program.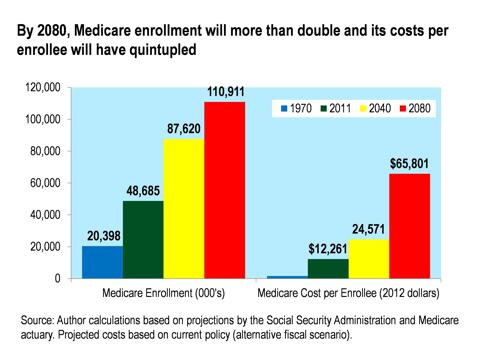 Source: Forbes
We have economic news today and it is as follows:
CPI (8:30 a.m. ET): Est: 0.2%
Core CPI (9:15 a.m. ET): Est: 0.2%
New Long-Term TIC Flows (9:15 a.m. ET): Est: N/A
NAHB Housing Market Index (10:00 a.m. ET): Est: 59
Asian markets finished lower today:
All Ordinaries -- up 0.07%
Shanghai Composite -- down 2.05%
Nikkei 225 -- down 0.65%
NZSE 50 -- up 0.09%
Seoul Composite -- down 0.39%
In Europe, markets are also lower this morning:
CAC 40 -- down 0.42%
DAX -- down 0.22%
FTSE 100 -- down 0.40%
OSE -- down 0.15%
Manufacturing
Due to the big run-up we have seen in Boeing (NYSE:BA) shares we will address that today before any questions arise as to what our thoughts are on a plan of action for the shares. Our view of Boeing is that it is a long-term hold, meaning 3-5 years down the road we could still see it in one's portfolio due to the anticipated growth and revenue streams. These days when the stock pops 3-5% should be celebrated but not make one lose sight of the overall big picture. Yes, shares have hit a new all-time high for seemingly ever session of the past week, but we did not go bullish on this one to trade in and out for 10-15% here and there. Rather, we went long in order to see 100-300% gains long term as the company cranks out orders for its Dreamliner and introduces more next generation models. It has been a great run here, but one need not lose sight of the object. Still bullish here.
Has it been a big move in recent sessions? Yes. However there is no need to sell as it could very well be the start of a new larger move higher.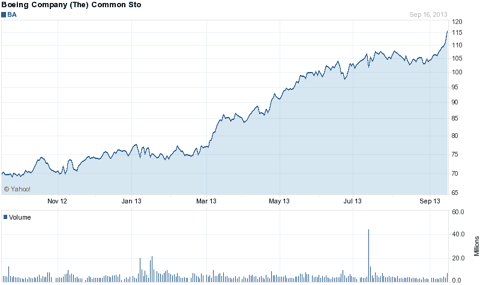 Source: Yahoo Finance
Technology
Speaking of long-term investments we think that Apple (NASDAQ:AAPL) is one of those long-term investments readers might find appropriate for their portfolios. The company still has a good growth component but also possesses high cash flow generation and tremendous value, all of which we could easily see coming into play over the next few months and years.
The stock has come under some serious heat for a lack of new product lines in recent years, but we all know that the company has a watch they will be introducing and along with it they will have to have updates to their various Macs. A TV is rumored to be in the works and that shall be a game changer, but until then we see Apple putting their cash to work via an increased dividend, increased share buyback program or an intelligent acquisition. We are counting on the increased dividend and buybacks and not so much the acquisition. This dip to $450/share does look like a good entry point though.
While discussing buying on the dips, why don't we take a look at 3D Systems (NYSE:DDD) which has seen its shares pull back around 10% back to the all important $50/share level. Readers will remember this was a name we highlighted as a name to go long when most people were at their most bearish on the name and since then it has been a solid performer. The $50/share level is where we ran into some resistance recently and as such on a pullback of any significance we tend to look to those past resistance levels as an indicator of where support might be found for stocks, which have gained a lot of momentum. From our view the $50/share level looks like a good entry point, for both our long-term investor-types and those looking for just a trade.
What kept shares from rising for so long will hopefully keep shares from falling further, looking for support at the $50/share level today.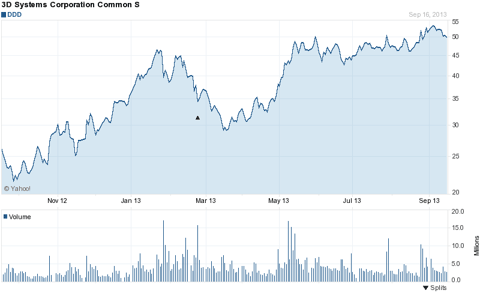 Source: Yahoo Finance
China Tech
Yesterday was pretty interesting in the world of Chinese tech companies as Sohu.com (NASDAQ:SOHU) rose 7.51% to close at $69.61/share after reaching a deal with Tencent to sell up to a total of 40% of web search engine Sogou. Tencent paid $448 million for a 36.5% stake in Sogou and can raise that ownership stake to 40% down the road. What was good news for Sohu.com shareholders was bad news for Quihoo (NYSE:QIHU), which saw shares fall 5.61% as many believe the deal will create a tougher environment for the company to continue gaining market share. Quihoo has seen a change in perception since the announcement but Sohu.com was upgraded to 'Conviction Buy' over at Goldman Sachs this morning and we would suspect to see the shares get another boost from that news.
Disclosure: I have no positions in any stocks mentioned, and no plans to initiate any positions within the next 72 hours. I wrote this article myself, and it expresses my own opinions. I am not receiving compensation for it (other than from Seeking Alpha). I have no business relationship with any company whose stock is mentioned in this article.