SAIC, Inc. (SAI) is a holding company that provides engineering, systems integration, and IT services for a multitude of government agencies including the Army, Navy, DHS, and the DOD. The company currently has a market cap of 5.3 billion and a dividend yield of 3%. The company is undergoing a spinoff in order to more effectively service their customers without running afoul of regulations governing suppliers for government contracts.
The spinoff corporation SAIC Gemini, Inc. (NYSE:SAIC) will be spun in a transaction of 1 share for every 7 shares of SAIC held as of EOB September 19th and the parent company will become Leidos (LDOS). The newly formed company (SAIC) will be a leading provider for technical, engineering and IT services to the U.S. government. The primary reason for this transaction is one of a conflict of interest stemming from the Federal Acquisition Regulation, which becomes applicable when it is perceived that contractors have unfair competitive advantage or undesirable economic incentives as a result of performing multiple contracts for government entities. This separation of IT services from the parent company will allow both entities to pursue contracts that were previously deemed unsuitable in the current structure. The transaction will also allow management to focus investment and strategy not as a subset of the parent company, but as a stand-alone business, allowing for the development of a more focused direction for SAIC Gemini. This deal aims to unlock shareholder value through the creation of two separate companies that can better compete in their respective fields.
The new company anticipates a quarterly dividend of $0.04 with Leidos being responsible for the other $0.08 remaining of the current $0.12 quarterly dividend between the two entities. This spin leaves SAIC Gemini owning and operating the technical, engineering and enterprise IT service business, while Leidos owns and operates the national security, health and engineering businesses. The matrix below sets out what pieces of the business will fall under which company and how the expertise across each branch of the military and the rest of the federal and state government will be handled.
Both of these companies have approached this spin off as mitigation for their conflict of interest, and as such have been submitting bids as two separate entities so there should be little interrupt in the contracts going forward as a result of the separation. This should lead to revenues of around $4.7 billion for SAIC Gemini and around 6.5 billion for Leidos.
Looking at SAI currently, I calculate a value of 24.48 per share using s discounted cash flow model using a WACC of 5.53% and TTM FCF of 550 million. This is a considerable premium to what shares are currently trading at, but this is to be expected as headwinds and uncertainty over sequestration cuts have kept valuations within the defense sector reasonably valued with regards to earnings. Competitors such as Northrop Grumman (NYSE:NOC) and L-3 Communications (NYSE:LLL) both trade at P/E values of 12.2 and 11.40 which are pretty comparable to SAI's P/E of 12.6. My valuation should be taken with a grain of salt, as SAI has had uneven revenues before in FY13 due to a non renewal of a significant contract and has then done on to issue a special dividend of $1 in June of this year as revenues recovered.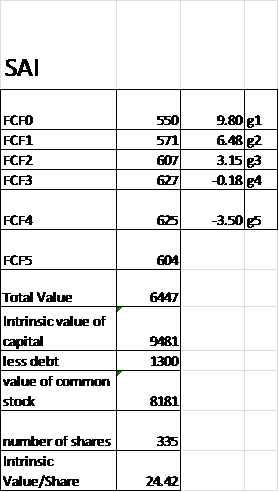 Overall
This transaction looks to be the best way address conflict of interest in a business model while creating additional value for shareholders. The company is focusing the business model of both separate segments, has anticipated this split and proceeded in a manner appropriate by continuing to file bids as two separate companies, and anticipates strong revenues from existing contracts going forward. This deal looks to create shareholder value through a move that negates the need to give up awarded contracts or impose divestitures in order to resolve a conflict of interest.
Disclosure: I have no positions in any stocks mentioned, and no plans to initiate any positions within the next 72 hours. I wrote this article myself, and it expresses my own opinions. I am not receiving compensation for it (other than from Seeking Alpha). I have no business relationship with any company whose stock is mentioned in this article.