Too big of a market cap
To begin with, let me remind you of an article I wrote awhile back. In that article I said Apple (NASDAQ:AAPL) was too big of a market cap company in order to be able to double or triple over the longer-term. As a result, it's not a stock that could get investors really excited. Please consider: The 'Too Big Of A Market Cap Stock' Theory.
Yes I know what you're thinking, no matter how large the market cap of a stock is, it should not affect its ability to keep going up forever. The problem however is that there are limits to everything. And as far as market caps are concerned, I think Apple has reached that limit at the $700 mark. Apple is not the only stock in this predicament. There are many other stocks that are also quite big and cannot easily double or triple over the very long term. In fact I think stocks like Intel (NASDAQ:INTC), Cisco (NASDAQ:CSCO) and Microsoft (NASDAQ:MSFT) also face the same challenge.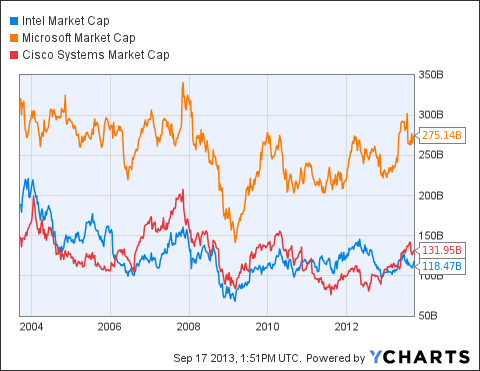 INTC Market Cap data by YCharts
Sure, if Apple - like Microsoft announced today - repurchases enough of its shares, the stock could theoretically climb forever and benefit investors, but chances are that the market cap will remain the same.
Anyway, the fact that these companies are too big to give investors a real thrill still remains a theme of mine, and it is one of the reasons I usually recommend these stocks mostly for swing trading, and not for long-term buy and hold portfolios, unless of course you like the dividend.
BlackBerry (BBRY) on the other hand only has about $5.5 billion in market cap and under certain conditions can be a multi-bagger stock. Something that the above stocks can never become today.
The thrill of a growth stock is gone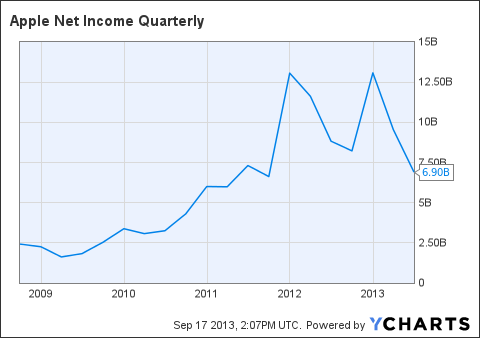 AAPL Net Income Quarterly data by YCharts
As the chart above shows, Apple's net income is the same as it was in the second quarter of 2011. That means earnings for the company as a whole have remained flat for about two years. Yes EPS might go up if Apple buys enough stock back, but the thrill of a fast growing company is basically gone. Apple is a great value stock, an excellent dividend paying stock and a very stable and solid company, but do not expect the returns of yesteryear soon (if ever).
China might not make a big difference
When the new iPhone 5C was announced, I said Apple's iPhone 5C is not cheap enough and will probably not sell much in China. Well I don't need to tell you many other people since then have had the same thoughts. Obviously the people at Apple are not stupid. So chances are the iPhone 5C was not meant for China to begin with. That also means Apple still has no plan to try to crack emerging markets at the very low-end of device sales.
Either way, the Chinese market will probably remain restricted for Apple until a device pops up that can be afforded by the masses. And if Apple does not care for the lower end of the market that's fine also, however don't expect much growth if Apple does not take the decision to go low-end.
Is there anyone left who hasn't bought Apple?
Let me get this straight, Carl Icahn bought a very big piece of Apple stock, and since then has tweeted he has bought some more. Apple itself is buying back stock. Apple's stock has just been upgraded by just about every sell side analyst on the street and the stock is falling. What's going on?
Well outside of what I have already told you, I really don't have an explanation. However one thing I do know from experience: when every eligible investor has bought the stock and it is still falling, then there are only the sellers and short sellers left. And those with experience on the street know this and don't buy also.
Bottom line
Is Apple's stock a buy? Sure it is. It's a solid company, a good dividend paying stock and it offers a lot of stability. If you are a conservative investor, then this stock is for you. And current levels are as good as any, especially now with the recent pullback.
But because of the enormity of the market cap, it's not a stock that can double or triple soon. So aggrieve growth investors have long sold.
As a result, I have classified Apple as a great swing trading stock like Intel, Microsoft and Cisco. And as I see it, investors seeking long-term capital growth might be disappointed, unless stock repurchases become very aggressive. Because outside of that, any way you slice it and dice it, the high growth element from the stock is long gone.
Disclosure: I have no positions in any stocks mentioned, and no plans to initiate any positions within the next 72 hours. I wrote this article myself, and it expresses my own opinions. I am not receiving compensation for it (other than from Seeking Alpha). I have no business relationship with any company whose stock is mentioned in this article.