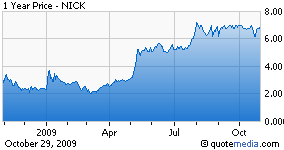 Nicholas Financial (NASDAQ:NICK) just came out with earnings and it was another good quarter. The company earned 22 cents a share compared with just eight cents a year ago.
It really is remarkable how cheap this stock is. For the first six months of their fiscal year, NICK earned 43 cents a share. For Q4 of last year's fiscal quarter, they made 20 cents a share, so that's 63 cents for the last three quarters. The big issue to watch for NICK is percentage for credit losses, and that fell to 5.84% from 9.86% a year ago. This is the second quarter in a row of declining year-over-year numbers. In other words, things are most likely to get better for them.
Whoever sold out last week was probably expecting some bad news. Well, it didn't come.