Earnings season continued on Wednesday with announcements from several major global energy firms. Exxon Mobil (NYSE:XOM), the world's largest oil company, reported earnings of $4.7 billion, or 98 cents per share, representing a 68% drop from year ago levels when the company set earnings records. Analysts had been expecting earnings of $1.06 per share, and Exxon's shares slid more than 1% in Thursday morning trading. Although oil prices have rallied in recent weeks, they remain well below 2008 levels when crude averaged nearly $100 per barrel.
Royal Dutch Shell (NYSE:RDS.A), the largest European oil company, also reported a big drop in profits on Thursday, as net income fell to $3.25 billion compared to $8.45 billion a year ago. Shell shares also slipped in London trading as investors digested the earnings report and weighed the company's future prospects. Earlier in the week, BP reported better-than-expected earnings on successful cost cutting measures. Chevron is scheduled to release results on Friday.
Energy ETFs In Focus
Despite disappointing results from Exxon and Shell, most energy ETFs, both U.S. and global, were trading higher on Thursday as rising gas prices increased optimism for improved profitability in coming quarters. There are a number of options looking for investors to gain exposure to domestic and global energy markets, including:
Select Sector Energy SPDR (NYSEARCA:XLE): The largest and most heavily-traded energy ETF, XLE invests in domestic energy companies and maintains big holdings in Exxon and Chevron (these two companies account for about one third of assets). XLE has gained about 19% so far in 2009.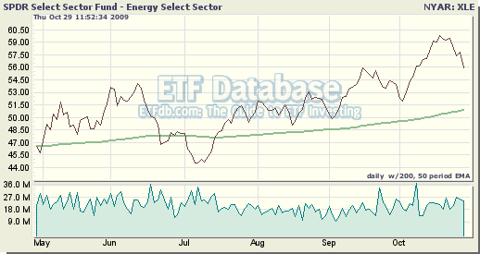 iShares S&P Global Energy Index Fund (NYSEARCA:IXC): This ETF maintains global focus, and as such has holdings in European oil companies such as Shell and BP (these two stocks account for about 15% of holdings). IXC has a very similar performance to XLE, rising about 22% so far in 2009.
Dow Jones Emerging Markets Energy Titans Index Fund (EEO): Unlike most energy ETFs that are dominated by holdings in Exxon, Chevron, BP, and Shell, EEO invests exclusively in emerging market economies. With large holdings in Reliance Industries (India), Gazprom (Russia), Petroleo Brasileiro (Brazil), and PetroChina (China), EEO offers exposure to the BRIC countries and beyond. Since its inception in May, EEO has gained about 13%. Emerging Global Shares also offers sector-specific emerging markets funds focusing on metals and mining (NYSEARCA:EMT) and financials (EFN).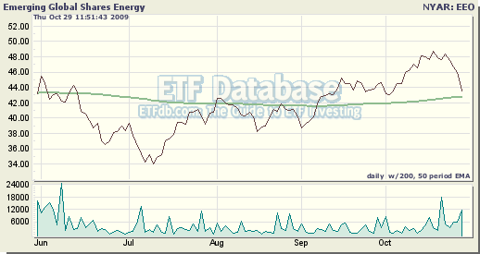 Disclosure: No positions at time of writings.