Zynga (ZNGA) was once a young and growing online gaming company, but has now lost all its sheen. Its games may be still popular among users but its stock is not popular among investors, and the stock price has gone down 67.6% in the last two years. Although it was quick to capture the social gaming revolution, it no longer shows a competitive advantage in mobile gaming. Zynga has been unable to replicate its social gaming success on the mobile platform. It is also losing its place as the largest social gaming company in terms of users, replaced by King.com.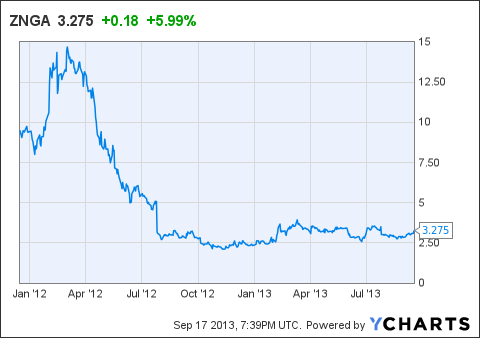 ZNGA data by YCharts
Gambling is not bad after all
Zynga is planning to boost its presence in real-money online gambling, and is preparing to launch real-money online gambling games on Facebook, and mobile in the U.K, where real money gambling is legal. At an event in Barcelona, Spain, the company said:
Social gaming remains its heart and soul, but the gambling games are a logical extension for fans who want to bet real money and win it in social games. Zynga will launch the games in the United Kingdom, where real-money online gambling is legal.
It will launch these games as soon as it gets approval from the U.K. government. This will be the first time Zynga will launch real-money games on Facebook. In April 2013, it launched real-money gambling games through its website ZyngaPlusPoker.co.uk and ZyngaPlusCasino.co.uk as well as a downloadable version of the games in partnership with Bwin.party (OTC:PYGMF), a British real-money online gambling company. Users purchase virtual chips in the game, but they can't cash-in their chips for a payout. Players could transfer their online chips between the various platforms like the website and downloadable version, which already exist, along with the yet to be launched Facebook and mobile platforms. The integration of all platforms will give Zynga a competitive advantage over other online gambling games.
Zynga will leverage its partnership with Bwin.party, which already has gambling games in the market. We believe that this will give gambling game fans a chance to bet on social games, which could drive traffic.
The U.K. is home to a $3.16 billion online gambling industry, with casino and poker contributing 23% and 15% respectively in 2012. Assuming the same CAGR of 1.94% for poker and 15.67% for casino from 2008-2012, the estimated value of the poker and casino industry in 2013 and 2014 are as follows:
| | | | | |
| --- | --- | --- | --- | --- |
| | 2008 | 2012 | 2013E | 2014E |
| Poker | $438.88 | $474 million | $483.19 million | $492.56 million |
| Casino | $406.15 | $727 million | $840.92 million | $972.69 million |
Looking at above table, the combined poker and casino market is worth around $1.5 billion in 2014. This represents a significant revenue potential for Zynga. Although its plans are concrete, much depends on the U.K. government's approval.
Time to go mobile
Zynga was a major contributor of Facebook's (FB) payment and other fees segment revenue, but its share is declining. It contributed only 9% of Facebook's total revenue in 2012 from a 12% contribution in 2011. In November 2012, Facebook amended its tie with Zynga, no longer allowing it to promote its website on Facebook. As a consequence, Facebook-related revenue declined and represents only 68% of Zynga's total bookings in the second quarter of 2013, down from 76% in first quarter of 2013. Total bookings is the total amount of virtual goods, like chips sold in the game, and ads.
Looking at the growing mobile opportunity, Facebook announced the launch of "Mobile Game Publishing," a pilot program aimed at helping small and medium sized game developers, at the Casual Connect conference on July 30, 2013. This initiative will help these game developers find a global audience, as currently small and new developers find it expensive to promote their games through ads. Through this program, Facebook will be responsible for marketing and promoting these games in exchange for a cut in the revenue generated by the game. The exact amount of the cut has yet to be disclosed, but Facebook takes a 30% cut from game makers for the purchases made by users on the Web.
Facebook has more than 260 million users playing games out of its 800 million mobile users globally. We believe that this program will not only help these developers reach their target audience, but it will also allow Facebook to seize the revenue opportunity. Mobile contributed 41% of its total revenue in the second quarter of 2013 up from 30% in the last quarter, and it is expected to continue growing with this new mobile publishing program. Now that Facebook has decided to partner with small and medium developers, the gaming market on the mobile platform will heat up.
Plants vs. Zombies 2: It's About Time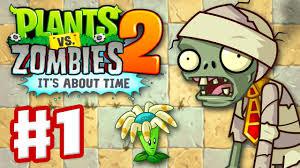 (Source: Zynga)
Another challenge for Zynga is the mobile gaming business of video game developers and publishers; many are launching their games on mobiles and tablets.
PopCap Games, a video game developer and subsidiary of Electronic Arts (EA), released "Plants vs Zombies 2," a sequel to "Plants vs Zombies," in the Apple app store in August 2013. It has already recorded 25 million downloads and has exceeded the total lifetime downloads for "Plants vs Zombies." The game became available on the Android platform Sept. 12, 2013, but only in China. Worldwide launch should occur this fall. Electronic Arts is responsible for distribution of this game, and isn't charging anything compared with the $10 cost of its prequel game. However, if users want the upgrades and in-game purchases, they have to shell out around $10- $30, creating a revenue generating opportunity triple the original game.
We believe that the new revenue model of the game is appealing, and more users will be attracted toward this game, due to the absence of a subscription fee. As users start spending more time and get addicted to the game, they are likely to buy in-game products and upgrades. In addition, "Plants vs Zombies 2" will also boost merchandise-related sales, as Electronic Arts also sells T-shirts and toys based on the game.
Bottom line
Zynga is trading at $3.08, nearly 70% discounted to its IPO price of $10. But the fundamentals remain far from strong to revive the company, which has given a negative return of 1.4% in the last one year. Zynga's PEG ratio is -1.44, implying a declining EPS estimate. The company is expected to post a negative trailing 12-month, or TTM, EPS of $0.07 in 2013, against $0.07 in 2012. Though the company is diversifying its business away from Facebook, its online gambling has yet to gain approval. Meanwhile, it is facing competition from other game developers and publishers that have also migrated to the mobile platform to seize the opportunity. The declining earnings estimate is not a good signal for the company, and we don't think that Zynga is a lucrative investment as of now.
Disclosure: I have no positions in any stocks mentioned, and no plans to initiate any positions within the next 72 hours. I wrote this article myself, and it expresses my own opinions. I am not receiving compensation for it (other than from Seeking Alpha). I have no business relationship with any company whose stock is mentioned in this article.
Additional disclosure: Fusion Research is a team of equity analysts. This article was written by Rohit Gupta, one of our research analysts. We did not receive compensation for this article (other than from Seeking Alpha), and we have no business relationship with any company whose stock is mentioned in this article.