Unless you've been hiding under a rock, you know Hedgeye is gunning for Linn Energy (LINE) and Kinder Morgan Partners (NYSE:KMP). Let's look at a key criticism Hedgeye's made against Kinder Morgan to see if it holds water.
Hedgeye suggests Kinder Morgan's game plan is to "starve its pipelines and related infrastructure of routine maintenance spending" in order to maximize distributable cash flow and payments. That criticism helped tank the stock.
Yet, Kinder Morgan falls right in line with other pipeline companies when it comes to spending money on maintenance. In 2012, they allotted $285 million to maintenance out of a $1.8 billion capital ex budget. Maintenance amounted to 15.8% of capex - a higher percentage than Markwest Energy Partners (NYSE:MWE), Oneok Partners (OKS), Plains All American (NYSE:PAA), and Holly Energy Partners (NYSE:HEP), indicating that Kinder Morgan does not scrimp on maintenance. In fact, Kinder Morgan spends more on maintenance as a percentage of capex than its peers.

(Sourced from 10Ks)
And Kinder Morgan looks good compared to Williams Partners (NYSE:WPZ) which expects to spend $350 million in 2013 on maintenance and $3400 on expansion capex.
Moreover, Kinder Morgan's maintenance spending compares favorably when viewed as a percentage of EBITDA. Maintenance costs are as high or higher than other pipelines.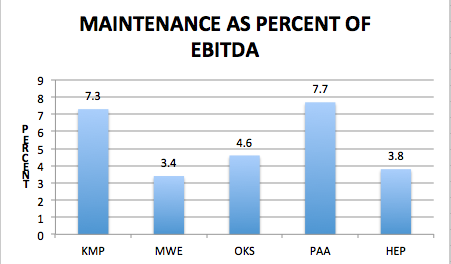 What Is Reasonable For A Pipeline Company To Spend On Maintenance?
Let's ask Energy Transfer Partners (NYSE:ETP). Energy Transfer Partners runs 47,000 miles of pipelines and does not break out its maintenance expenses in its 10-K. The reason is telling:
The assets used in our natural gas operations, including pipelines, gathering systems and related facilities, are generally long-lived assets and do not require significant maintenance capital expenditures. Accordingly, we do not have any significant financial commitments for maintenance capital expenditures in our businesses.
Who Will Hedgeye Target Next?
Before you sell your Kinder Morgan and jump into another MLP, beware - your next MLP might become a target. As far as Hedgeye is concerned, the attack on MLPs has just begun started. So far, Hedgeye's Kevin Kaiser has reviewed Kinder Morgan, Linn Energy, and three other MLPs unfavorably. He's seems to be on a mission to tank the rest of the MLPs:
This is a huge story - there are some 100 energy MLPs. Kaiser has tackled five of them, and all have shown the same issues around transparency. There's no immediate catalyst to make these stocks all go down. What there is, is - there are about $395 billion in natural resources MLP units held largely by individuals in, or planning for retirement. These are "safe" and conservative portfolios. What there is, is a large number of individual investors who sleep soundly at night, because they actually have no idea what they really own in their portfolios.
Markwest Energy, Oneok, Plains All American, and Williams might be next.
Bottom Line
Kinder Morgan does not skimp on maintenance. The company's maintenance spending is in-line with its industry. Hedgeye's assault on Kinder Morgan is unjustified. BUY.
Disclosure: I am long KMP. I wrote this article myself, and it expresses my own opinions. I am not receiving compensation for it (other than from Seeking Alpha). I have no business relationship with any company whose stock is mentioned in this article.
Additional disclosure: The opinions in this document are for informational and educational purposes only and should not be construed as a recommendation to buy or sell the stocks mentioned. Past performance of the companies discussed may not continue and the companies may not achieve the earnings growth as predicted. The information in this document is believed to be accurate, but under no circumstances should a person act upon the information contained within. We do not recommend that anyone act upon any investment information without first consulting an investment advisor as to the suitability of such investments for his specific situation.