With the release of the new Apple (NASDAQ:AAPL) iPhone 5S, the industry gets its hands on a next generation mobile system-on-chip designed by Apple known as the "A7". Powering that chip is an Apple custom-designed, ARM (NASDAQ:ARMH) 64-bit compatible processor core known as "Cyclone" as well as Imagination Technologies' (OTCPK:IGNMF) Series 6 GPU IP (codenamed "Rogue") as I speculated in my recent article covering the graphics IP vendor. It is my belief that Apple's A7 chip is absolutely amazing, and quite frankly the pinnacle of mobile system-on-chip designs available today.
Apple's New 64-Bit ARM CPU
Apple's "Cyclone" processor core is the very first publicly launched 64-bit ARM processor. That's right. Apple beat everybody - even folks like Applied Micro (NASDAQ:AMCC) in the server space - to the punch with a 64-bit design. While the benefits of moving to "64 bit" may not be immediately obvious in today's workloads, tests at Anandtech showed that ARM's new 64-bit ISA (which is actually a clean-slate, separate ISA from its 32-bit one) adds a number of neat instructions (particularly for AES), doubles the number of FPU and Integer registers (these are very fast pieces of memory on-board the chip), and does a bunch of other goodies that leads to improved performance.
However, while ARMv8 is a clean, new instruction set (and yes, apparently it does bring a performance boost for re-compiled code), what's really the star here is the microarchitecture. If we take a look at the Geekbench 3 results, we see that on a core-for-core basis, the A7 in 32-bit mode hangs with the best of 'em:
Apple A7 (32-bit mode): Single Threaded Integer/Float - 1065/983
Intel (NASDAQ:INTC) Z3770 (32-bit mode): Single Threaded Integer/Float - 1063/866
Qualcomm (NASDAQ:QCOM) Snapdragon 800 (32-bit mode): Single Threaded Integer/Float - 938/803
NVIDIA (NASDAQ:NVDA) Tegra 4 (ARM Cortex A15) (32-bit mode): Single Threaded Integer/Float - 997/839
While the 32-bit mode results are impressive, things get interesting when we move to 64-bit mode in Geekbench 3. Obviously, none of the chips here except the Apple can run in 64-bit mode (although Bay Trail is 64-bit enabled, Windows 8 with connected standby in 64-bit mode won't be out until Q1 2014), but we notice a pretty substantial jump in performance in 64-bit mode:
Apple A7 (64-bit mode): Single Threaded Integer/Float - 1471/1339
Pretty slick, right? The nice thing here for Apple is that it controls its own software ecosystem, so while iOS is 64-bit capable today, Android isn't yet for either ARM64 or X86-64. It's not a huge deal right now, but Apple's doing the right thing to prime the pump for when iOS devices really do need 64-bit support down the line.
Apple's A7 Uses Leadership Graphics - Courtesy Of Imagination
Apple is first out of the gate to utilize Imagination Technologies' PowerVR 6, "Rogue" GPU architecture. Benchmarks over at Anandtech show that this GPU is by all counts a leader against even the very best from Qualcomm: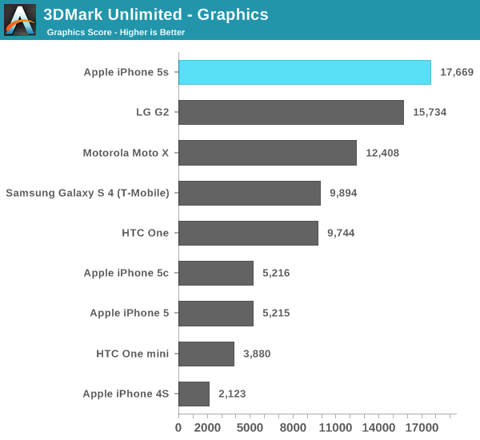 This is a truly leading system-on-chip, and it is very clear why Apple chooses to design its own processors and system-on-chip technology. Nobody else quite has the balanced system for a smartphone that Apple currently designs.
Samsung's "Exynos" processors are a complete mess in trying to implement ARM's big.LITTLE (sorry, ARM), Intel's Merrifield - while it should be competitive with a dual core Silvermont + Imagination Tech Series 6 GPU - isn't quite here yet (shipping by Q4). Qualcomm's doing a good job, but have you noticed that only phablets/big screen devices have been using Qualcomm's higher end SoCs? The "quad core" is great, but it's tough to stick those things into a smaller handset form factor without some serious performance throttling.
Basically, Apple is betting the farm on very powerful single cores with high instructions per clock so that it doesn't have to clock its chips very high (which means that the design can be optimized for density rather than high frequency, which often means better density). It also bets big on GPU performance and usually dedicates a good portion of its die to the GPU.
Conclusion
So, right off the bat - hats off to Apple for designing what is probably the industry's best-balanced system-on-chip and designing a CPU core that delivers a hell of a lot of "oomph". Oh, and being first to implement ARM's 64-bit ISA and getting the OS/developers ready for it is also a big win.
I expect that the iPad 5 will sport a quad core version of this chip, maybe with a higher tier Imagination "Rogue" series 6 GPU, since a tablet can accommodate a beefier processor than a smartphone.
Anyway, while I'm not exactly an uber-bull on Apple's stock, this reinforces the comments I'm always making about it being a "great company". OS builder, chip designer, and software ecosystem provider all rolled into a consumer brand that everybody loves. I just wish the gross margin and market share trends were more favorable because the stock is cheap here. I will say though that the iPhone 5S is now definitely in the running for my next phone (and I'm a big Android fanboy).
You'll all probably want an update on my Intel thesis, too, as this raises some very serious questions. Well, stay tuned - it'll probably be out before you read this.
Disclosure: I am long INTC, NVDA. I wrote this article myself, and it expresses my own opinions. I am not receiving compensation for it (other than from Seeking Alpha). I have no business relationship with any company whose stock is mentioned in this article.
Additional disclosure: I may go long IGNMF.PK at any time.