"Focused Up"

Since early August, we have recommended FAB Universal (NYSEMKT:FU), Taser International (TASR), and Himax Technologies (NASDAQ:HIMX).
In the span of one month, these three companies have averaged a 35% return. Each of these stocks has been fueled by exciting new developments and a strong story behind them. We believe that there is still more to come for these companies.
FAB Universal (FU $5.25 +$0.54)
We recommended FAB Universal on August 13th, when the stock was priced at $4.35. Since then it has popped, jumping from $4.35 to $4.73 and then finally on Monday, shares of FU jumped to $5.27 before closing just 2 cents off the high at $5.25, up 54 cents or 11.5%, on 1.3 million shares traded that day.
This represents the biggest volume that this stock has ever traded. On September 10th a major advertising agreement was announced that FU would distribute its copyright-protected digital music content through China Unicom, China Mobile and China Telecom, the top three providers of mobile phone services in China, it looks like FAB Universal is poised to make another breakout to the upside.
Technical Analysis by Harry Boxer (thetechtrader.com)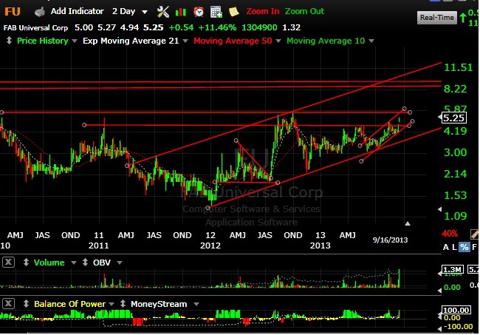 Fab Universal: Shares of FU have quadrupled in the last 18 months and most recently have surged to test key longer term resistance near the $5.50-5.70 zone. Monday's volume of 1.3 million is the biggest daily volume in its history and may be signaling that an important technical move is about to take place. Our feeling is that a price volume surge follow through to Monday's action may test and take out that key resistance zone and result in the stock heading substantially higher. Near term target at $6.75-$7 with secondary more intermediate target near the $8.50-$9 zone. Longer term, $11-$12 may be doable.
We strongly recommend FU as a buy, and if you already bought shares, we suggest buying more.
Taser International (TASR $13.16 +$0.54)
We reported on Taser back on August 12th, when the stock was priced at $8.59. Since that time, TASR has increased to the upside, jumping into the double digits and then finally closing on Monday, September 16th at $13.16.
Taser has benefited from its AXON body-wearable cameras being adopted by numerous police departments across the U.S. Taser has also benefited from having the AXON program currently underway with the New York Police Department, the largest in the nation.
Taser also reported expanded AXON orders with numerous other police departments such as Topeka, Kansas as well as through the Houston Police Department's upgrade of over 2,000 of its TASER electro-shock weapons.
Technical Analysis by Harry Boxer (thetechtrader.com)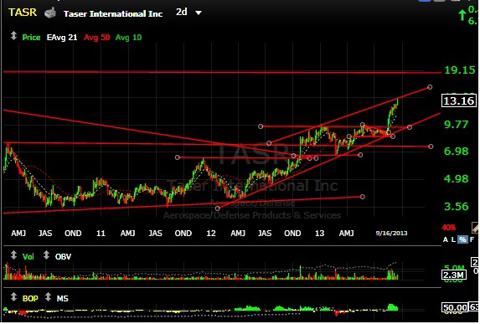 Taser International: After building a massive 4 year base, TASR started a new major uptrend in June 2012 near $4 which saw it more than double by the beginning of 2013. Another 6 month consolidation phase formed which was then broken out of when the next upleg began. The current upleg has taken TASR from just under $7 to near $13.50 on Monday and although it may be short-term overbought and near the major rising channel top resistance, we feel TASR has more to go and would be watching it closely for pullback/retest entry opportunities for the next leg up. Our next targets are set at $18-$18.50 and $23-$25 longer term.
Much like Fab Universal, we strongly recommend buying shares of Taser International if you have not done so already and if you have, we strongly suggest buying more.
Himax Technologies (HIMX $8.69 -$0.33)
In April of this year we recommended Himax Technologies at $5.39. At that time, the Taiwanese LCD technology manufacturer was recommended as an underpriced opportunity. Since then, important catalysts have sent Himax shares up nearly 50%.
Developments such as positive Q2 earnings along with recent analyst notes from Craig-Hallum and Oppenheimer have helped drive the stock from $5.39 in July to a high of $8.62 on September 6th. Trading volume for the four-day week ending September 6th exceeded 100 million shares, versus a three month average of 40 million shares per week.
It is assumed that this activity was in response to the introduction of wearable mobile devices such as Google Glass and Samsung Gear, and with the increasing use of display systems in the automobile industry.
Technical Analysis by Harry Boxer (thetechtrader.com)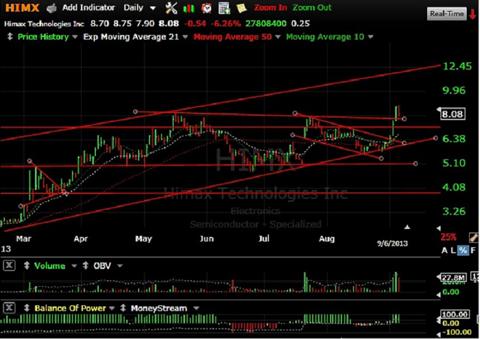 Himax: Since our original recommendation last March HIMX has run from under $5 to over $9.25, most recently having surged about 75% in 2 ½ weeks on heavy volume. Over the last few sessions, HIMX appears to be consolidating/retesting before it moves to higher levels. Our next targets are $9 then from $12 then $15.
As we have stated before, if you have not bought shares of HIMX, we strongly recommend doing so or if you have already, we strongly suggest buying more.
Disclosure: I am long FU, HIMX. I wrote this article myself, and it expresses my own opinions. I am not receiving compensation for it. I have no business relationship with any company whose stock is mentioned in this article.
Additional disclosure: My Associate Editor Anthony Orbanic assisted me with this article.