Overview
Since SolarCity's (SCTY) IPO back on December 13, 2012, its stock price has quadrupled from $8.00 a share to $35.20 as of this article's publication. I believe there are three main reasons for this dramatic rise in stock price.
One, investors are in love with SolarCity's business model. The company offers the option to lease solar panels to customers which allows them to pay little upfront cost while paying off the loan throughout the life of the solar panel. So the idea is, the more and more residential and commercial installations SolarCity signs up the more recurring customer payments it will receive which provides steady cash flows for many years to come. These steady cash flows will provide a steady stream to continue reinvesting in its core business and allow it to leverage its business further with more debt if it so chooses to do similar to traditional utility companies to fuel expansion.
The second reason it has taken off is because of the Elon Musk effect. Elon Musk founded SpaceX, co-founded PayPal, and co-founded the current talk of Wall Street and Main Street, Telsa Motors (NASDAQ:TSLA). There is not much debate among investors that Elon is a genius and he excels at not only creating an innovative idea but implementing it into an economically viable business model.
Thirdly, the solar industry's supply and demand curves are finally coming back to normal. After a few turmoil years of falling solar panel prices due to an oversupply in the industry, supply and demand have finally begun to stabilize. The highly leveraged and weak solar companies exited, and demand, due to the falling prices, has increased.
Also, looking at the longer term, I think there is a place for solar power. U.S. Energy Information Administration estimates that solar energy will lead the renewable capacity growth by expanding a total of 46 gigawatts from 2011 to 2040 which translates to about a 1000% growth from its current level. However, as it stands now, solar power is not competitive less subsidies but with prices continuing to drop, grid parity is starting to look like an inevitability.
So given all this great news for SolarCity, what's not to like? Well unfortunately there are many headwinds ahead for SolarCity. Below I highlight some of the major risks of investing in this company.
Less subsidies
The current tax credit of 30% is set to decrease to 10% at the beginning of 2017 in the United States. I would not expect any type of extension if not possibly decreasing it even further. The U.S. is already $16 trillion in debt on top of a continually rising Fed balance sheet due to the spending of billions of dollars through quantitative easing programs to boost the economy. These tax credits are crucial not only to SolarCity but the entire solar industry. If you completely wipe out all subsidies, solar power is simply not competitive with traditional power like coal, nuclear, and natural gas at the present time. A decrease this significant will essentially raise the cost of capital and translates to higher prices charged to SolarCity's customers which will decrease demand and possibly squeeze margins.
Unique business model?
I question how unique this business model is. The idea of billions of dollars of steady cash flow every year is nice to think about, but when you really boil it down, its unique factor is leasing solar panels. Something many solar companies already offer. Specifically, Real Goods Solar (RSOL) has been doing it for decades and trades at 0.7 times sales compared to SolarCity's pricey 13.4 price per sales despite similar revenue (although their growth rate in revenue and market share is less than SolarCity's). And any company not currently incorporating leases in their business model could make the switch very easily. In other words, this competitive advantage has very low barriers to entry.
The one plus the company has going for it is Elon Musk's amazing business and marketing skills. But I question how involved he is in SolarCity when he is trying to change the world and disrupt the United States' big three automakers (General Motors, Ford, and Chrysler) century reign with his electric car maker company Telsa Motors. Remember, he is CEO of Telsa running the day to day operations and major strategic decisions while he is only the chairman of the board of SolarCity only taking part in the major decisions. Much more of his time is spent with Telsa and not SolarCity.
Fragmented industry
I think a lot investors agree that there is a lot of growth potential in the solar industry; however, looking for the next big thing is a tough task in this industry. SolarCity is trading at a valuation that would indicate it will become the king of the solar industry as I detail below. But this industry has become very fragmented and commoditized. In other words, there are a lot of companies selling similar products in similar ways. SolarCity's best chance at pulling ahead of the competition is building a very strong, trusted brand. To its credit it currently controls the most market share of leasing solar panels at 17% in the United States. I think it's possible that it could continue to grow a strong brand to become the dominant choice among its competitors if absolutely everything falls into place perfectly, but given the numerous risks I foresee in the future, I do not see this happening.
No love for shareholders
For starters, the directors, executive officers, and insiders (stockholders who own over 5% of SCTY's common stock outstanding) own about 78% of the common stock. In other words, retail investors have essentially no say in important matters of the company.
Secondly, over the last several years, SolarCity has relied upon a lot of third party equity financing. A lot of these third parties have senior claims above that of shareholders. This exposes common shareholders to even more risks if the company were to go bankrupt which will decrease the chances of getting even a fraction of their money back.
Possible accounting shenanigans
I would like to put a little disclaimer before I begin this section. I am not directly accusing SolarCity of cooking the books. I am merely bringing to the attention to investors a couple of red flags that I believe should be closely monitored. Unfortunately, many companies in recent years have engaged in accounting fraud which has forced keen investors to look out for potential accounting shenanigans.
As Barron's points out in its recent article on SolarCity, the company has consistently reported higher fair value of its solar panels than its peers. Why does this matter? It matters because it is a crucial source of cash that is determined by the federal government based off the fair value of its solar panels. In other words, the higher the fair value the bigger the tax credit. Glancing at the first chart below, courtesy of Barron's, a noticeable trend of reporting higher fair value then its peers has emerged. To be fair, SolarCity's rebuttal is that developing leases cost more than selling the systems outright. However, this can only help explain the last couple of years because leasing solar panels were not part of SolarCity's core strategy when it began operations in 2006 (Shown in second chart below. Numbers in thousands of dollars).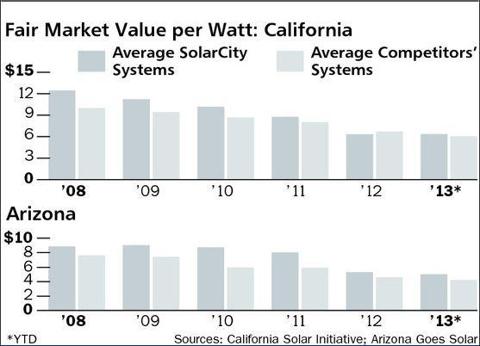 To put this into perspective, if SolarCity is forced to make just a 5% downward adjustment of about $400 million of grants it has submitted to the Treasury as of December 31, 2012, it would be forced to repay about $20 million to fund investors. This is a big hit for an unprofitable company making a bit over a $100 million per year while keeping in mind this is a conservative estimate.
Also, I would like to point out that SolarCity is deemed an "emerging growth company" by the Securities Act so it does not have to disclose certain accounting data. As the company states in its 10-k, "…our stockholders may not have access to certain information they may deem important." The less information an investor has, the more risk that is added on to the investment.
High valuation
SolarCity is being priced as a three billion dollar company while making about $130 million per year in revenue as of 2012. For comparison's sake, First Solar (NASDAQ:FSLR) trades at about a four billion dollar market capitalization while making over three billion dollars in revenue. SolarCity is trading at a 14.7 price to book multiple and a 12.8 price to sales multiple compared to First Solar's 0.9 and 1.1 price to book and price to sales multiple, respectively. Not to mention the industry averages 1.7 and 1.0 for price to book and price to sales multiples, respectively. At these valuations, investors are clearly pricing this company as if it will be the dominant force in the solar industry. The next Apple of technology, Wal-Mart and Amazon of retail, McDonald's of fast food, and so on. For the reasons I list in this article, I do not believe SolarCity will achieve this status. I believe it can be a successful company in a growing industry, but I cannot justify these current valuations.
Conclusion
SolarCity is being priced as if it has a clear, paved, yellow brick road to dominance of the solar industry. However, I believe the market is not fully pricing in the decreased subsidies to come, the overrated uniqueness of its business model, the intensely competitive nature of the solar industry, the poor support for shareholders, and the potential for accounting mischief. Regardless, I think SolarCity has the potential to be a solid company but not a great investment at its current lofty valuation.
Disclosure: I have no positions in any stocks mentioned, and no plans to initiate any positions within the next 72 hours. I wrote this article myself, and it expresses my own opinions. I am not receiving compensation for it. I have no business relationship with any company whose stock is mentioned in this article.
Additional disclosure: This article is for informational and educational purposes only and shall not be construed to constitute investment advice. Nothing contained herein shall constitute a solicitation, recommendation or endorsement to buy or sell any security.