(Editors' Note: This article covers a micro-cap stock. Please be aware of the risks associated with these stocks.)
Background
As a devoted investor I am always looking for the next gem. Sometimes you don't find them on the NASDAQ and NYSE, so you have to look somewhere else. In this specific case the OTC market.
In my search for emerging technologies I came across a company called Ace Marketing & Promotions (AMKT.PK). This company is engaged in local based mobile marketing.
I reached out to the CEO Michael D. Trepeta to hear what he had to say about his company and asked him also if he could give me more information to understand the business before I make an investment.
Right now I am convinced that Ace Marketing & Promotions is one of the most promising technology and marketing companies currently overlooked by Wall Street and Silicon Valley.
Investment Thesis
Mobiquity Technologies, the new name of Ace Marketing & Promotions Inc., is a company that is focused on local based mobile marketing. The company's main focus is Proximity Marketing. Spending on mobile marketing will be beneficial for the company going forward and will ultimately lead to a leading, sustainable and profitable company in innovative marketing technology solutions.
The New Name
In the 8-K filing of September 11 the company explained why they changed their name.
Management believes that the Company's new name will better reflect its direction as a technology company focusing on connecting fans and brands through mobile, social and online platforms.
The Case
Spending on mobile marketing keeps rising, as brands learn the power of reaching consumers on these devices, and consumers become increasingly mobile-first.
The Mobile Marketing Association, in partnership with IHS Global Insight, studied U.S. mobile marketing expenditures and their impact on sales for the "Mobile Marketing Impact Study," released last May. The study found that this year spending on mobile marketing-including mobile advertising, mobile customer-relationship management and mobile direct-response marketing will reach $10.46 billion. By 2015, spending will likely approach $20 billion.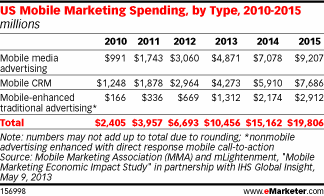 Mobile and tablet advertising will help companies achieve their brand goals, and thereby drive sales. InsightExpress found that in 2013, mobile and tablet advertising got strong results across brand health metrics, raising ad awareness, purchase intent and brand favorability.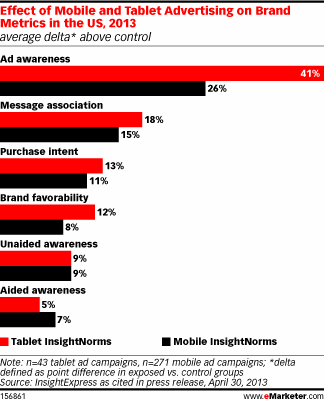 The Company
Mobiquity Technologies has developed and acquired a number of innovative marketing technologies, spanning location-based mobile marketing, mobile customer data analytics, web content and customer relationship management, that it will continue to leverage through its two wholly-owned subsidiaries: Mobiquity Networks and Ace Marketing & Promotions.
When I asked myself about the name change I got the following answer:
"Our organization today is strongly positioned as a leader in the social mobile marketing space with its location-based marketing platform, Mobiquity Networks, which creates significant added value as a prominent company asset and a logical extension of our integrated marketing platform we originally formed with Ace Marketing & Promotions. Therefore, adopting a new name and brand identity is an important next step in our growth strategy," said Dean Julia, Co-CEO of Ace Marketing. "Mobiquity Technologies expresses how we have evolved as an organization - a technology company that connects fans (consumers) and brands through mobile, social and online platforms."
Mobiquity Networks has created the nation's leading location-based mobile marketing network - spanning 75 landmark malls across the top US metropolitan markets. Mobiquity utilizes a comprehensive Mobi SuiteTM of proprietary mobile interaction technologies utilizing Bluetooth, WiFi, NFC (Near Field Communication), and QR (Quick Response) codes to target on-the-go shoppers and deliver meaningful digital multimedia content to their mobile devices. In late 2013, Mobiquity will provide an additional point of interaction on consumer's smartphones in the form of a new mobile application dubbed - Mobi AppTM. Inherent to the new Mobi AppTM, Mobiquity plans to additionally release its much anticipated Mobi RewardsTM program to encourage brand engagement and reward users for interacting with the network.
As a subsidiary of Mobiquity Technologies, Ace Marketing & Promotions has continued to demonstrate leadership as an integrated marketing technology company. Since the official commercial launch of its first technology platform earlier this year, Ace's "AcePlace" web development and content management system (NYSE:CMS) has received excellent client reviews, and continues to demonstrate excellent growth potential. Just this month, Ace has completed development of the beta-version of Axxion, a proprietary business management platform. This cloud-based application was designed from the ground up to change the way distributorships in the promotional products industry are managed. The Ace Marketing subsidiary continues to stay true to its agency roots, and has developed a core 4-step process for helping clients to develop and build their brands utilizing the appropriate in-house technologies.
The "Ace Process"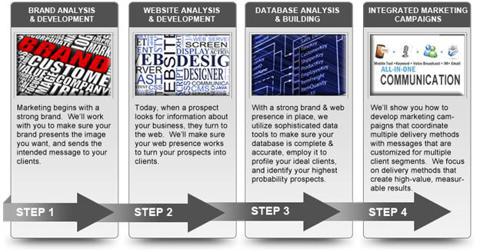 Mobiquity Networks just recently announced the launch of its first fully-integrated mobile marketing campaign with its newest client Dollar General (NYSE:DG). Dollar General is one of the largest discount retailers in the U.S. The campaign will utilize Mobiquity's mall-based mobile marketing network to deliver rich digital messages to shoppers' mobile devices. Downloadable content will include: a Mobile App, a Mobile Circular, Exclusive Savings, and Digital Messaging to promote brand awareness.
In addition to the mall-based effort, Dollar General will be rolling out an "in-store" pilot program at several of their locations utilizing Mobiquity's integrated mobile marketing technology suite.
This big deal could lead to more visibility of the company and gain traction to other potential customers. Network expansions will be the key focus where technology and user experience are the key words. Mobile marketing technologies are the new way of doing business and I think Ace Marketing & Promotions is a promising company with a lot of potential that is currently overlooked by Wall Street and Silicon Valley. It offers tech-savvy and high- risk appetite investors a great way to profit from Proximity Marketing.
The Game Changer: Proximity Marketing
The key words of Ace's Proximity Marketing are:
Engagement
Location-based mobile marketing can truly interact with your clients and potential clients, by delivering digital content such as movie trailers, wallpapers and coupons via Bluetooth and WiFi. This all without any cost to the end-user.
Extensive reach
The mobile device has become an integral part of everyday life. The ability to reach consumers at such personal level increases effectiveness of mobile marketing campaigns. The user can easily share the content with others, further extending the reach of a campaign.
Proprietary technology
The company's technology permits delivery to virtually any mobile device and properly formats each message to ensure that every user receives the best possible experience. Results are fully trackable giving campaigns a true level of accountability.
What is Proximity Marketing?
Proximity marketing is the localized wireless distribution of advertising content associated with a particular place. Transmissions can be received by individuals in that location who wish to receive them and have the necessary equipment to do so.
Distribution may be via a traditional localized broadcast, or more commonly is specifically targeted to devices known to be in a particular area.
The location of a device may be determined by:
A cellular phone being in a particular cell
A Bluetooth or WiFi device being within range of a transmitter.
An Internet enabled device with GPS enabling it to request localized content from Internet servers.
A NFC enabled phone can read a RFID chip on a product or media and launch localized content from internet servers.
Communications may be further targeted to specific groups within a given location, for example content in tourist hot spots may only be distributed to devices registered outside the local area.
Communications may be both time and place specific, e.g. content at a conference venue may depend on the event in progress.
The company's subsidiary Mobiquity Networks platform uses Bluetooth and WiFi to ensure the broadest reach possible and they are:
Compatible with over 2,000 unique mobile devices;
Compatible with smartphones (iPhone, Android, Palm, HTC) as well as non-smartphones;
Do not need to download an additional application; and
The message content is free for each end-user.
How It Works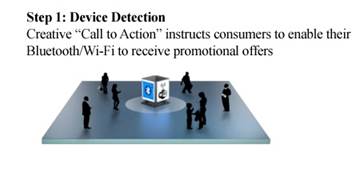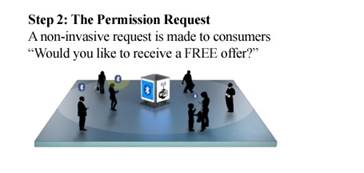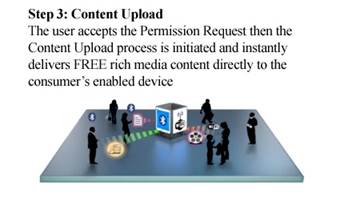 The Right Content In The Right Context
The company has the ability to deliver a variety of rich media at no cost to the consumer based on location or time of day, including the following:
Videos: Movie Trailers, Exclusive Videos, Commercials;
Coupons: Discounts and offers for current and prospective customers;
Images: Album Covers, Action Shots, Wallpapers ;
Games: Mobile games (partial free play, purchase full game);
Ringtones: Mp3's, Voice Tones, Soundtracks;
Applications: Mobile applications (partial free, purchase full); and
Calendar Appointments: Reminders.
Growth Strategy
Mobiquity Technologies management is implementing a multi-pronged growth strategy to include network expansion across select mall and other large retail properties, as well as additional high-traffic venues such as sports and entertainment arenas, metropolitan airports, and destination locations such as New York City's Time Square. Future avenues for building further company value and revenue growth will include bundling and marketing the vast amount of data constantly generated by this expansive social mobile network.
Network expansion is one of the key goals of the company going forward.
Why Proximity Marketing?
Financials
The company has more than $2 million in cash to fund their operations. (cash and cash equivalents of $2,309,902 at June 30, 2013). Unfortunately they are still making a net loss, but it could be possible that they become cash flow positive in Q4. Net loss for the six months ended June 30 was $2,939,070.
The company commenced operations in 1998 and was initially funded by the three founders, each of whom had made demand loans that have been repaid. Since 1999, the company has relied primarily on equity financing from outside investors to supplement the cash flow from operations.
Future liquidity requirements will arise from the need to finance the company's accounts receivable and inventories, hire additional sales persons, capital expenditures and possible acquisitions. The primary sources of funding for such requirements will be cash generated from operations, raising additional capital from the sale of equity or other securities and borrowings under debt facilities which currently do not exist.
Finding a cash-rich partner could be beneficial for the company moving forward.
Value Proposition
The company operates a Cost Per Download model. The company's Proximity Marketing strategy offers clients more value than other marketing strategies. Download rates are 84% and the average engagement is 15.2%. No other technology company has these huge benefits, see below.
The Main Competitor
With Apple (NASDAQ:AAPL) embracing Bluetooth, this giant is heading into Mobiquity's direction.
Apple's iBeacon uses Bluetooth technology to connect iPhones to physical sensors. It has a much higher range than any NFC chips and NFC sensors, making it more appealing to retailers who can utilize it for mobile payments and in-store marketing.
Investment Risks
Proximity marketing business is quite new, so there is not a long track record. It still can be seen as an unproven concept, this could result in insufficient revenues and profitability for the company going forward.
This emerging stock has an average volume of 43,352 and is still listed on the OTC market. Commonly, many stocks trading in the OTC Market are more volatile than mainstream stocks.
Final Note
The increase and merging of distributed networks and wireless telecommunications has created a huge potential platform for providing business services. In consumer markets, mobile marketing is expected to be a key growth area. The immediacy, interactivity and mobility of wireless devices provide a novel platform for marketing. The personal and ever-present nature of devices means that interactivity can be provided anytime and anywhere.
Mobiquity Technologies could become a future winner in the Proximity Marketing rat race. So this company will be on my radar screen instantly.
Disclosure: I have no positions in any stocks mentioned, and no plans to initiate any positions within the next 72 hours. I wrote this article myself, and it expresses my own opinions. I am not receiving compensation for it (other than from Seeking Alpha). I have no business relationship with any company whose stock is mentioned in this article.