Like real estate, a large determining factor in the success and valuation of a regional bank comes down to location and, right now, there is arguably no faster growing area in the U.S. than the one found in and around the booming oil and gas economy of North Dakota.
For interested investors there are very few options due to the privatization of most pure play regionals in the area but, that just makes Alerus Financial Corp. (OTCQX:ALRS) even more compelling. Alerus Financial has a $195 million market cap and last reported assets of $1.297 billion and deposits of $1.062 billion. The bank has been growing very fast (up ~30% YTD) and trades right at its 52-week high, however, the current valuation of shares is well below that of other similarly fast growing regionals. With this mind, below I have presented a review of the bank's current financial position, earning power and valuation.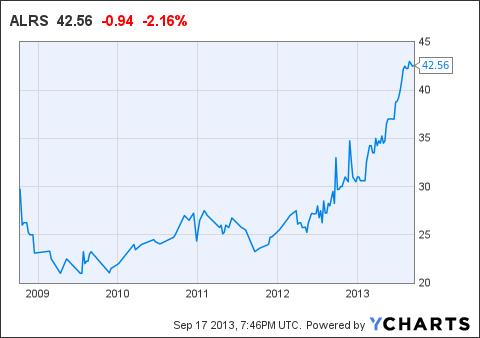 Financial Position
Deposits this year have grown 7.5% YTD (to $1.062 billion) and now account for 92.47% of all liabilities. Non-interest bearing deposits make up 20% of all deposits and 18% of all liabilities which is increasingly important as the bank's extremely fast growing loan portfolio has increased the loan / deposit (L/D) ratio to 84.6% from 77.7% in just one year.
The bank is still very liquid ($29 million in cash and $265 million in investment securities) but the L/D ratio is a number to keep an eye on because I don't doubt the ability of the bank to find loans at a faster rate than deposits. This being good for business but something that would pressure margins if non-deposit funding was required to fund the loan portfolio. For instance, over $1 billion in deposits cost the bank only $792 thousand last quarter when at the same time, just $86 million in other borrowings cost $165 thousand (significant difference). It's easy to bring in loans by offering a competitive rate but it takes much more to convince a customer to trust a bank with their accounts.
As it is now, the bank is cheaply funded and has been capitalizing on it by growing loans which has helped drive net interest income up 3.3% YOY (to $12.269 million last quarter). Under normal circumstances (higher interest rates) this increase wouldn't be too noteworthy but lower rates and high competition has made this bump in income only achievable through higher volumes of loans. Something not every bank has been able to accomplish but a recurring theme coming from Alerus and one that is reflective of the strong region the bank operates in.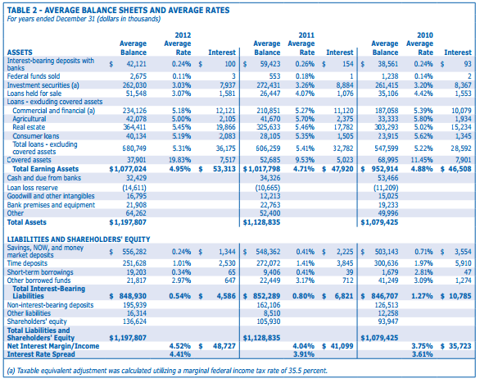 Alerus has a fairly even distribution of loans in its portfolio which have all been growing and, conveniently, all appear to be producing similar (above 5%) yields. This is good because the bank doesn't appear to be overly dependent on one line but unique in that most of the time you see a regional targeting the highest producing one when the yield on that line is significantly different than the alternatives. In this case, all appear to be equally profitable for the bank.

Also interesting is the fact that the bank's non-interest revenues are close to double net interest income. In fact, the money brought in from trust income alone almost matched net interest income last quarter. Mortgage originations are also high but, in my mind, more stable lines for this region than other areas of the U.S. due to a lower than usual housing supply and higher than average demand. If you aren't aware, search headlines for housing demand in the North Dakota. Most will probably come up with results similar to this one.
Nonperforming assets (NPA) across all lines continued to improve last quarter and were down to just $13.99 million from $19.79 million at the same time last year. Nonperforming loans were down to $7.143 million and, excluding covered loans, this balance was even lower at $4.88 million which means that allowances now cover all NPLs by 233% and all non-covered NPLs by 479%. As a percentage of total loans, this coverage is relatively normal but arguably one that was built up by under/conservatively reporting income. This could be looked at as hidden value as well as a good case for lower future provisions (at least in the short-term).
Another place I like to look for hidden value is in Accumulated Other Comprehensive Income (AOCI) which, found in equity, last came in at $1.172 million (down from $4.442 million in the prior quarter). As this number reflects fair value changes, and is positive, there's little room to argue for credit here as this amount will most likely go to zero and below as interest rates continue to rise.
Even though non-interest revenues are high, they are matched by non-interest expenses and so the bank's profits are dependent on net interest income. Since interest rates are expected to continue their ascent, revenues have some positive tailwinds as higher yielding loans are sold and the bank puts idle deposits and its low yield AFS securities to work.
Value
At the current market price, shares are trading at a premium of 71% to their tangible book value which is extremely low for a regional bank earning 1.78% on tangible assets and returning close to 19% on per-share tangible common equity. Shares are up 30% YTD but it's hard to imagine this one selling for any less than they do right now. Annualizing YTD performance also works out to a low P/E of 11.4. Equally surprising considering these performance ratios are slightly higher than some of the fastest growing regionals (a lot in Texas) in the U.S. who are right now close to 2Xs more expensive than Alerus (some over 3X TBV). This may be a discount for having a smaller market cap, for trading over the counter, or for whatever other reason but all of them make Alerus look relatively cheap.
Earnings Power
YTD, Alerus has earned $2.44 per share up (31%) from $1.85 earned over the first six months of 2012. And, I noticed that other intangibles were down by $2.85 million so that means these earnings are ~$0.62 (pre-tax) per share lower because of non-cash charges that I'm not using to justify the bank's value (I'm basing my evaluation on Tangible Book Value). This, and the extra provisions (+400% coverage ratio) are "depressing" returns that are already good for a reported 1.78% return on tangible assets.
The bank pays out ~$1.00 per share in dividends (has been increasing) and there is little to no dilution so even just projecting the continuance of reported earnings (remembering they appear to be lower than tangible returns) gets me to just under $29 in tangible equity per share over the next 12 months (and that's after the $1 dividend) with no other catalyst than operating the business as usual.
But, there is a small catalysts.
The bank recently announced the purchase of Tegrit Administrators LLC which will add $1.3 billion in assets under wealth management (a 10% increase)- remember those large trust revenues.
In addition to this, the bank upped its quarterly dividend to $0.26, which is small, but another step towards lowering the build-up of equity that will help slow deleveraging to maintain the high ROTCE.
I think the bank will have a tough time acquiring other banks in the region because most are performing well, privatized and not selling. Therefore, opening new branches appears to be the best course of expansion though I would much rather see a buyback or special dividend. Capitalization ratios are strong (Tier 1 of 13.1) and there are plenty of earnings to kick back to investors without even getting close to regulatory limits.
Keep in mind, the returns I'm projecting here are not adding back or relying on the intangible expenses and excess provisions that I have brought up in my analysis. I'm not adding them in to puff up expectations because in my mind they are more valuable as a built-in margin of safety.
Regional Strength
I said North Dakota was a fast growing region but I couldn't leave without presenting the graph below. In it, you see the top U.S. growers fit in the range of 3.3-13.4% change in Real GDP but that is quite a large spread and one that would probably be better if it was changed to 3.3-4.8% and 13.4% for North Dakota.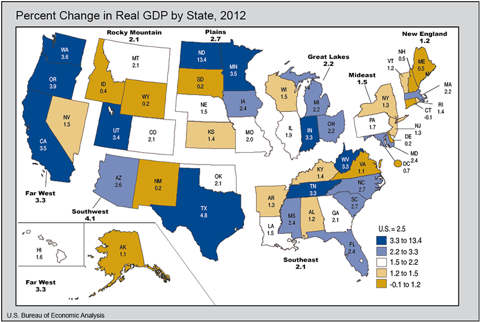 Bottom Line
I'm honestly surprised SeekingAlpha only has 6 followers on Alerus because it is a standout based on performance, location and quality. This one trades at a relatively normal premium for slightly-above average regionals but I don't expect that to last much longer. I'm a shareholder, and may be a little biased, but this is a great find and one I expect to grow at a rate between 15-20% (for a very long time) with a lot of upside potential should the market catch wind and shares be rewarded with a higher premium.
As another disclosure, this is the most expensive bank stock I own based on P/TBV. The position represents 1.6% of my portfolio. I have reviewed many strong regional banks but only hold shares in five of them.
Below I have provided some extra visuals of the bank's most recent quarters (all in thousands of dollars):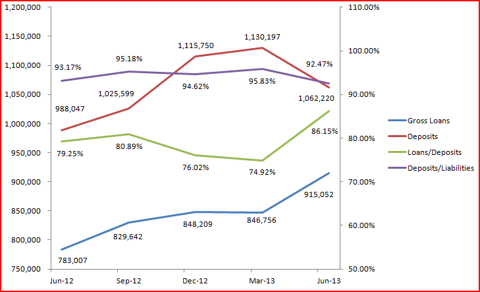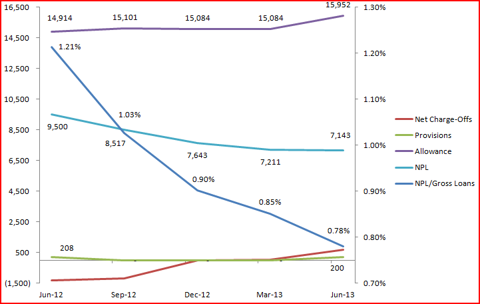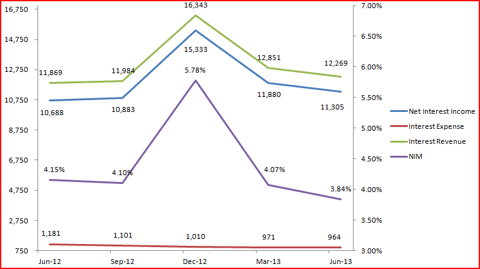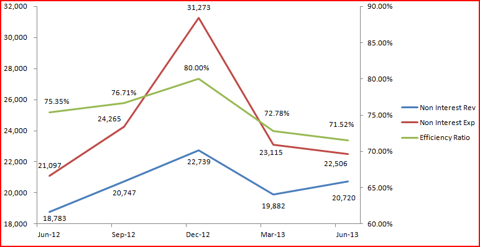 Disclosure: I have no positions in any stocks mentioned, and no plans to initiate any positions within the next 72 hours. I wrote this article myself, and it expresses my own opinions. I am not receiving compensation for it (other than from Seeking Alpha). I have no business relationship with any company whose stock is mentioned in this article.