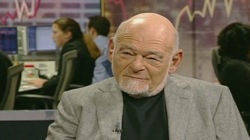 Sam Zell, chairperson of the board for Equity Group Investments, did an interesting interview with Bloomberg Television about the outlook for the commercial real-estate market, the recession, the Tribune bankruptcy, and the Cubs.
Here are some highlights from the interview:
On government intervention in the financial system:
"The government intervention in the financial system has effectively slowed the liquidation of distressed assets and the result is that with government funding, the desire and the need to liquidate the assets is dramatically different."
On the recession:
"This is a demand recession and I suggest to you that as the economy improves, it's very likely that these buildings that are currently suffering vacancies will be full. That's the good news. The bad is, they'll be full at thirty percent lower rates."
On the Tribune Company bankruptcy:
"I think that with some reasonable luck I think it'll be out sometime by the end of the first quarter. I've been involved in a lot of bankruptcies in my life. Most of the time as the buyer of the debt, as opposed to the debtor in possession. Bankruptcies, by definition, are very frustrating. And they will continue to be."
On looking back at the purchase of the Tribune Company:
DEIRDRE BOLTON: Can we ask you if you regret this decision? Is this the worst business decision you ever made?
SAM ZELL: It's certainly the most amount of money I've ever lost in a single deal. But the answer is -
BOLTON: So if you could turn back time….
ZELL: If you could. It's like maybe I should have married somebody else.
On the Cubs
BOLTON: Don't know if we can go from motorcycles to baseball, but what happens to the Cubs?
ZELL: Well, on the 27 of this month, which is tomorrow, yesterday, it closed? I did not even know. Ten days ago it went into kind of an automatic mode, and then it just followed a series of events. The answer is, I'm very happy for the Ricketts family. I think the team should be owned by somebody who is local, somebody who is really passionate about baseball. I happen to be local. I'm not passionate about baseball, so I wish them all of the best of luck. And maybe we'll break the 101 year curse.