by David Gibbs
Reported Thursday Morning: Conoco Phillips (NYSE:COP)
COP reported earnings of $1.00 before the bell, beating estimates by $.06.
Report Recap: Earnings fell 71% year-over-year on a $1.5 billion drop in profits.
"Although we operated well, we were adversely impacted by low North American natural gas prices and worldwide refining margins, which led us to curtail approximately 300 million cubic feet a day of natural gas production starting in late August and reduce refinery runs," said CEO Jim Mulva.
Though it wasn't all bad, the meager earnings beat did little to prop up the stock after an unexpected rise in gasoline supply was announced Thursday morning.
As of 2:35 PM EST shares were trading down 2.96% at 49.39. COP had recently broken through intermediate-term resistance at around $48, and Thursday's trading doesn't auger well for the coming weeks.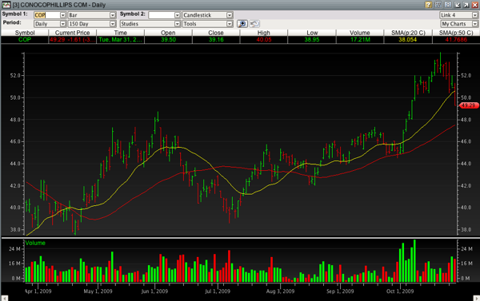 Trading Big Today: Apollo Group (NASDAQ:APOL):
APOL also reported earnings Thursday morning, beating by $.02, but that's not why they're trading big. Along with the small earnings beat, this provider of higher education and owner of The University of Phoenix announced that federal regulators were probing its revenue-recognition practices.
Shares are trading down over 18% and at least 3 brokerages have downgraded the company.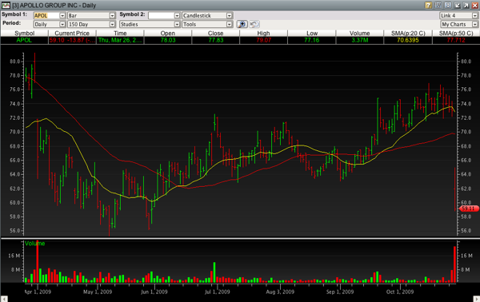 Reporting Friday: Apache Corp. (NYSE:APA):
APA, once the apple of the eye of natural gas momentum traders, has traded down nearly every day since hitting a 52-week high of 105.59 a week ago Thursday.
Analysts are expecting APA to report earnings of $1.60 Friday before the bell.
The way this stock has been trading for the past week, it's hard to know if anything they say can save it. Expect competitors XTO Energy (XTO) and Anadarko Petroleum (NYSE:APC), who are both reporting next week, to trade in unison with APA.