The average household has 22 of these money-savers but less than 10 are active. That's an expensive waste. And, in that dilemma lies opportunity for a flourishing business.
Points International (NASDAQ:PCOM) provides technology to manage loyalty programs for both its partners and its members. Established in 2000, Points currently partners with 60 of the world's top loyalty brands worldwide. Overall, it offers more than 200 products. Points has executed transactions accounting for more than 88 billion points and miles. The airline industry is the foundation of Points' business. Retail and financial loyalty programs are rising quickly in popularity.
Members (Consumers)
Points' members manage their loyalty programs on the website, Points.com. Besides tracking account numbers and expiration dates, consumers may:
track balances of programs,

exchange points, rewards, credits and miles between programs,

learn about promotions and tips to earn faster,

trade points, rewards, credits and miles with other Points.com members, and

redeem loyalty currency for gift cards or into PayPal.
Partners
Points' partners may choose solutions that have the look and feel of either the partner's brand or the Points brand. Whether it be through online malls or online auctions, Points strives to offer consumers an experience that delivers value and increases loyalty to the brand. By engaging with a central hub for loyalty business, partners are:
introduced to a large pool of loyalty program consumers,

provided with planning and forecasting analysis and marketing strategies,

provided with integration services among partners, and

freed to focus on core business.
Industry Firsts
Points International lays claim to several industry firsts.
Points enabled mileage sales online. It is not unusual for an airline to offer bonus mileage when mileage is purchased online. Purchased mileage is often used to reach a redemption goal. Another airline mileage "first" is the miles gift registry offered by Points.com and US Airways (LCC) Dividend Miles. It allows members to register a goal. Family and friends may purchase or transfer miles to the member's goal.
Another first is the ability to exchange loyalty currency between programs. In other words, free of any charges, miles can be exchanged for gift cards, gift cards for hotel stays or hotel stays for miles. Additional options include products, services and subscriptions.
Yet another first is the ability to redeem points and miles into a PayPal account. Although the transaction requires a few days for processing, the funds may be used just as any deposit into PayPal.
In 2012, Points launched another first in the industry - its customer call center application. As support to its Buy, Gift and Transfer product, Points allows customers to reach and redeem the required mileage at the same time the flight is booked. Seven partners have signed on to use the call center.
Revenue Generation
Points derives revenue in three ways. First, revenue comes through reseller arrangements. Points provides its partners with technology design, development and maintenance, and hosting. Under the arrangement, Points also purchases points or miles from partners at wholesale rates. It then resells the points or miles to its registered consumers. The second category of revenue are transaction fees charged to consumers when points or miles are sold for program partners. The fees are also charged when points or miles are traded between consumers. Lastly, Points earns interest income on the cash flow generated by its products and services.
Opportunity
According to the Colloquy group, a research firm focused on the loyalty industry, there were 2.65 billion loyalty memberships in the U.S. in 2012, a 32.5% increase from 2 billion in 2011. The robust growth was due to several factors:
existing programs attracted more satisfied members,

the economy is recovering from recession, and

new programs are introduced (particularly from companies that haven't traditionally run


programs).
In 2010, the value of loyalty rewards was approximately $48 billion across all industries. And, in that year, about $16 billion or 33% of loyalty rewards were estimated as unredeemed.
In its 2012 annual report [pdf], Points estimated it had penetrated roughly 25% of the loyalty programs in the marketplace. The company estimated less than 2% of the loyalty community utilized its products. Of its products, only 40% had been deployed into its partner base.
To date in 2013 [pdf], 76% of Points revenue was earned in the U.S., 22% in Europe and just 2% elsewhere. The growth potential in emerging markets is exceptional. The growing marketplace in China, especially, offers many opportunities as the loyalty market there is on the ground floor. In 2012, Points set up a relationship with Aimia by co-investing in China Rewards, a Shanghai-based retail coalition loyalty program start-up. China Rewards also has a long-term agreement with China UnionPay, the world's largest card issuer. Points believes this investment will earn it a first-mover advantage in Asia.
Industry Trends
A key element in Points' success is its fervor to both define and embrace industry trends. Points has a SaaS (Software as a Service) cloud-based application that allows e-Commerce merchants to add loyalty programs to their online stores. It is encouraging the development and integration of non-travel-related loyalty programs in industries such as retail and financial. It pioneered redemption to cash. It is adding functionality for mobile and tablet applications. Considering the evolution to a digital wallet, Points is well-positioned to become a strategic player.
Competition
It is evident that any current or potential partner may house its own loyalty program software solution. However, integration with the numerous Points partners would not be available without significant effort. As well, there are websites that provide the ability to track account numbers and balances. However, the ability to buy, exchange or trade loyalty program currency is missing. It is possible competitors could decide to add such capabilities. But, with Points' head start and first-mover advantages, competitors are already at a fundamental disadvantage.
Financial Performance
Revenue has increased at a compound annual growth rate of 35% since 2010. Net income, on the other hand, grew at an even faster pace until 2013. Expenditures in 2013 increased due to a jump in headcount and additional spending on IT systems. Headcount rose from 116 in the second quarter of 2012 to 131 in the second quarter of 2013. The additional employees are focused on marketing, technology and product management. The graph below depicts the trend in both revenue and earnings per share. The data used for 2013 is the midpoint of management's guidance. The data used for 2014 is taken from analyst estimates. This estimate centers on management's expectation to exit 2013 with a $300 million run based on launched and announced deals.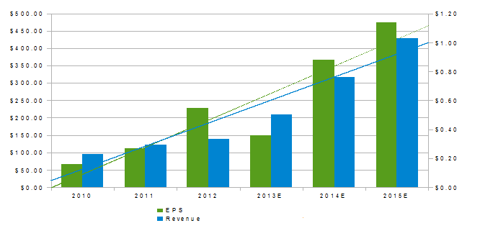 As conscientious stewards of its cash, Points has managed to remain debt-free. It has also accumulated $54.3 million in total funds. With analysts projecting a long-term EPS growth rate of 25%, Points is financially positioned to fund future growth without borrowing.
Stock Price Valuation
Points' share price has doubled in the past 52 weeks. Based on its 50-day moving average of $22.01 and analyst estimates for 2013 EPS of $0.36, its 2013 P/E is 61.14. Using an EPS estimate of $0.88 for 2014, the forward P/E is 25. The technology sector often rates a higher P/E than other sectors. The average P/E for Internet information providers is 25.3. Even considering a deviation for a growth stock valuation, Points' shares are currently overvalued when viewed strictly by its current P/E ratio. It is important to remember Points is purposely reinvesting in its core business and open platform strategy in 2013. Thus, the inflated expenses are skewing the near-term P/E ratio somewhat.
In May 2013, Martin Wolf released a review [pdf] of the top 20 SaaS companies. Average revenue for the 20 was $375 million. Average revenue growth was 24.2%. By comparison, Points' trailing 12-months revenue is $153.95 million and revenue growth for the same time period was 22.1%. The review derived an average EV/R (enterprise value/revenue) ratio for the 20 companies of 5.6. Comparing the average to Points' EV/R reflects Points is quite undervalued as a SaaS company. Using the midpoint of management's 2013 full-year revenue guidance of $210 million, a share count of 15.2 million, and the SaaS company average EV/R ratio, a fair value for Points would be a staggering $80.43. Even when comparing Points to the average for only the bottom 10 of the top 20 (2.7), the fair value equation computes to $40.37.
Management Goals
Points International is still led by its two co-founders, Rob Maclean and Christopher Barnard. Maclean serves as CEO and Barnard as President. The goals set by the management team offer insight into how it intends to drive shareholder value over the next few years:
Triple market penetration.

Double product penetration in the current customer base.

Increase membership in the loyalty community to 10%.
The goals reflect the belief of management that the company is in the early stages of its lifecycle.
Summary
Mull over a few points on Points. It's a first-mover in a blossoming industry. Opportunities abound. Growth potential is high. Management delivers. The cash balance is hearty. Long-term debt doesn't exist. A thin doubt hinges on the fair value of a share. Points is the type of company to consider building a position in tiers. And, if pullbacks are not related to negative changes in the business, pile in below the 50-day moving average of $22.
Disclosure: I have no positions in any stocks mentioned, but may initiate a long position in PCOM over the next 72 hours. I wrote this article myself, and it expresses my own opinions. I am not receiving compensation for it (other than from Seeking Alpha). I have no business relationship with any company whose stock is mentioned in this article.
Additional disclosure: I intend to recommend PCOM to my investment club in October.