By Todd McDonald
Summary
Oracle (NYSE:ORCL) is scheduled to report 1Q 2014 earnings after the close of trading on Wednesday, September 18. The software giant is expected to report its earnings right at the closing bell and host a conference call at 5:00 p.m. EST. Look for a possible reaction in the index futures and broad market ETFs when results are disclosed.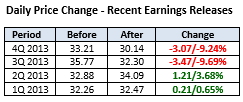 Outliers & Strategies
Non-GAAP Earnings Per Share (EPS): Back in July, Oracle stated in its 4Q 2013 earnings conference call that Non-GAAP EPS for the current 1Q period is forecast to range between $0.56 to $0.59, up from $0.53 last year. The current Street estimate is at the low point of the range at $0.56 (Source: Yahoo! Finance).
Revenues: Oracle indicated it expects 1Q 2014 total revenue growth on a GAAP and Non-GAAP basis to range from 3% to 6% in constant currency. That would equate to $8.456 billion to $8.703 billion. The consensus is toward low end of that range at $8.48 billion.
Note that Oracle tends to report guidance on the ensuing conference call at 5:00 p.m. EST, an hour after the earnings release. Analysts are expecting 2Q 2014 Non-GAAP EPS of $0.69.
With Oracle drifting below the 52-week high established in March, shares are trading at just 10.42x forward earnings, well below historical averages. A FWD PEG ratio of just 1.29 suggests the shares are trading slightly above the estimated earnings growth rate.
Last quarter, in line results on Non-GAAP EPS sent shares lower by about 9%. The average one-day price move off earnings is 5.85%. The options market is currently pricing in a similar reaction to historical averages.

Recent News
09/17: According to a post by Investor's Business Daily, RBC Capital Markets analysts are looking for a solid report, mainly due to solid execution, currency headwinds, and improving macroeconomic trends. The firm also sees a stabilizing hardware business by the second quarter of 2014, a sentiment that was mirrored by Wedbush Securities in the same article.
09/16: Oppenheimer & Co. is looking for in-line results, and a rise in share price, according to a post on WallStCheatSheet.com. The firm reiterated its Outperform rating, citing checks that show business trends improving.
Technical Review
Oracle shares have just reclaimed its 200 day-SMA, while simultaneously clearing a descending trend-line dating back to the 52-week highs from March (albeit on average volume). The stock is essentially flat this year, which is a disappointment considering the S&P 500's nearly 21% advance. If earnings surprise to the upside, look for initial resistance near $34.80, followed by recent highs of $35.32. Should earnings disappoint, support can be found near $32.50, followed up $31.50. (Chart courtesy of StockCharts.com)
Summary
Oracle shares are back above the key 200-day SMA ahead of the 1Q earnings release, thanks in part to an improving macroeconomic backdrop. But with last quarter's sell-off fresh on the minds of investors and a cautious IT spending backdrop, Street sentiment is mixed ahead of the 1Q numbers. Nonetheless, Oracle also boasts a broad product mix and diverse customer base which serve to insulate the company from the broader market fears, while enterprise growth and valuation have lifted the stock off of the lows established earlier this year.
DISCLAIMER: By using this report, you acknowledge that Selerity, Inc. is in no way liable for losses or gains arising out of commentary, analysis, and or data in this report. Your investment decisions and recommendations are made entirely at your discretion. Selerity does not own securities in companies that they write about, is not an investment adviser, and the content contained herein is not an endorsement to buy or sell any securities. No content published as part of this report constitutes a recommendation that any particular investment, security, portfolio of securities, transaction or investment strategy is suitable for any specific person.
Disclosure: I have no positions in any stocks mentioned, and no plans to initiate any positions within the next 72 hours. I wrote this article myself, and it expresses my own opinions. I am not receiving compensation for it (other than from Seeking Alpha). I have no business relationship with any company whose stock is mentioned in this article.