Pandora (NYSE:P) has been a great online streaming service. Offering high quality digital music to desktops, mobile, and vehicles all over, the service was the first leader in online radio. Unfortunately, Pandora got caught up in battles related to licensing and pay per spin costs (the controlling factor for their margin). Pioneers and leaders are often faced with market changing dynamics like these, but when it shifts the focus from making a great product to legally battling a huge industry, there are consequences.
Music Genome Was Genius
The music genome is the project that led to Pandora's development. The genome categorized music based on hundreds of traits, and is the engine that serves up the next song when you are listening to Pandora. This technology made an automated "radio" service possible. It is clear Pandora spent time improving and tweaking this technology, as Bob Marley finally plays much less on my Pandora stations.
Back when Pandora first launched, the product was just available on the desktop. Naturally, as the mobile revolution took hold of the economy, Pandora made its way to the smartphone. At the same time cars like Ford (NYSE:F) were offering a new in-vehicle digital entertainment system. Offerings like Ford's Sync developed with Microsoft (NASDAQ:MSFT), allowed Bluetooth connections to smartphones, and the radio quickly shifted from the dashboard to the smartphone. Pandora has made their product available directly in the dash with most major auto manufacturers today, and the use case has come full circle.
Profit Always A Challenge
Profitability has always been a challenge at Pandora, and perhaps that's why we've seen so many executive level changes. Pandora offers a monthly or yearly subscription ($36 / year), which provides ad-free listening, higher quality audio, and now more song skips. As Pandora's listening user base skyrocketed, so did the licensing costs for all their song plays. Like any good technology company, Pandora leaned on advertising to generate revenue.
I canceled my Pandora One (premium, ad-free) subscription so I could tune into the advertising on the platform. With ads playing every two songs, they've already filled their inventory, and for the first time in my usage, advertisements have become irritating. I'll likely switch back to Pandora One soon.
Lack of Important Technological Evolution
I have been a faithful and regular user of Pandora pre-IPO. I have tried Spotify and other services, and always went back to Pandora. As a user for so many years, I know how yesterday and today were different in terms of features and services offered by Pandora, and they aren't much different.
Frankly speaking, thinking about where UX / UI design has gone over the years, Pandora is well behind the ball. The Android user interface is clunky, unintuitive, and in my opinion could be much better. Pandora should consider completely redesigning everything in their app, except for the famous thumbs-up thumbs-down bar. I think a fresh new version of the Pandora App would excite and grab the attention of old and new users alike.
Most importantly, Pandora has never once checked with me to see if my zip code has changed. I moved twice over my tenure with Pandora and I still receive ads for the first zip code entered when creating my account. As far as ads go, we all don't want them, we'll listen to them, but we certainly won't go and change our zip codes just to hear targeted ads.
I don't understand why Pandora isn't geo-targeting their ads in real time, or at least asking customers to update their information. This could significantly increase the value of ads, and real time geo-targeted advertising could be revolutionary, leading to one of the best revenue streams in the digital advertising marketplace.
Could you imagine driving into a new town and hearing an ad for a local event that evening? Or an ad for a restaurant near you at lunch time? Now that would be a powerful advertising platform, and could be in Pandora's wheelhouse. If Pandora launched this, I'd buy shares in droves (at the right price of course). Yet, I don't have much faith from an investor standpoint that Pandora will launch something this innovative any time soon. I hoped for a sleep timer for years, and it just launched last month.
There's no doubt Pandora is likely spending time developing technology. Tweaking the genome, categorizing more songs, building platforms for advertising sales, metrics, etc. ... But none of this matters because Pandora has yet to reach the classification of a "value company." Pandora is at a tipping point, and they need to go back to being a growth company.
Focusing on the user, and growth of the user will be the key, and if gracefully crafted could allow Pandora to introduce new revenue streams, different and unique ad platforms, and more. Yet, two years after the IPO, Pandora hasn't appeared to spend much time here in my opinion.
On the heels of the iRadio launch, a press release on the same day talking about a new iPad app clearly tells me Pandora is behind the ball. Why a PR on the same day? Talk about a press release lost in the noise of iRadio.
At current prices, and with a $230 million secondary offering, which came at excellent timing (given all the other secondary's in the market today), I wouldn't buy Pandora. Maybe it's not the best short, but unless you're convinced of a buyout happening after a secondary, or iRadio licensing the genome, this stock at current levels is a sell.
In September, insiders sold $8.4 million worth of shares. Most notably the CTO on 9/16 sold 55,000 shares. On a GAAP basis, the company still doesn't report positive earnings, and they recently announced that revenue growth is expected to slow. While most key metrics are up comparing period over period, the trend is clearly slowing. Pandora's total share of U.S radio listening for the month of August 2013, was 7.46%, down from a high of 8.48% in February of this year.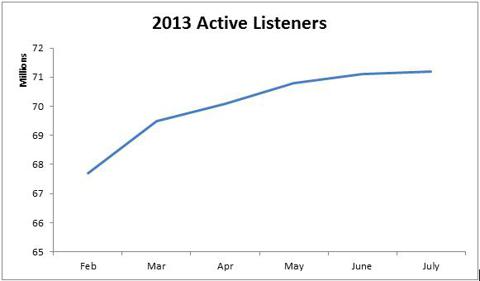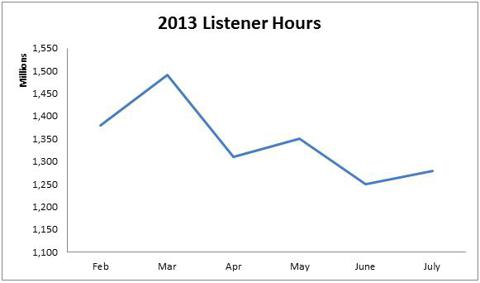 Summary
I'd like to own Pandora shares long in the future, and still use the service regularly, but in the short-term I hold a small short position. Pandora's accelerating share price with growing competition, a CEO change, and potential negative macro catalysts, sets a nice risk-to-reward ratio on the sell side of the trade.
When I see Pandora begin acting like a growth company again, shares at levels lower than today's price may earn a long position in my account.
Disclosure: I am short P. I wrote this article myself, and it expresses my own opinions. I am not receiving compensation for it (other than from Seeking Alpha). I have no business relationship with any company whose stock is mentioned in this article.