To identify the most liquid Chinese stocks traded on the Hong Kong Exchange, we can use the iShares FTSE/Xinhua China 25 (NYSEARCA:FXI). This tracks the FTSE/Xinhua China 25 index and offers exposure to 25 of the largest and most liquid Chinese stocks. The index is a market capitalization weighted index subject to a 10% weighting cap.
The Top 10 Holdings in iShares FTSE/Xinhua China 25 are:
China Construction Bank (OTCPK:CICHF)
China Mobile Ltd (NYSE:CHL)
Ind & Comm Bk Of China (OTCPK:IDCBF)
China Life Insurance Co (NYSE:LFC)
Bank Of China Ltd (OTCPK:BACHF)
CNOOC Ltd (NYSE:CEO)
China Merchants Bank (OTCPK:CIHHF)
Bank Of Communications Co
China Shenhua Energy Co (OTCPK:CSUAY)
BOC Hong Kong Holdings Ltd
Note: Data as of June 30, 2009
Based in Hong Kong, China Mobile Ltd (CHL) has a huge subscriber base. At the end of May this year, the company had 488M subscribers. The current dividend yield is 3.7% and the average annual earnings growth is about 22%. The beta is 0.9.
China Life Insurance Co (LFC) offers individual life insurance, group life insurance, accident insurance and health insurance product. Total policies in effect as of December 31, 2008 was 102M. The beta is 1.4 and last year's total revenue was about $27B.
CNOOC Ltd (CEO) is China's largest offshore oil producer. CNOOC said Wednesday:
"Revenue for the third quarter fell 23% from a year earlier as lower realized oil prices offset higher output. The company said in a filing to the Hong Kong Stock Exchange Thursday revenue during the quarter totaled 23.8 billion yuan ($3.5 billion). It said output was equal to 647,382 barrels of oil or equivalent, a drop of 18.4% from a year earlier, while average realized prices throughout the quarter was $67.83 per barrel, a drop of 36.6% on year."
Interactive Map: China's Oil Empire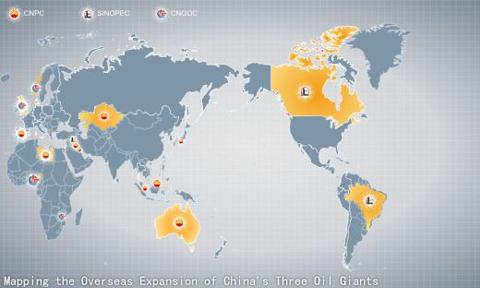 Source: China's Economic Observer
Click on the map to see China's big oil companies' (CNOOC, CNPC, and Sinopec) interests across the globe.