Many academic studies have shown that spin-offs tend to outperform the overall market over time. While many of these studies date back to the 1990s or earlier, Credit Suisse conducted a new study in 2012 confirming that spin-offs have continued to outperform the S&P 500 SPDR (NYSE: SPY) over the past 17 years by a wide margin. The study found that most spin-offs suffer during the first month, but outperform by 2.2% by the second month and 13.4% by year-end.
While investors can invest in the Guggenheim Spin-Off ETF (NYSE: CSD), the fund doesn't invest in spin-offs that are less than six months old and holds them for up to 30 months. Investors also face uneven exposure to many of the holdings, such as its overweight 8% stake in the China-based Phoenix New Media Ltd. (NYSE: FENG). And finally, quantitative ETFs can make it difficult for investors to maintain diversification across their entire portfolio.
In this article, I'll take a look at three upcoming spin-offs to keep on the radar for investors looking to build spin-offs into their portfolio more effectively.
Ashford's High Quality Hotel Spin-Off
Ashford Hospitality Trust Inc. (NYSE: AHT), a real estate investment trust focused on the hospitality industry, announced that it would spin off its high RevPAR, luxury, upper-scale and upscale hotels into a new entity called Ashford Hospitality Prime Inc., according to a June 2013 10-12B filing with the SEC. The new entity will own eight hotels and 3,146 rooms that are generating RevPAR of $140.20, or 216% of the U.S. average for the hospitality industry.
The company cited many reasons for the separation, including:
Increased Clarity. Ashford Prime will be focused on luxury, upper-upscale and upscale hotels generating twice the national average RevPAR, while Ashford Trust will continue to focus on all segments of the hospitality industry. Investors may find it more appealing to be able to invest in two distinct businesses, resulting in multiple expansion.
Better Cap Structure. Ashford Prime will emphasize a low leverage capital structure over time, with a target net debt plus preferred equity to EBITDA level of 5x or less, which should allow it to capitalize on favorable acquisitions, while Ashford Trust will be able to achieve greater flexibility of its own by deleveraging itself.
Management will also be strongly incentivized to perform, with the parent managing the properties with a 20% stake in common units. Five of the seven board members will also be independent and the company has agreed to opt out of certain Maryland law anti-takeover provisions, creating a very shareholder-friendly environment that could eventually result in acquisitions or other strategic initiatives to unlock further value for shareholders.
SAIC's Spin-Off to Avoid Conflicts
SAIC Inc. (NYSE: SAI), a government contractor operating in numerous areas, announced that it would split into two separate entities in order to avoid conflicts of interest, according to a 10-12B filing dating back in March 2013. The Leidos Holdings Inc. spin off will focus on science and technology solutions for national security, healthcare and engineering, while the smaller SAIC will focus on government technical services with a focus on Information Technology.
The primary reason for the separation is the U.S. government's Federal Acquisition Regulation ("FAR") rules, which include governing conflicts of interest that arise when a contractor performs multiple contracts. For example, a contractor that performs on a contract to provide system requirements for weapons systems could not also compete on the contract with the government to deliver the weapons system to meet those requirements.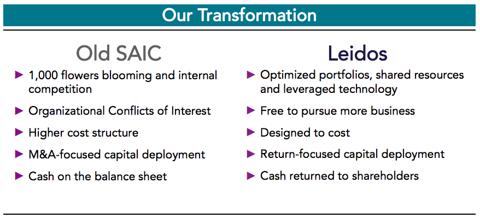 At its recent investor day presentation, SAIC noted that the spin-off would enable it to access an estimated $25 billion in new market opportunities for a total addressable market of $185 billion post-spin. Leidos plans to see $200 million in cost savings with more to come in FY 2015, while targeting a 10% annual EPS growth rate and $400 million in annual operating cash flow. As a result, investors could see significant value creation in both entities post-spin (see above).
United Online Spins Off Its Value
United Online Inc. (NASDAQ: UNTD), provider of consumer products and services over the Internet, announced plans to spin off its flower delivery business back in April of 2013 in a 10-12B filing with the SEC. FTD Companies Inc. will be a provider of floral, gift and related products and services to consumers and retail florists, as well as to other retail locations offering floral and gift products in the U.S., Canada, the U.K. and Ireland.
There were numerous reasons cited for the separation, including:
Strategic Flexibility. FTD Companies will have more opportunities to forge partnerships or make acquisitions to grow its presence in the industry using its equity.
Better Cap Structure. FTD Companies will have a streaming operating structure and will be in a better position to optimize its cap structure than the larger conglomerate.
Pure Play. FTD Companies will be a pure-play within the floral and gifts industry, helping its multiple to expand beyond where the business was trading as a conglomerate.

Management's compensation is also more accurately aligned with shareholder interests following the spin-off, with more effective equity compensation available. Investors may also appreciate the new entity's strong performance (above) and cash flow generation due to its unique business model that involves no significant physical inventory and immediate payments made by credit, debit or PayPal payments that have been relatively stable over time.
Conclusions
The three spin-off opportunities above represent strong potential candidates for above-market performance over the coming year or two. While this article wasn't written to be a comprehensive analysis of each opportunity, the goal was to provide a brief review ahead of further in-depth research, point out some of the flaws and alternatives to quantitative spin-off ETFs, and to show the optimal times to invest in these spin-offs (e.g. after the first month).
Disclosure: I am long CSD. I wrote this article myself, and it expresses my own opinions. I am not receiving compensation for it (other than from Seeking Alpha). I have no business relationship with any company whose stock is mentioned in this article.