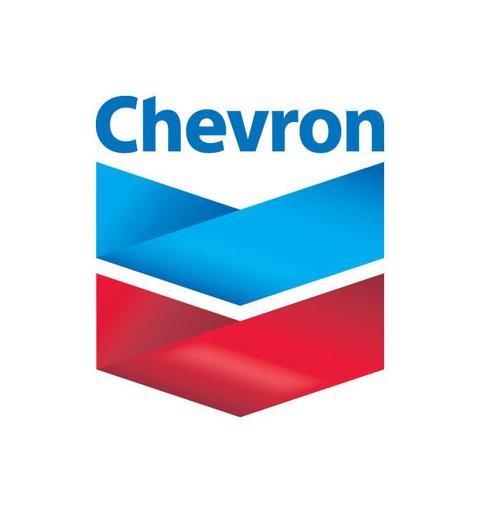 On September 10th, Chevron (NYSE:CVX) paid out its $1.00/share quarterly dividend. If you're a shareholder like me, you surely enjoy the nice round number and the 3.2% yield. Recently, there is even better news for the company: litigation related to the Frade oil-spill in Brazil has been settled. In addition, an international arbitration tribunal found Chevron not liable for environmental claims in Ecuador. As of Q2, the company had over $22 billion in cash equivalents. Litigation relief will free-up cash reserves to be invested in profitable projects. This is bullish for Chevron since it has consistently led its peer group in cash margins/boe. In addition, the ramp up of Frade production back to pre-spill levels is a positive catalyst for the stock.
Frade Oil-Spill Settled for $42 Million, Production To Ramp-up
Brazilian federal prosecutors had originally sought $20 billion in damages from Chevron related to the Frade oil spill in late 2011. Considering the drilling accident resulted in only between 2,400 and 3,700 barrels of crude oil to seep from cracks in the seabed, the $20 billion sought was reagarded as excessive. However, the $42 million paid to resolve the lawsuits was considerably less than even my own expectations. It is a moral victory for Chevron. It was a total victory for Transocean (NYSE:RIG), the operator of the rig at the time of the accident. According to the agreement, RIG will not be required to make any payment.
The Frade project has a capacity of 100,000 barrels of oil per day. Chevron holds a 51.7% interest in the Frade field, which is currently producing 15-16,000 boe/day according to Reuters. Petrobras (NYSE:PBR) owns 30% of the field and Frade Japao Petroleo Limitada has an 18.3% stake. The field produced 70,000 barrels a day before the spill when it was ordered shut-in by Brazilian regulators. Peak annual production is expected to be 75-80,000 boe/day.
Considering Petrobras' trouble growing production combined with high current oil prices, I would expect Frade production is going to be ramped-up to pre-spill levels rather quickly. In Seeking Alpha's Q2 earnings transcript, George Kirkland, Chevron Vice Chairman and Upstream EVP, reported on Frade (remember, this was pre-settlement):
....We had no production in Frade in the first quarter - second quarter, an average about 5,000 barrels a day. Our share at the month of June, we were closer to 10,000 barrels a day, our share. So there is some expectation there that we will grow in the second half or we will have more volume in the second half in our project, not too far off from our original plan the field is performing at this point pretty well. So that's a plus.
Since the pre-spill production levels were 70,000 bpd, CVX's percentage would be ~36,190 bpd. If June's share was only 10,000 bpd, the second half of the year could see CVX reap an additional 26,000 bpd from Frade. Nice.
"Not Liable" in Ecuador Environmental Lawsuit
The international arbitration tribunal award in favor of Chevron appears to validate the company's position from the start: previous settlements had covered all public interest or collective environmental claims, including collective claims asserted by third parties. More on the lawsuit from Hewitt Pate, Chevron VP and General Counsel:
The game is up. This award by an eminent international tribunal confirms that the fraudulent claims against Chevron should not have been brought in the first place. It is now beyond question that efforts by American plaintiffs lawyers and the government of Ecuador to enforce this fraudulent judgment violate Ecuadorian, U.S., and international law. Continuing to support this fraud only increases the government of Ecuador's growing liability to Chevron and we urge Ecuador to reconsider its position and pursue a more responsible course.
Cash Hoard Can Now Be Deployed
As I mentioned earlier, Chevron has ~$22 billion in cash and cash equivalents. Considering the company has led its peer group in cash margins/boe since 2009 (see below), being out from under the cloud of litigation is going to allow the company to invest these funds in high return projects (or in dividends to shareholders) without worrying about potential lawsuit verdicts coming down the road.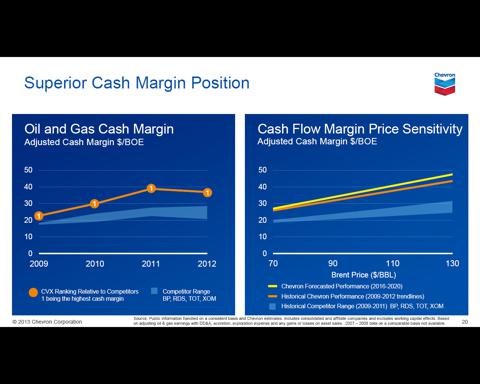 Summary And Conclusion
Litigation in Brazil and Ecuador have been a dark cloud hanging over Chevron for some time now. In addition, the Frade field shut-in took over 36,000 bpd (Chevron's share) offline. Now, the dark clouds are lifting and the sun is starting to shine through. No longer is the company going to have to worry about a large award in Brazil. In my opinion, the same holds true in Ecuador. As a result, Chevron is now freed up to use its cash and invest, or return to shareholders, as it sees fit. In addition, the Frade field should be ramping up in the second half of the year. Frade has the potential to add as much as 26,000 bpd over Q2 levels.
Chevron is the best integrated oil company in the world. As of September 14, S&P had a 5 STAR STRONG BUY rating on the stock with a 12-month target of $145/share. Considering the Gulf of Mexico production coming online in 2014, and the current high price of oil, S&P's price target seems too low. CVX could hit $140/share by year end - up 11% from here. And don't forget to add in another $1 for the Q4 dividend payment.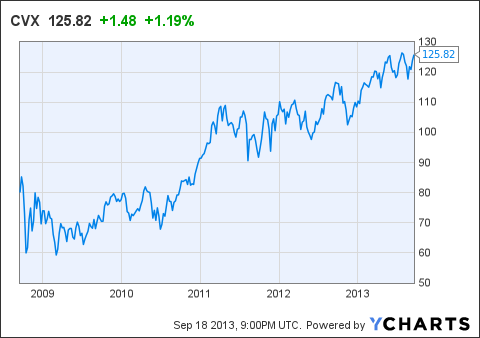 Disclosure: I am long CVX, PBR. I wrote this article myself, and it expresses my own opinions. I am not receiving compensation for it (other than from Seeking Alpha). I have no business relationship with any company whose stock is mentioned in this article.
Additional disclosure: I am an engineer, not a CFA. The information and data presented in this article was obtained from company documents and/or sources believed to be reliable, but has not been independently verified. Therefore, the author cannot guarantee its accuracy. Please do your own research and contact a qualified investment advisor. I am not responsible for investment decisions you make. Thanks for reading and good luck!