Due to increasing competition within the server virtualization market, we expect VMware's (NYSE:
VMW
) market share to continue to decline over the next few years from historical highs of about 50%. Despite this, we have slightly increased our VMware market share forecast based on strong demand for the company's vSphere software.
Like VMware's other virtualization software, vSphere allows companies to increase the utilization of their servers by allocating server resources to software applications independent of the underlying operating system required to execute the application. vSphere also makes it easier for IT managers to better manage various internal or external "clouds" or groups of virtualized server resources.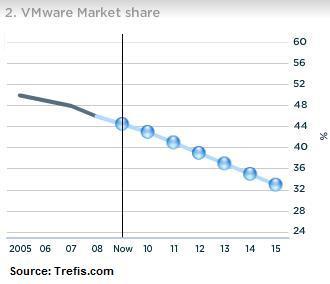 Launched in May of this year, vSphere has garnered strong demand. The company mentioned in its earnings release that 75% of its customers are planning to upgrade to vSphere in the next six months. As a result, we now expect VMware share to be higher across our forecast period and to reach 33% by the end of the forecast horizon, up from 29% previously. This translates to more than $1 billion of additional VMware market value and has boosted our Trefis price estimate for VMware from $44.49 to $49.54

Disclosure: No positions