The Fed surprised most of us Wednesday by not beginning the tapering process. From a more direct standpoint, the financial and housing sectors enjoyed immediate turnarounds on Wednesday. Some housing plays like Lennar (NYSE:LEN) and PulteGroup (NYSE:PHM) enjoyed bounces of more than 5% on Wednesday alone, whereas Bank of America (NYSE:BAC) enjoyed a run of more than 1% after spending most of the day in the negative. Consider this a reprieve from what's to come in the markets in the weeks ahead.
What Does it Mean: Yes, the Fed held off on tapering a while longer. For that to happen, however, the economic conditions had to warrant that decision. Unemployment has fallen .8% over the past 12 months according to soon-to-be former Fed Chairman Ben Bernanke during the press conference Wednesday. That still leaves the labor force with more than 7% unemployed. According to the Chairman, one major contribution to the decrease in participation within the labor force is an aging population. This can be looked at in a number of ways: Either the more experienced laborers are accepting an earlier retirement schedule, baby boomers are resigned to living off their nest eggs until finding suitable employment, or it could be viewed as older workers are coming of age to further imbalance entitlement programs.
There were a few other key moments within the Fed Chairman's conference. Bernanke noted that "prime aged males" contribute to a large segment of the group that has left the labor market. Also, Bernanke stated that the "7% unemployment rate is not a trigger, but a threshold" for the Federal Reserve going forward. That phrasing is key. For those of you who aren't economists, this was a very telling sentence. When the Fed makes its decisions, it is looking out a minimum of a year and a half to two years. By Bernanke stating that 7% is a threshold, as opposed to a trigger, that will spark a debate within many economic circles. Does this mean that the Federal Reserve foresees unemployment remaining above 7% over the next year and a half to two years? Is the Federal Reserve accounting for those who have left the labor market when determining when to begin tapering or raising rates? Keep in mind the chart below.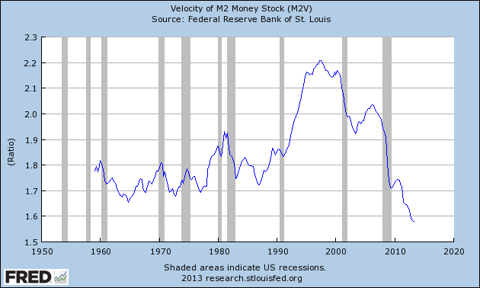 The above chart illustrates the velocity of money (M2) over the past 50+ years. It is plain to see that the velocity of money, or how many times one dollar is used to buy goods during a unit of time, is at the lowest level it has been at since the Great Depression.
This is something else to be taken into account considering the massive liquidity the Federal Reserve has supplied through the bond purchase program. With billions of dollars being pumped into the financial system every month, this limits the velocity of money. With an increased money supply, dollars don't need to exchange hands as often. Also with an increased money supply, inflation, under normal circumstances, would be inherent. Only one of these situations holds true at this current point in time, as inflation remains under the 2% target threshold set by the Federal Reserve. Another interesting observation of the chart above is that a sharp, sustained decrease in the velocity of money typically coincides with a recession. (Note: Another six months to a year of the current steep decline in the velocity of money could indicate a current recession in the United States. That recession could be a direct result of the dramatic falloff in labor force participation.)
What to Watch Going Forward: A government shutdown is looking more and more likely as Washington appears more and more inept every waking day. Wall Street is sure to turn its attention to the debt ceiling debate. On Wednesday, that debate took another ugly turn as the GOP has tied the defunding of Obamacare to the debt ceiling debate. This debate could be just as ugly, if not uglier, than the debt ceiling debate in 2011 that occurred just before the European debt crisis.
This may be a perfect time to rotate out of cyclical plays or equities near 52-week highs. For example, Lions Gate Entertainment (LGF) did not enjoy the rebound that the S&P 500 index did, ending the day down over 1.5%. LGF is near 52-week highs and has the next installment of the successful Hunger Games series coming to theaters soon. Meanwhile, companies like Caterpillar (NYSE:CAT), near 52-week lows and that have not participated in the rally this year, have started to rebound despite global economic concerns.
The market has been accepting bad news as good news all year long. Eventually, we will return to normalcy. The debt ceiling debate, and probable government shutdown will most likely be that tipping point. Historically speaking, value plays and high dividend positions perform better during volatile times. If you don't believe we will see a volatile market, consider this: the P/E of the S&P 500 is currently 21.6. In January of 2008, before the financial crisis, the S&P 500 P/E was 21.46. In January of 2008, the global economic situation was far more stable and looked to be quite healthy. The unemployment rate in January of 2008 was a mere 5%. This is not to say that we should expect another massive market pullback. However, as many money managers have noted, the market has gotten ahead of itself. The debt ceiling debate will help bring us back towards a more normal market cycle. A market that wants to see good news. A pullback from these levels is not only warranted but needed, and the market may get that consolidation with or without the Fed's help.
Disclosure: I am long LGF. I wrote this article myself, and it expresses my own opinions. I am not receiving compensation for it (other than from Seeking Alpha). I have no business relationship with any company whose stock is mentioned in this article.
Additional disclosure: Investing involves a significant risk of loss, as such never invest more than you can afford to lose. Always consult with your registered financial professional before adding a new position to your portfolio.