Yesterday, we reached out to BlackBerry (BBRY) for a developer version of the Z30 as we had with the Z10. We got a very prompt reply, "Hello. BlackBerry does not have a program to give out the Z30." This came just before the WSJ headline "BlackBerry to Slash Workforce by Up to 40%". It seems that BBRY is preparing itself to either morph into a new corporate focus by splitting itself up into several possible "pure plays" or making itself easier to be sold as an entire entity. Our thought on the possibility of one buyer for the whole enchilada is Microsoft (NASDAQ:MSFT) as it itself is morphing into a services company.
Let's examine the possibility of it splitting itself up and launching a new public entity as the rest goes private. As we wrote in a recent Instablog, "Best Buy Store Reveals The Solution For BlackBerry: It's All BBM " the youth who used to use BBM are anxiously awaiting the coming BlackBerry Messenger - BBM - apps for Android and IOS phones. We think there is a possibility of this being a big hit rivaling Whatsapp and Facetime. One way BBRY could capitalize on the spin-off would require the cooperation of its insiders who could make the shareholder approval process pretty fast and it according to the BBRY. According to BBRY's press release yesterday titled, "BBM Available for Android on September 21 and iPhone on September 22," the answer could be around the corner. Here is how the spin-off could unfold. First, BBRY would use its existing shareholder base as the vehicle to spin off BBM. It would do a stock dividend of the entity owning BBM representing say 20% of BBM together with an underwriter who would sell another 10% to the public at some agreed valuation. BBRY would retain the remaining 70% to sell or hold at a later date. So what could the valuation of BBM be? Let's use the current Facebook (NASDAQ:FB) valuation per active user as a starting place. Using the $110 billion market-cap and dividing this by 1.15 active users in March 2013, we get a $96.65 value per active user. Then we take the BBM active user base of 60 million and adjust it down to 55 million for possible roll-off and multiply it by the $96.65 and we get a $5.260 billion just for BBM. Now we think the sign-up from IOS and Android could be big as even Samsung is now talking up BBM for its Android users according to ZDnet's headline, "Samsung to bring BBM for Android to Africa on Friday".
To put this in context, let's take a look at the top user count for popular social media apps from a snapshot of a recent social media stat infographics article :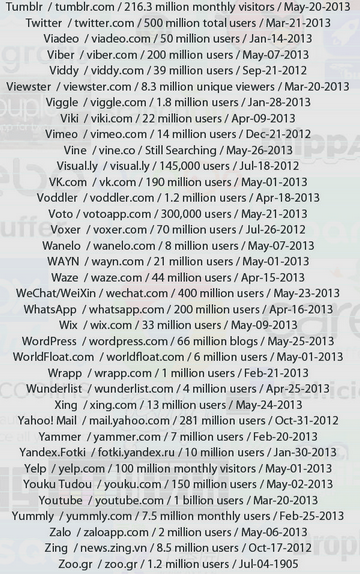 As you can see from this partial list, BBM has a very good chance of going over the 100 million user mark, especially from our estimated starting point of 55 million users today. If that mark was reached, the implied valuation for BBM alone could reach close to $10 billion, or nearly double today's valuation for all of BBRY.
Let's take a look at what the recent short interest in BBRY looks like: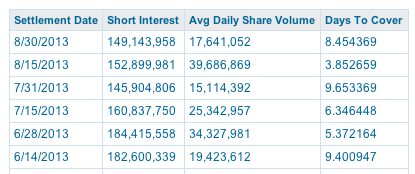 So if the spin-off we described above happens, the 149 million shares short need to get their hands on the new shares being distributed to the existing BBRY shareholders. We think the price will be very high for either the new shares being created or the current BBRY shares as the shorts try to exit their positions. The current cost to borrow the BBRY for shorts according to implied volatility calculations from optionapps.com is 9.03% annual, near the high end of the range in the last year. This means that BBRY remains a hard to borrow stock and risks the possibility of a melt-up if something good happens. The company is being extremely quiet and cutting costs as we discussed above which translates to change on the near term horizon. The volatility is this name is perhaps the best bet for traders and being long vs. short is our call for investors in general. This will be a roller coaster for all participants in the name.
The key inside investors who we deem could be deciding BBRY's future are Prem Watsa, with 10% of BBRY, founder Mike Lazaridis with 5.7% and Prime cap Management Company with 5.1%. The next largest shareholder as of 6/30/2013 was Viking Global with 14.062 million shares, but that information may be dated. These four large holders could hold the key to BBRY's future.
Disclosure: I am long BBRY. I wrote this article myself, and it expresses my own opinions. I am not receiving compensation for it. I have no business relationship with any company whose stock is mentioned in this article.