(Editors' Note: This article covers a micro-cap stock. Please be aware of the risks associated with these stocks.)
Bernanke's Market
The topic of the Federal Reserve is one that makes its rounds in my articles pretty prominently. The last article I wrote, "A Devil's Advocate Look at the Fed's Effect on Stocks", I did my best to explore both sides of the coin; but eventually retreated to my bearish stance that the Fed would likely taper, and the markets would likely correct. In addition, I did - and still do - remain bearish on the markets in the short term going forward, regardless of the Fed's actions.
Then, like many other investors, I was unexpectedly whacked in the face with the Fed's frying pan when Bernanke came out Thursday and decided that the bond buying must continue.
I've written numerous articles over the past 6 months swearing up and down that the market is going to be coming to a bearish stance at some point soon, and that the bull market as we know it - although it's had a good run - is likely to end on the heels of the eventual Fed tapering (they can't buy bonds forever, can they? CAN THEY?!), among other macro catalysts (more on that here).
However, as time marches us through Q3 2013 and into Q4 2013, we're looking like this is simply going to go down in the books as a great year for stocks - no matter what the sentiment is going into 2014. It's looking like the Fed wants to make sure we finish 2013 bullish, regardless of whatever hangover it's going to result in when we wake up and come to in the year 2014.
Over the last year, the Dow will have yielded somewhere around 22%.
(Ben Bernanke's last three years)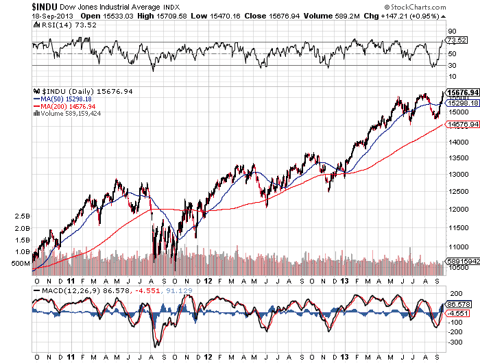 (Click to enlarge)
I've been arguing for the past few months that this market we are in is due for a correction. I've been called, in my comments and private messages, everything from a permanent bear to conspiracy theorist - I assure you, I'm neither. I had cited signs like the Fed, QE, the social media bubble, wild Nikkei trading, building tensions in Syria, and the beginning retreat of U.S. consumer sentiment to support my thesis. Syria is starting to look like it's going to be a non-event, and in that vein, it's looking like QE isn't going anywhere - for now, at least.
In my last article, I tried to explore the small possibility of how to position yourself should the Fed taper and the markets stay bullish - I, along with many others, never even thought there was a chance the Fed would not taper its bond buying. In this article, I'll present both a bullish and bearish way to position yourself now that the Fed has decided to keep the QE faucet open.
My Predictions Take it On the Chin
I must say I'm pretty excited - usually when I get things horribly wrong (like shorting LinkedIn and Netflix before they both explode), I'm in the minority. At least I'm part and parcel with 90% of the rest of Wall Street in getting things wrong about the Fed tapering.
Forbes.com reported on Wednesday:
Fed Chairman Ben Bernanke surprised many on Wednesday, as the FOMC decided not to taper quantitative easing. Keeping the monetary spigot open, with the Fed's balance sheet expanding at a rate of $85 billion a month, the FOMC pointed to tighter monetary conditions, particularly rising mortgage rates, and fiscal restraint, as the sequester works its way through the system and ahead of what could be a battle in Washington over the debt ceiling, as its reasons not to cut back on monetary stimulus.

With general expectations focused on a Fed taper of $5-$15 billion, traders raced into stocks in the aftermath of the decision. All three major U.S. equity indexes surged with the S&P 500 hitting an all-time high, as did gold and oil The 10-year Treasury yield dropped more than 10 basis points to 2.73%.
Luckily, when the news was announced, the market took it in stride. And, by took it in stride, I mean gave itself several degrees of cardiac arrest by executing buy orders as wildly as a Chilean llama hopped up on a gallon of Diet Mountain Dew and pop rocks:
After the hysteria of the day wore off, and the Dow closed at its highs, after hours trading pared some of the gains of the day, and things settled down overnight. The market opened Thursday and quickly went red, seemingly unamused by Wednesday's trading.
Here's what the Fed, people who follow and support it, and "smart money" (read: rich people that control the markets) think QE and the market's should work like (pay no attention to the numbers, just the trends):
And here's how I've contested that things are going to eventually go. You can ignore the actual data, as it's mostly made up - what I want you to focus on here is the relationship to confidence coming down while QE is in full force; and how much of a hit to the market it would be for the Fed to lower QE while we've already lost confidence in the market.
The key would be to loosen things up now; when the market is at its bullish and most confident sentiment. Instead, with the Fed saying it is going to continue until it feels certain points are met with both the economy and unemployment, it's just blowing the bubble up even further.
As time marches on, I'm questioning more and more what's going on inside Ben Bernanke's head.
Bernanke Has Lost Touch With Reality
Is it ego? Did someone challenge Ben Bernanke's manhood at some point in time? Is Ben really that scared to have a "correction" under his time as Fed chairman? Perhaps all the talk of the next Fed chair has him thinking about the "legacy" he wants to keep behind. As duly designated representative for Keynesian economists of the world, Ben might be realizing that up is the only way to go; and he wants to get there by any means possible.
Unfortunately, I think his moves here have a better chance of making him the "guy who created the big bubble"; and I think history will frown on Bernanke's decision making, seeing him as pliable, manipulated, and soft.
The market has just been off its all time highs, and the message that Ben is sending to the world is that the Fed still thinks that the economy is in such bad shape that it continues to warrant emergency support.
In my article, "The Market is Freaking Out Over the Fed", I called the Fed continuing QE the worst possible scenario, arguing that it should start to taper while the markets are at their highs, as to do the least amount of damage:
Mega-Worse: "Certain parameters" aren't ever met (or met anytime soon), yet the Fed decides to continue easing anyway. Eventual confidence goes low while QE stays at full force. Market winds up absolutely thrashed.

Call me a doomsday conspiracy theorist, but there's never been a better time for me to reiterate and back up my bearish sentiments on how to position yourself than now.
What we know is that on Friday, the market opened up about 30 points and then quickly retreated. As I've often said, there's going to come a time when QE doesn't have the same effect on the market it once had. When retail loses faith in QE, the consequences are going to be several times greater than they would have been if the Fed had just let the market correct in the first place.
Berkshire Hathaway board member Meryl Witmer seems to be keen to the way things are going with the Fed. She stated in an interview with CNBC:
"The whole thing about keeping interest rates low, people put money into stocks because they want the yield, or they're gambling, or they're getting nothing on their cash. That really adds to the speculative environment. A bit of a bubble. And at some point you have to pay the piper," said Witmer, who is also general partner at Eagle Capital and part of the Barron's Roundtable."
I still contend that this move by Bernanke is going to make things worse for the market when the correction finally occurs - but only time will tell that tale. It's going to be positioning yourself correctly for however the market moves that is going to prove to be important.
How I'd Invest This Now
Do you have the moxie to go bullish with your portfolio here, thinking QE is going to continue to move the market forward? From my perspective, a truly bullish portfolio allocation at this point would include:
Small position in bonds
Small cash position
Large long position in large cap dividend payers [like (NYSE:T), (NYSE:KO), (NYSE:LO), (NYSE:BAC), (NYSE:F), 3M (NYSE:MMM)]
Large long position in tech heavy staples [like Microsoft (NASDAQ:MSFT), Google (NASDAQ:GOOG), INTC, Cisco (NASDAQ:CSCO)]
Large long position in sector ETFs like Energy Select Sector ETF (NYSEARCA:XLE), Financial Select Sector ETF (NYSEARCA:XLF), Healthcare SPDR ETF (NYSEARCA:XLV)
Large long position in small to mid cap up-and-comers with growth potential [Natural Gas Services (NYSE:NGS), Kona Grill (NASDAQ:KONA), AMC Networks (NASDAQ:AMCX)]
Small long position in biotech and other micro-caps/speculative [Amarin (NASDAQ:AMRN), Cellceutix (CTIX.OB), Fannie Mae (OTCQB:FNMA)]
Small bullish options positions in major Dow (NYSEARCA:DIA) and S&P SPY Components
I'm still positioning bearish, however, as I feel this market continues to be on borrowed time (read that fantastic article by George Kesarios), with or without the Fed continuing to dump money by the truckload into the economy. My portfolio for this situation would be similar to my "end of the world" portfolio that I laid out in a previous article. The portfolio would include any or all of the following:
Medium-sized position in actual gold or silver bullion, and small long positions in gold and silver trusts (GLD, SLV)
Medium-sized cash position in FDIC insured account (or several FDIC insured accounts) or in person
Small position in volatility ETFs and ETNs (like VXX) to be traded in the very short term. If the VIX winds up going ape-crap, VXX will track it (at least in the short term - be wary of long-term contango and time decay with VXX).
Medium-sized long positions in inflation-adjusted Treasuries (AAA rated)
Time will tell about the Fed - we've heard that tapering could begin in a month, but nothing would surprise me at this point. I urge all investors to consider how they're positioned and how coming action from the Fed will continue to drive the markets one way or another. As always, best of luck to all investors.
Disclosure: I have no positions in any stocks mentioned, and no plans to initiate any positions within the next 72 hours. I wrote this article myself, and it expresses my own opinions. I am not receiving compensation for it (other than from Seeking Alpha). I have no business relationship with any company whose stock is mentioned in this article.