Shiner International, Inc. (NASDAQ:BEST), through its subsidiaries, engages in the research and development, manufacture, marketing, sale, and distribution of packaging film and color printing for the packaging industry.
BEST has been making some big moves in price action as well as in the business world. Recently BEST signed a significant deal with the largest meat product manufacture in China with potential of contributing nearly $586k in monthly sales for the company.
Quote from Mr. Jian Fu, CEO of Shiner:
"Our business relation with Shineway is an important development in our market and customer expansion of coated, food-safe packaging film. We believe this is a significant development in our growth in the current economic climate, enabling us to take advantage of the new Food Safety Laws as we had expected. With the positive economic indicators in China and implementation of more stringent food safety laws, the Chinese demand for our state-of-the-art food safe packaging films should continuously increase. We are confident that Shiner will realize shareholders' expectation of solid growth and realize the five-year growth objectives that we recently announced."
Looking at the numbers on BEST, they are expecting some solid growth as this year's estimates for revenue and EPS are coming in @ $34m and .01 EPS, and looking onward into 2010 they expect 58% revenue growth ($54m) and nearly1500% EPS growth (.016). In an industry trading with an average earnings multiple of 18.62x earnings this sets a fair value for BEST around $3/share based on its forward estimates. Todays closing price of 1.60 for BEST which rose nearly +9% today as the broad markets collapsed around 3%. This shows a lot of strength for BEST with around 100% potential upside from here.
Technical Analysis: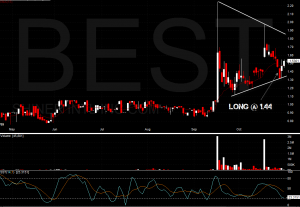 Disclosure: Black Service is Long @ 1.44