SandRidge Energy (SD) operates as an independent oil and natural gas company in the U.S. It has operations in Oklahoma, Kansas, Texas, the Gulf Coast, Gulf of Mexico, and West Texas. It is a primary developer in the Mississippian oil play. SandRidge has been struggling to register profits in the last four quarters, and accordingly its stock price has plummeted by more than 25% in the last twelve months. In such situations, investors may be curious to know whether such a significant dip in stock price offers an attractive opportunity to buy. How is SandRidge dealing with decreasing shareholder returns, and what it means for the investors going forward?
Reducing capital expenditure
SandRidge reported its second quarter earnings on August 7, 2013. For a company struggling for the last four quarters, the reduction in the general and administrative, or G&A, expenses and capital expenditures in the second quarter has been impressive. The G&A expenses in the second quarter were approximately $45 million, which is a reduction of 25% over the same quarter last year. The company is confident about achieving its guidance of $150 million of G&A expenses in 2013 by concentrating on only those areas that are critical to its operations. Capital expenditure in the second quarter was $387 million, down 30% from the amount incurred in the second quarter of 2012. This lower capital spending illustrates SandRidge's capital efficiency. This decrease in capital spending is particularly impressive when we consider that the company has a target of $1.45 billion in capital spending in 2013, a reduction of $650 million over the 2012 figure of $2.1 billion.
Despite reduced capital expenditure, SandRidge aims to drill 425 wells this year, compared to 400 wells drilled in 2012. This indicates an increase of 6.25% in the number of wells drilled even with the over 30% reduction in capex . A reason for this reduction in costs is the initiatives of hedge funds TPG-Axon, which has a 7.3% stake in SandRidge, and Mount Kellett Capital Management, which has a 5% stake. Because of the huge stakes involved, these hedge funds forced SandRidge's management to reduce the profligate expenditure. As a result of their initiatives, the company reduced costs by selling aircraft and cut down on advertising and sponsorships in the second quarter of 2013.
It is particularly impressive that SandRidge was able to beat the analyst estimates for second quarter earnings easily, despite the reduced costs. Mississippi wells are a key source of growth for the company, and average production from these wells grew 88% year over year. The market has also reacted positively to this news, which has caused the stock price to increase almost 5% from the time the company reported its second quarter results. These developments prompt us to have a bullish outlook on the stock.
Deriving strength from Mississippi
SandRidge is also well positioned to derive strength from its leadership position in Mississippi. It has almost 2 million acres in that area, which gives it a competitive advantage. The company is focused on this play, and plans to run 25 rigs in this area since it is the main source of development and growth for the company. SandRidge believes that it can carry out its activities in this area for the next 10 years. Its program to improve capital efficiency, lowering costs and overheads, and concentrating on the low risk areas in the play is proving effective. Production is about 47,000 barrels a day, with eight wells capable of producing 700 barrels daily. Well operation costs have also gone down from $3.6 million per well in 2012 to $2.9 million per well in 2013.
Water trucks and generators are equipment used in well operations. This equipment adds to the cost of well operations. SandRidge has reduced its reliance on water trucks and generators, which are costlier options. This has helped the company cut costs. The per barrel cost for trucking in water is around $2.50, which adds to the cost of operating wells in the Mississippian play. However, only 0.9% of production is water trucked as of July 2013, which is a significant reduction over the previous months.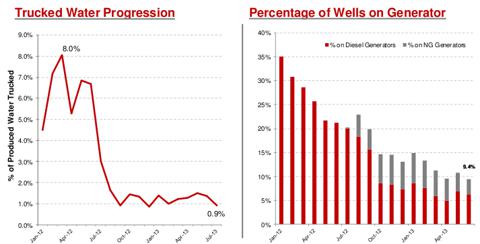 Source: Company Presentation
SandRidge has also cut down on the use of diesel generators by adding natural gas generators to the mix. Natural gas is a cheaper source of fuel than diesel, which helps the company reduce operating costs. Improved electrical infrastructure has helped the company reduce its reliance on generators for drilling oil from the wells.
Attractive Valuation
The termination of CEO Tom Ward in June 2013 and the appointment of new CEO James Bennett is being viewed as a positive move by the company. Many criticized Ward for his profligate and wasteful spending habits, and Bennett's financial background is ideal for a company looking to cut costs and grow. The negative net income posted by SandRidge has resulted in a stock price decline, and it is now available at a steep discount compared to its peers Chesapeake Energy (CHK) and Apache (APA). Before we delve into the valuation though, we will briefly have a look at SandRidge's peers, which are also streamlining their operations.
Over the last two years, Chesapeake has been selling off its assets. In an effort to reduce its debt, the company has sold about $3.7 billion of its non-core assets this year. Interestingly, for a company widely known as a natural gas company, 60% of its revenue came from liquids production. This stock is trading around the $26 mark, whereas the consensus price target is close to $24.75. Hence, we believe the stock is fully valued at the current level.
Apache, on the other hand, has sold one-third of its Egyptian operations to China's Sinopec for $3.1 billion in cash. This move is an attempt to reduce its exposure to Egypt. Apache is expected to use some of the proceeds from the sale to expand its stock buyback program, or improve its dividend, which will attract income investors.
We have compared SandRidge with Chesapeake and Apache based on the P/S multiple.

Source: YCharts
A low P/S multiple shows that a stock is undervalued. The chart above clearly shows that SandRidge is undervalued compared to its peers in the same industry. The industry average P/S is 2.87, and SandRidge's P/S multiple of 0.908 makes it considerably undervalued compared to the industry average.
Conclusion
SandRidge has positioned itself well to benefit from the Mississippian play, and it has taken robust measures to cut down on the costs incurred previously. The appointment of a new CEO with a finance background is also seen as a positive move among the investor community, particularly for a company looking to improve operational efficiency. At its current trading price, SandRidge is available at an attractive valuation for the investors. This stock is a buy.
Disclosure: I have no positions in any stocks mentioned, and no plans to initiate any positions within the next 72 hours. I wrote this article myself, and it expresses my own opinions. I am not receiving compensation for it (other than from Seeking Alpha). I have no business relationship with any company whose stock is mentioned in this article.
Additional disclosure: Fusion Research is a team of equity analysts. This article was written by Madhu Dube, one of our research analysts. We did not receive compensation for this article (other than from Seeking Alpha), and we have no business relationship with any company whose stock is mentioned in this article.