The other day, a relative of mine bought a used car. Now, even though sales of new vehicles in the U.S. have been picking up and are expected to hit 16 million units in 2014, the benefits of buying a used car cannot be ignored. Lower depreciation, reduced insurance costs and registration fees, and saving a lot of money over a new car are some important considerations.
That's why my cousin went for a used Chevrolet Impala and he is pretty much happy with what he got for the money. The car comes with a lot of features and technology and he is still getting used to them. His experience at buying a used car was a very smooth one and the CarMax (NYSE:KMX) dealership he opted for was very co-operative.
And then I thought, if the benefits of a used car are quite substantial, then investing in companies that are engaged in the used car business in some way should also be a lucrative idea. And it turned out to be that way as the following chart shows.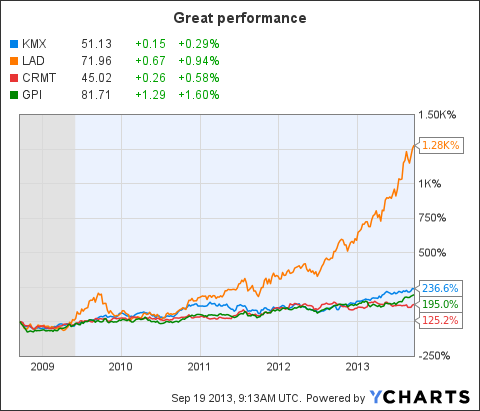 KMX data by YCharts
Let's take a look at each of them one by one.
CarMax
CarMax is the biggest name in the used car industry in the U.S. With a market cap of $11 billion, it towers above its peers. It provides buyers with great flexibility as they can look up models online and check out cars at their convenience. CarMax also allows customers to trade-in their old cars and given my cousin's buying experience, I think that the company's way of doing business is pretty solid.
That's probably the reason why CarMax's first-quarter results released in June, were a record. The company revenue increased 19% from the year-ago period to $3.31 billion. Total units sold increased 22% and total used car sales increased 17% from the year-ago period. The company believes that terrific execution on its part led to higher sales.
CarMax has been increasing its footprints in various markets and had opened three superstores in the first quarter. It also has a share repurchase plan in place to return capital to shareholders and had $463.5 million worth of share repurchase authorization left at the end of the previous quarter.
Lithia Motors
Lithia Motors (NYSE:LAD) has been the best performer of the lot in terms of share price appreciation. The company sells both used and new cars and primarily covers the western and Midwestern part of the U.S. Lithia has been growing through acquisitions and had acquired Bitterroot Toyota in Missoula, Montana, last year.
In the recently reported second quarter, Lithia reported the highest quarterly adjusted net income in its history. Adjusted net income had jumped a whopping 42% from the year-ago period as revenue from continuing operations increased $186.2 million, or 23%, to $1 billion from $822.3 million in the second quarter of 2012.
New vehicle same-store sales increased 19% and used vehicle retail same-store sales also increased by a similar number. Lithia exceeded the $1 billion quarterly revenue benchmark for the first time in its history and the company also increased its full-year outlook. The company expects new vehicle same-store sales to increase 17% this year while used vehicle same-store sales are expected to increase 16.5%.
At a trailing P/E of 20, Lithia is cheaper than CarMax, which trades at a P/E of almost 26x. In addition, Lithia's five-year PEG ratio is just 0.73, which means that the company is expected to grow at a decent pace.
America's Car-Mart
America's Car-Mart (NASDAQ:CRMT) is another place where you can go to buy a used vehicle. The dealership is more inclined toward used cars and also generates substantial profit through its financing arm. What's more, the company trades at a P/E of just 13.6 and so it is quite cheap when compared with the other ones covered here.
In the recently reported first quarter, America's Car-Mart saw a revenue increase of 11.4% to $123 million on the back of a 5.6% rise in same-store sales. The company also witnessed a rise of 9% in retail unit sales along with a 2.6% increase in average retail sales price. Car-Mart has been aggressively expanding its dealerships and recently opened the 128th dealership in Meridian, Mississippi.
Management plans to open several new dealerships going forward and analysts also expect the company to grow earnings at a decent clip of 10% per annum for the next five years. The earnings growth rate is in line with the sector's expected growth rate and given the company's low trailing P/E multiple, it looks like a good stock to hold in the long run.
Group 1 Automotive
Another option to consider is Group 1 Automotive (NYSE:GPI). The company is engaged in selling new and used cars, light trucks, and vehicle parts and also provides vehicle financing services, service and insurance contract services, and automotive maintenance and repair services.
The company reported a record second quarter in July and saw its revenue jump 23% from the prior-year period. The company saw solid growth in new vehicle sales, which led to a 27.3% increase in revenue from the segment, while used vehicle retail revenue increased 17.2%. These are pretty solid growth rates and that's why the stock looks like a good proposition at a trailing P/E of 19x.
Group 1 has been on an acquisition spree and acquired a dealership with estimated annual revenue of around $80 million in the previous quarter. Looking ahead, analysts are expecting solid growth in earnings at a CAGR of almost 18% for the next five years. The company's PEG ratio is an enticing 0.85 and the forward P/E is 13.5. These metrics point to the fact that growth is expected going forward and investors should take a look at this company as well.
Conclusion
So, while buying a used car will save you tons of money, investing in companies engaged in selling used vehicles is another way to gain from this market. The above companies are good bets and investors should consider performing more due diligence on the ones they like the most.
Disclosure: I have no positions in any stocks mentioned, and no plans to initiate any positions within the next 72 hours. I wrote this article myself, and it expresses my own opinions. I am not receiving compensation for it (other than from Seeking Alpha). I have no business relationship with any company whose stock is mentioned in this article.