U.S. education companies offering online programs are facing a new disruption and it's not called gainful employment, President Obama's higher education initiative, or the Senate HELP committee. A burgeoning threat is the onslaught of online offerings from the nation's traditional not for profit colleges and universities. In an ironic twist, some of these institutions, both public and private, are flexing marketing savvy often credited to the for-profits, with an aggressive approach commonly criticized by the traditionals themselves.
According to U.S. News & World Report's ranking of online colleges and universities, only bachelor's degree programs from American Public Education, Inc. (NASDAQ:APEI), DeVry, Inc. (DV), Grand Canyon Education, Inc. (NASDAQ:LOPE), and Apollo Group, Inc. (NASDAQ:APOL) are deemed worthy of inclusion in an otherwise predominantly non-profit institution top 100 list. But similar to other college ranking sites, U.S. News has its critics as well, including reported accusations of traditional colleges providing false information to inflate their standing.
Furthermore, in its program specific online graduate school rankings, U.S News' methodology preempted all for-profits from its business, education, engineering, information technology, and nursing lists. In my view, U.S. News, like many mainstream media outlets, is skeptical of the profit motive in higher education and often reports accordingly. In his hilarious, yet ominous article on the higher education bubble, Seeking Alpha media partner MarketWatch columnist Brett Arends likens the mainstream media's embrace of non-profit higher education as merely a protection of future job prospects as professors in those schools' journalism departments.
Non-profits may be emerging as the biggest threat to publicly traded U.S. education companies, accomplishing this by means of the archetype for-profit paradigm of aggressive marketing, student centered business models, and in some cases, less competitive admissions standards. To complicate their employers' renewed interest, tenured and organized faculty, the cultural center of many non-profit institutions, are not necessarily happy about these determined on-line efforts.
Five Diverse Non-Profit Institutions
In an attempt to demonstrate potential threats to further enrollment erosion at the publicly-traded companies, I will highlight five diverse public (state-owned) and private (non-profit) traditional online operators. In addition to the four proprietary (for-profit) companies whose online universities are ranked in the U.S. News' bachelor's degree list, I have added Capella Education Company (NASDAQ:CPLA) to bring the comparison to an equal number. As a reputable online operator of mostly graduate level programs with strong compliance and quality outcomes, it is somewhat surprising Capella University did not make any of the U.S News' graduate program lists.
Southern New Hampshire University, originally founded as a for-profit business school before converting to a private non-profit, has one of the fastest growing online operations in the country. Along with Capella, it has been approved to offer the first competency based programs in the nation by the United States Department of Education and each university's respective accreditor. Western Governor's University, created by a collaboration of 19 state governors, is sort of a quasi-public/private education initiative. Liberty University, founded by the late Jerry Falwell, is a private Christian university claiming to have the largest non-profit online student population in the nation. University of Maryland's University College was one of the first to offer online programs, and like American Public Education, has a strong military presence in its student body. Rio Salado College, an Arizona public community college, has expanded its online division nationwide, with an apparent focus on serving the growing Hispanic student demographic.
Interestingly, the non-profit institutions have mixed student and employee reviews on popular websites such as studentsreview.com and Glass Door, respectively. Complaints on these and similar sites are often associated with for-profit institutions by the media and other public forums. The non-profit exception is University College with overall positive reviews from students and staff alike despite relatively low graduation rates per its own website disclosures. To be sure, Liberty University staff and faculty are positive about their employer, but this might be expected from what appears to be a top down sectarian organization. But Liberty does tout industry high graduation rates. And similar to the typical advertising oriented for-profit website prior to the recent federal increase in oversight, Rio Salado appears to have a largely non transparent site. In addition, staff complaints at Rio such as too many adjuncts and temps, are the type of issue often linked exclusively to for-profit operators.
With the understandable exception of Rio Salado's community college platform, the non-profit schools appear to have more rigorous admission and transfer policies and limited entry points for starting classes (e.g., only fall and spring) than the for-profits. But this lends to the traditional education model of selectivity and competitiveness in the admissions process as opposed to the open access policies of for-profit and community colleges. If left to the status quo, this self serving choosiness could eventually stall growth for the non-profits, reopening the door for publicly traded institutions.
But commonality among both sectors does begin to present itself when looking at market niche or value propositions. Examples include Capella and Southern New Hampshire's innovative competency based offerings, Grand Canyon and Liberty's shared Christian orientation, and American Public and University College's sizable military veteran recruiting.
Comparing Tuition at Non-Profits and For-Profits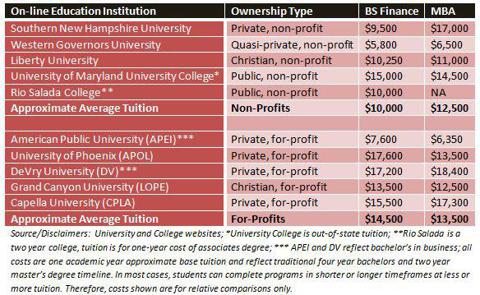 Costs for the non-profit programs range from approximately $6,000 to $15,000 base tuition per year toward a bachelor's degree (or associates at Rio Salado) versus $8,000 to $18,000 per year at the publicly traded for-profits. At the MBA level, the representative non-profits range from approximately $7,000 to $17,000, while the for-profits listed range from approximately $6,000 to $19,000 per academic year. Overall this puts the selected for-profits' average tuition at about 45% higher at the undergraduate level and 8% higher at the graduate level.
Of course this is only a small sampling, but it appears an opportunity may exist for the publicly traded companies to lower their undergraduate online tuition, following the leads of American Public, and to some extent, Grand Canyon.
Marketing is Marketing and Capital is Capital
As universally reported in recent years, for profit companies are often accused of predatory marketing and sales tactics. To a certain degree that perception has been alleviated as a result of removal by the Obama administration of the safe harbors in 2011, which previously protected certain recruitment strategies. But when visiting the websites of the traditional non-profit colleges and universities, the recruiting of students appears to be the primary motive on each site. To illustrate further, admissions directors at the non-profits are beginning to feel the heat in delivering results according to a just released survey from Inside Higher Ed.
An insider at a prominent non-profit online educator recently shared with me the for-profit model of aggressive marketing is in play and supported by traditional college administrations and boards of trustees, faculty malcontent notwithstanding. But some non-profits, lacking the large endowments of their elite brethren, or as victims of dwindling support from public funds, are suddenly building sizable endowments from online program surplus. This ubiquitous term translates to profitability at the tax exempt institutions. Internal redistribution of excess dollars are often targeted for building new facilities and scholarship programs, and is arguably akin to investment from capital markets at the for-profits who largely allocate those funds for similar infrastructure improvements.
The notable difference here is for-profits generate local, state, and federal income and property taxes as a result of their ongoing operations, whereas contributions directly to the tax base from non-profit institutions are limited to mere payroll deductions. Investors may note this long disputed disparity in allocating revenue and generating taxes is beginning to dwindle outside of biased mainstream media, interested public servants, and other anti-for-profit ideologues. However, President Obama's recently proposed accountability program for all colleges and universities utilizing federal financial aid is a clear sign that non-profits are no longer exempt from arbitrary government scrutiny. Inevitably, this gives the publicly traded for-profits a renewed opportunity to compete on a more level playing field.
To Be or Not to Be Taxable
To regain footing on this coveted field of opportunity in online learning, for-profit U.S. education companies will need to show consistency with believable value propositions, competitive tuition rates, quality academics, and strong regulatory compliance. The challenge is reversing the renewed threat from non-profit online operators in meeting those institutions on their own alleged lower cost, higher quality academic platforms.
This could give the for-profits a unique opportunity to outshine in the emerging higher education reinvention of the early 21st century. Yet, according to recent survey commissioned by Northeastern University, only 41% of Americans believe online education provides similar quality to traditional on-ground models. Notably, all online operators have a universal perception issue that may need to be addressed in a rare collaboration.
For the publicly traded educators, parity can be achieved with a more intense public disclosure of much needed tax revenues already contributed regularly by the for-profits to their surrounding communities and the nation. This significant subsidy to the tax base is in stark contrast to high cost elite residual programs from the tax exempt non-profit educators, such as competitive athletics, to the benefit of a privileged few.
Whether a student, taxpayer, investor, or donor, higher education is an investment worthy of a return to all constituents, but only if worthwhile outcomes that contribute to workforce and social development are achieved. Frankly, the tax status of an institution of higher learning should not be the blanket criteria determining its core value to society.
Appropriately, may the best online educators win by admirably serving their respective targeted demographics, irrespective of an institution's IRS status. Whether investing in a for-profit education company's stock, donating to a non-profit alma mater's endowment, or paying a loved one's college tuition albeit profit or non-profit, caveat emptor prevails.
Disclosure: I have no positions in any stocks mentioned, and no plans to initiate any positions within the next 72 hours. I wrote this article myself, and it expresses my own opinions. I am not receiving compensation for it. I have no business relationship with any company whose stock is mentioned in this article.