After a long downturn following the 2008 financial crisis, the US and world economies have slowly climbed out of a deep recession and are on track towards a limited, though less than spectacular recovery. There are signs that interest rates are beginning to climb, and that markets are becoming more risk tolerant.
At this stage in the business cycle, the first signs of the next up-cycle for energy and materials companies are beginning to show. The US Mining Index (DJUSMG) finally seems to have bottomed out after having been in a free-fall for the past two years.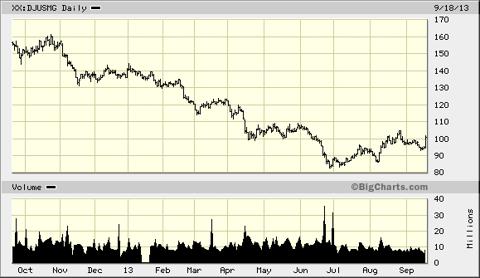 It is time to re-allocate a small portion of my portfolio, moving out of safe, dividend paying large cap stocks and into growth stocks in the energy and mining sectors.
Augusta Resources (NYSEMKT:AZC) owns the Rosemont copper project located about 30 miles south of Tucson, Arizona and within a 75 mile radius of three operating copper mines owned by Asarco and Freeport McMoran (NYSE:FCX).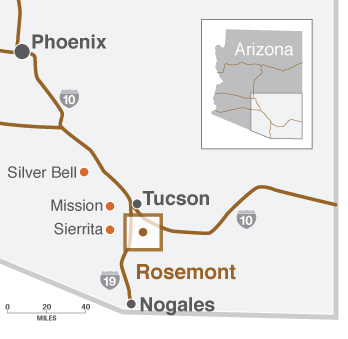 Total proven plus probable reserves are 667 million tons of sulphide ore grading 0.44% copper, 0.015% molybdenum and 0.12oz/ton silver, enough for more than 20 years of production from the proposed mine and concentrator.
The project is designed to mine and treat 75,000 tons per day of ore (27.4 tons per year), to produce 400,000 tons per year of copper concentrate at a grade of 30% Cu, and 4,670 tons per year of molybdenum concentrate grading 50%. The mining plan includes an increase in production to 90,000 tons per day by year 7.
The site is about 11 miles from highway S-83, and is accessible by gravel roads which can easily be upgraded. Power and water are available nearby.
Detailed engineering is in progress, and construction is expected to start on site in Q2, 2014 with completion scheduled for Q2 of 2016, at which time the Rosemont mine will be the third largest copper mine in the USA.
Most of the major permits have been obtained, and the remaining permits are progressing and could be issued before the end of this year. At that time, the project will move to the construction phase.
Augusta has signed an earn-in agreement with Korean copper producer LGI/Kores, by which LGI will contribute $176 million to the capital costs of the project in return for a 20% interest. The first tranche of financing has been received, and was used to fund engineering and pre-construction costs. The second tranche ($106 million) is intended for funding of construction. This also includes an off-take agreement for 30% of the copper concentrates and 20% of the molybdenum concentrates at market prices.
The company also has an agreement with Silver Wheaton (SLW) whereby Silver Wheaton will contribute $230 million to the capital cost of the project in return for future fixed prices of $490 oz for all of the Rosemont mine gold and $3.90/oz for the silver production. This provides Augusta with an injection of capital for construction, offset by a loss of value in future gold and silver production. The effects of this agreement are accounted for in the feasibility study economic analysis.
A mandate letter has been signed with a syndicate of 12 banks for the remaining $890 million of project financing.
The company has pre-purchased, or placed deposits on long lead items of equipment for the project. The total value of this equipment as of June 30, 2013 was approximately $75 million. That cost, along with other sunk costs of about $28 million is not included in the project capital cost estimate.
The company has total liabilities of $97 million, including outstanding debt of $89 million. Total current assets are $15 million. The economic analysis contained in a project feasibility study completed by M3 Engineering in August of 2012 provides the following key parameters:
Estimated capital cost

$1.226 billion

Sustaining capital for first 20 years of operation

$276 million

Operating costs per ton of ore mined

$8.05

Average cash costs (average LOM)

$1.02

Average cash cost (first 3 years)

$0.87

Annual metal production (average LOM)

Cu (lbs)

255 million

Mo (lbs)

6.9 million

Ag (oz)

2.8 million

Au (oz)

21,000

Post-tax NPV at 8% discount rate ($3.50/lb Cu)

$2.508 billion

Post-tax NPV at 8% discount rate (Long term Cu price*)

$1.592 billion

*Long Term Cu price is assumed $3.50/lb in year 1 declining to $2.50 in year 5

Average cash costs include allowances for by-product credits, and would be lower in the absence of the Silver Wheaton agreement which reduces the selling price of the gold and silver, and therefore reduces the by-product credits.
Although Augusta is issuing convertible debentures to provide ongoing financing of operations, these are convertible at 30% above the share price at the time of issue, and are a relatively small quantity compared to the current market capitalization. Share dilution from future financing should therefore be negligible.
I am making the following adjustments to calculate the company net asset value:
| | |
| --- | --- |
| Post-tax NPV at 8% discount rate (Long term Cu price*) | $1,592 |
| Adjust NPV to a 10% discount rate | $1,385 |
| Add $106 million to complete LG's purchase of 80% of the project | $106 |
| Project value | $1,491 |
| 80% of project owned by Augusta | $1,193 |
| Subtract Augusta debt | -$89 |
| Add current assets minus liabilities | $7 |
| Net Asset Value | $1,111 |
| Shares outstanding (fully diluted) | 144.30 |
| Net asset Value per share | $7.70 |
In a previous article, I calculated the NAV of two mid-tier copper miners, Turquoise Hill (TQR) and First Quantum (OTCPK:FQVLF). Since that article was published, the share price of First Quantum has risen slightly, and now equates to 68% of my calculated NAV. TRQ's share price has fallen significantly, and now stands at 86% of NAV.
During the project development stage, with permitting ongoing and construction not started, mining companies typically trade at a significant discount to NAV. 30% of NAV is not unusual. However, Augusta is very close to start of construction, with permits expected to be in place within weeks. It's share price should soon move up to reflect the advanced status of the Rosemont project.
One of the risks inherent in mining is that of cost overruns, (both capital and operating), which in turn affect the returns on investment and the asset value of any particular project. In the case of Augusta, these overruns should be easily controlled given that the project is using standard, well known technology and is located in area where this type of mining is common. There should be plenty of reference information on which to base both the capital and operating cost estimates, and the errors in estimation ought to be relatively minor.
Both of the companies that I have used for comparison have a significant component of their asset value tied up in projects which are under construction or not yet at full operation. First Quantum's major projects are located in Zambia, and Turquoise Hill's only significant project is located in Mongolia. A company whose major project is located in Arizona ought to trade at a percentage of NAV at least equal to that of its two peers whose projects are located in countries with higher political risk.
I am suggesting a target price of 70% of NAV for Augusta, which equates to $5.39 a share. I believe the company could also be a takeover opportunity. Many of the big mining companies are cutting back on major projects, which seem to take far too long to develop, are often located in politically difficult countries and are subject to delays and cost overruns. Augusta could be an easy target for a BHP (NYSE:BHP), Grupo Mexico or Freeport looking to maintain their production levels without taking on the risk of those high profile projects.
Of course there is always risk to consider, more so in a non-producing mining prospect than in any other sector. The potential for cost overruns has already been mentioned. There is always the possibility that the ore body could prove less productive, or more difficult to mine, and there is always the chance of a precipitous drop in the price of the mined materials.
However, historically, the long term forecasts for copper have significantly underestimated the prices (see chart below)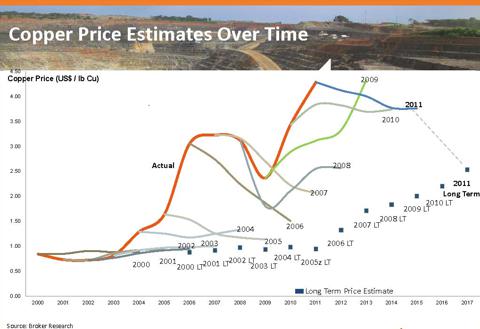 I think it is more likely that copper prices will stay above $3/lb for the foreseeable future, and I believe there is a lot more upside potential than there is downside risk in Augusta resources.
Disclosure: I have no positions in any stocks mentioned, but may initiate a long position in AZC over the next 72 hours. I wrote this article myself, and it expresses my own opinions. I am not receiving compensation for it (other than from Seeking Alpha). I have no business relationship with any company whose stock is mentioned in this article.