Having delivered satisfactory financial performance in the past, General Mills (NYSE:GIS) has been taking initiatives to expand its product range and international market presence, which remain important growth drivers for the company. Also, the company has been sharing its success with shareholders through dividends and share repurchases. GIS currently offers a dividend yield of 3.1%. Therefore, I recommend a buy rating on the stock.
With annual sales of almost $18 billion, GIS is among the world's top food companies. The company has operations and customers around the globe, and it operates under operating segments, namely U.S. Retail, International, and Convenience Stores & Foodservices. The U.S. Retail segment contributes 60% towards the company's total sales. The International segment's sales contribute 30% towards the company's total sales; however, GIS has been pushing hard to expand its international market operations, which will increase the share of the International segment's sales and fuel the future earnings growth rate. Also, the company owns a strong brand portfolio, with No. 1 or No. 2 market positions in important growing food categories. The following chart shows the breakdown of the company's global net sales.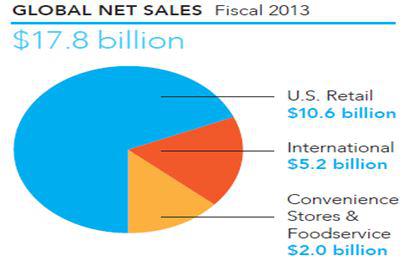 Source: GIS fact sheet
Financial Performance 1Q FY2014
The company has been delivering a healthy financial performance in recent years, and is pushing hard to increase its market share and presence across the world. Yesterday, GIS reported satisfactory financial results for 1Q FY2014. Total sales for the first quarter came out to be $4.37 billion, up 8% year-on-year. Reported sales for the quarter were primarily driven by product innovation and new businesses, like Yoplait Canada and Yoki Alimentos in Brazil, which resulted in a 5% growth in the reported sales. Organic sales for the company grew by 3% year-on-year, better than analyst estimates of 1.6%. Foreign currency exposure shaved away 1% of the company's total sales. Earnings per share for the quarter were $0.70, in line with analyst estimates.
GIS largest operating segment, U.S. Retail, in terms sales, registered total sales of $2.58 billion, up 3.5% year-on-year. Sales for the segment were positively affected by a price increase of 3% and volume growth of 1%. The International segment, which comprises 30% of total sales, registered revenues of $1.32 billion, up 22%. Foreign currency had an adverse impact of 3% on the total sales of the International segment. The Convenience Stores and Foodservices segment, which contributes 10% to the company's total sales, registered sales of $468 million in the first quarter, down 1% year-on-year. The segment's quarterly sales were adversely affected by a volume decline of 3%.
GIS operates in an industry with intense competition, which puts pressure on companies' margins. Also, companies within the industry have to push hard on advertisement and promotional spending to increase/maintain their market share. In the recent first quarter, GIS increased its advertisement and promotional spending by 8% to grow its sales in the competitive market, as volume growth has slowed down in the U.S. market. Due to the aforementioned factors, the company's margins have dropped in the recent quarter.
| | | |
| --- | --- | --- |
| | 1Q FY2013 | 1Q FY2014 |
| Gross Margin | 38.2% | 37% |
| Operating Margin | 17.5% | 17% |
| Net Margin | 10.8% | 10.6% |
Source: Quarterly Report
Stock Price Catalysts
As U.S. markets remain competitive and volume growth slows down, the company has been focusing on product innovation and international market expansion to fuel its top and bottom lines growth. GIS has been undertaking strategic acquisitions to increase its international market presence; international market revenues for the quarter were up 22% mainly due to the acquisitions. As the company continues to undertake strategic acquisitions in international markets and focus on its product innovation initiatives, GIS sales and earnings growths will be positively affected moving forward. Analysts have projected a healthy growth rate of 8% per annum for the next five years for GIS.
Other than product innovation, brand building and international market expansion, I believe a decent dividend yield of 3.1% and share repurchases initiatives remain important stock price catalysts for the stock price. I believe dividends offered by the company are sustainable, as they are backed by a solid free cash flow yield of 6.5%. Also, the company has been aggressively undertaking share repurchases, which will fuel GIS future earnings growth. In FY2013, the company repurchased $1 billion worth of common share (almost 3% of the current market cap). In FY2014, the company is likely to repurchase $1.8 billion worth of common stocks; almost 5.5% of the current market cap of $32.14 billion.
Conclusion
I believe the company is set to deliver a solid financial performance in the long term, as it has been expanding its international market exposure, focusing on product innovation and pushing hard on its promotional efforts. Also, the company remains shareholder friendly in terms of sharing its success, as it offers a decent dividend yield of 3.1% and has an attractive share repurchase plan. Moreover, analysts have projected a healthy next five years growth rate of 8% per annum. Due to the aforementioned factors, I recommend investors buy the stock.
Disclosure: I have no positions in any stocks mentioned, and no plans to initiate any positions within the next 72 hours. I wrote this article myself, and it expresses my own opinions. I am not receiving compensation for it (other than from Seeking Alpha). I have no business relationship with any company whose stock is mentioned in this article.