Hewlett-Packard (NYSE:HPQ) has had a rough ride for several years now, going through a parade of CEOs and watching its stock not only fall from the high $50s to the $10 range for a while before recovering to the low $20s now. Adding insult to injury it was recently dropped from the Dow Jones Industrial Average.
Is it about the make a sustained comeback? I think so. Here's why.
The bulk of HP's sales and earnings come from two of its segments - Personal Systems and Printers, and, Enterprise Group and Enterprise Services. For convenience I will consider the Enterprise businesses together, although HP reports them separately. In addition, it has smaller revenue sources from its software business and from financial services. HP reports the foregoing businesses as seven separate segments but for simplicity I am going to deal with them as three: PSP, Enterprise and Other.
PSP
The largest of HP's businesses and perhaps the most recognizable to consumers is its line of personal computers and printers. The steady decline in the market for these devices is no longer front page news and I won't belabor it. HP has been a traditional supplier married somewhat to Microsoft Windows for its operating system (OS) and to Intel (NASDAQ:INTC) and Advanced Micro Devices (NASDAQ:AMD) for processors. As the "Wintel" franchise was displaced by smartphones and tablets, where HP was barely represented, HP's sales and profits suffered along with competitors like Dell, Lenovo, Toshiba, Fujitsu, Samsung, Acer and Asus.
Competitors moved swiftly to become players in the fast growing smart device market with Samsung and Lenovo in particular moving well ahead by embracing the Android OS and investing heavily in design and R&D to release a plethora of attractive devices in the fast growing markets. HP tried, but its efforts to make Web OS acquired with Palm the centre of a mobile platform fell flat when the mercurial Leo Apotheker dumped the very attractive Touchpad tablet barely as it reached store shelves and blew the inventory on hand into the market at $99 a device. It sold out in hours. I bought two and still use them. HP exited tablets for a while.
For all the turmoil, HP's PSP business continues to generate a lot of revenue and cash flow. In 2012 these consumer product lines had combined revenues of $60 billion and contributed over $5 billion in operating income.
The conventional wisdom is that these lines are all but dead and will slowly dwindle into insignificance hence the bearish sentiment on the stock. The 9-month report to June 30, seemed to bear out the negativism with sales dropping from $45 billion to $41 billion and income from $3.9 billion to $3.5 billion.
In my view, the June report may well be the bottom for the division. Meg Whitman, who replaced Leo Apotheker as CEO, has her head screwed on right. She has focused management, encouraged a more innovative approach, and the division now sells Android tablets, Chromebooks and a wider range of mobile devices. New hybrid devices like the Envy X2 were released and a host of new devices with the HP brand on them are entering the market using the latest Intel processors but split between Windows and Android OS while others are powered by Nvidia and AMD. HP is hitting the right price points with some excellent hardware. On the printing side, newer and faster printers are appearing with very attractive ePrint features using HP dot matrix technologies that use about half the toner of lasers but produce documents every bit as high quality as laser printers.
HP has about a 16% share of the PC market, shipping on the order of 50 million devices annually. With all of the revenues of the PSP segment derived directly or indirectly from PC sales, it seems reasonable to estimate that each PC sold results in about $1,200 revenue for HP, in round numbers.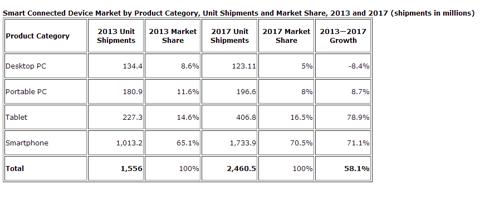 IDC estimates the PC market will be flat over the next 4 years with unit sales of desktop and portable PCs in 2017 of 320 million units, virtually unchanged from 315 million units in 2013. If this pans out, HP revenue from traditional PCs will remain about where it is and in my view the combination of such PC's and printers will continue to contribute something on the order of $60 billion to HP revenues each year, mimicking 2012 performance.
Tablets and smartphones are another matter. IDC sees tablet growth from 227 million units in 2013 to about 407 million units in 2017, while forecasting smartphone unit growth from just over 1 billion units this year to over 1.7 billion units in 2017.
HP has no smartphone offering, having abandoned its attempt to enter that market last year, but it does have both Windows and Android tablets at various price points but with an average selling price (NYSE:ASP) of about $250. About one in five tablets in use by 2017 will be owned by businesses rather than consumers, according to Forrester research. Business customers are HP's bread and butter and it should gain some traction for its tablets in selling to enterprise.
HP just introduced a spate of new Android and Windows 8 tablets, in time for the holiday season.
In my view, HP's brand strength combined with its new tablet designs will lead to tablet sales growing from virtually none in 2012, to the 30 to 40 million range by 2017. While this will still represent barely 2 to 3% of the total market, if these volumes materialize HP could add $7.5 to $10 billion to revenues by 2017.
HP is unlikely to sit still and let its existing product line unfold. Instead, I expect to see new devices added to its line in areas where it was unrepresented previously - Chromebooks and Android tablets being examples of recent steps in this direction. Accordingly, in my view, this division should stabilize and - dare I say it - start to grow again. If it does, other things being equal, investors may warm up to HP stock.
Of course other things are not equal, and we need to take a look at the Enterprise product lines.
Enterprise
The enterprise side of HP is a big business as well turning in $55 billion in revenue and $6.2 billion in operating income in 2012. Like PSP, it has been in a secular decline and in the 9 months ended June 30, saw revenues of $38 billion versus $41 billion in the prior year. Operating income also fell from $4.5 to $3.5 billion.
Turning around this business is a challenging task and the downbeat comments by Meg Whitman to The Wall Street Journal show her frustration when she discussed the June results in August.
A cornerstone of HP's enterprise business is its Proliant line of servers. HP has a 26% market share second only to IBM with server revenues greater than Dell and a multiple of the server revenues of either Oracle or Cisco, despite a drop of almost 18% in server revenues year to date 2013.
Top 5 Corporate Family, Worldwide Server Systems Factory Revenue, Second Quarter of 2013 (Revenues are in Millions)
| | | | | | |
| --- | --- | --- | --- | --- | --- |
| Vendor | 2Q13 Revenue | 2Q13 Market Share | 2Q12 Revenue | 2Q12 Market Share | 2Q13/2Q12 Revenue Growth |
| 1. IBM | $3,311 | 27.9% | $3,680 | 29.1% | -10.0% |
| 2. HP | $3,071 | 25.9% | $3,724 | 29.5% | -17.5% |
| 3. Dell | $2,227 | 18.8% | $2,020 | 16.0% | 10.3% |
| 4. Oracle | $710 | 6.0% | $753 | 6.0% | -5.7% |
| 5. Cisco | $537 | 4.5% | $376 | 3.0% | 42.6% |
| Others | $2,001 | 16.9% | $2,088 | 16.5% | -4.2% |
| All Vendors | $11,857 | 100% | $12,641 | 100% | -6.2% |
Somewhat similar data from IT Candor show HP with the lead and IBM holding second in terms of server market share by revenue as at June 30, 2013. Whichever is correct, it is clear that servers are an important segment for HP and it is also clear that HP has been losing ground in the server space since 2011, with only Dell showing any growth.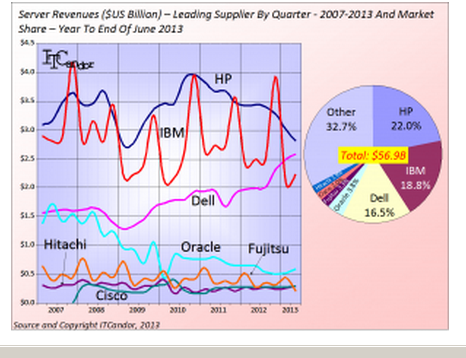 It would be easy to become despondent about HP given those results.
While the server market has been held back by economic weakness generally, that seems likely to change as world economic growth begins to expand, albeit slowly. In my opinion the server market is on the verge of renewed growth led by cloud computing and by high demand for micro servers.
IHS iSuppli Research expects demand for servers for cloud computing to more than double the 2012 level by 2015.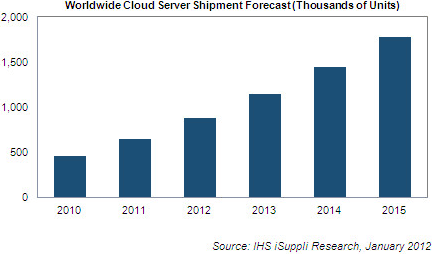 Micro servers are forecast to grow even more rapidly according to Lync Migration, expanding at a blistering 64% pace for the next 4 years. HP is a key supplier of micro servers.
HP also introduced its "Moonshot" server line combining cloud, big data and virtual server capability.
Despite better industry fundamentals, HP has been stumbling and Meg Whitman has moved swiftly to correct the problems. Whitman replaced the group's leader, Dave Donatelli with an ex-Microsoft executive Bill Veghte, and set out to stem share erosion and downward momentum arising from weak execution. Currently suffering at the hands of aggressive pricing from Dell and other competitors and facing slow demand for Moonshot servers awaiting new processor technology, the services group had a tough last quarter and the momentum is weak.
In parallel, Intel recently introduced new Xeon processors targeted at the server market with power and scale that could prompt an upgrade cycle, and its line of Silvermont processors for lower powered micro servers.
The advances at Intel in my view could spur several years of growth in servers as they prompt an upgrade cycle to take advantage of greater power and lower energy usage.
In addition to servers, HP offers a wide range of enterprise services, which integrated the offerings of electronic data services in 2008. HP's enterprise services group employs over 100,000 professionals and serves over 2,000 clients. Often overlooked by analysts, and set back in 2009 by arbitrary salary reductions under then CEO Mark Hurd, Meg Whitman has moved to re-focus and engage management of this major business after a number of missteps.
The new processors are now released and Moonshot is a powerful suite of products but only time will tell if it takes hold. Notwithstanding, I have a high level of confidence that Whitman can right the ship and expect growth in the enterprise group to emerge in the second half of 2014.
Conclusion
HP is and has been a troubled company for a few years now. It remains a profitable one and is rebuilding its balance sheet after the disastrous Autonomy acquisition. Meg Whitman is a strong CEO with an enviable track record of leadership success.
Turning around an enterprise the size and complexity of HP is a non-trivial task. The stock price reflects an expectation for continued profit shrinkage and declining sales. A bet on HP is in many respects a bet on Meg Whitman, since the company has enormous talent and resources despite having faltered badly in recent years. Against the backdrop of improving world economies, new technologies with the potential to invigorate PC demand, a move into tablets and Android devices, and advances in server technologies, HP has the potential to stabilize and ultimately to grow.
I do not currently hold a position in HP but will add one once I see evidence of stability and the beginnings of growth. The seeds have been planted and Whitman is watering the garden. Whether it will bloom or fall victim to drought or pests waits to be seen.
Disclosure: I have no positions in any stocks mentioned, and no plans to initiate any positions within the next 72 hours. I wrote this article myself, and it expresses my own opinions. I am not receiving compensation for it (other than from Seeking Alpha). I have no business relationship with any company whose stock is mentioned in this article.