MicroStrategy (MSTR) recently delivered weak second-quarter results, prompting analysts to revise their estimates significantly lower for both 2013 and 2014. It was also the company's fourth-straight earnings miss. It is a Zacks Rank No. 5 (Strong Sell) stock. Despite the poor earnings momentum, shares trade at a whopping 67x forward earnings. Investors should consider avoiding this stock until its earnings momentum improves.
MicroStrategy provides enterprise software platforms. Its products include the MicroStrategy Analytics Platform, the MicroStrategy Mobile App Platform, the MicroStrategy Identity Platform, and the MicroStrategy Loyalty Platform. It was founded in 1989 and has a market cap of $1.2 billion.
Second-Quarter Results
MicroStrategy reported disappointing second-quarter results on July 29. The company reported a loss of 14 cents per share, which was well below the Zacks Consensus Estimate calling for +39 cents. It was also well below earnings of +65 cents per share in the same quarter last year.
Total revenues increased 2% to $137.9 million, below the consensus of $140.0 million. Product licenses revenues declined 4% year over year, while product support and other services revenues rose 4%. The gross profit margin declined 120 basis points to 73.6%. And despite the modest rise in revenue, operating expenses jumped 14% year over year.
Estimates Fall
Following the second-quarter miss, analysts revised their estimates significantly lower for both 2013 and 2014, sending the stock to a Zacks Rank No. 5 (Strong Sell). The Zacks Consensus Estimate for 2013 is now 44 cents, down from $1.75 just 60 days ago. The 2014 consensus is $2.01, down from $3.33 over the same period.
You can see the negative earnings momentum over the last several months in the company's "Price and Consensus" chart: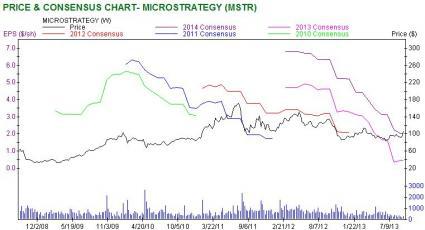 Premium Valuation
Despite the negative earnings momentum, MicroStrategy trades at a 12-month forward P/E of 67, which is well above its 10-year historical median of 19 and the industry median of 16.
The Bottom Line
With negative earnings momentum and premium valuation, investors should consider avoiding this Zacks Rank No. 5 (Strong Sell) stock until its earnings momentum turns around.
Microstrategy: Free Stock Analysis Report (email registration required)