As the legendary investor, Howard Marks, wrote, "skillful risk control is the mark of the superior investor." He went on to explain (in his book, The Most Important Thing) that "it's the investor's job to intelligently bear risk for profit. Doing it well is what separates the best from the rest."
Last week I wrote an article, The Wonderful Wizard Of O, in which I explained that Realty Income's (NYSE:O) long-term CEO (of 16 years), Tom Lewis, was retiring. Effective September 3rd, Lewis has now transitioned into the Vice Chairman role after serving almost 26 years at The Monthly Dividend Company®.
Lewis was a key ingredient in the success of the stalwart REIT brand and clearly his "second level" thinking skills earned him the distinction of being the "wonderful wizard of O." As I have often argued, a fortress REIT is built on sound risk control practices and Lewis was instrumental in guiding the blue-chip brand in good times and bad. Earlier this week, I wrote an article explaining Realty Income's premium valuation (P/FFO is 16.9x):
I consider Realty Income an enhanced dividend-paying brand, especially after the company has demonstrated its time tested track record of dividend reliability and sustainability.
I went on to say:
It's easy to look good in the net lease space, but show me another REIT that has managed 26 tenant bankruptcies (8 since the last recession), while never dropping occupancy below 96%.
Remember REIT investors, when you invest in a REIT, you are not only investing in the "brick and mortar," you are also investing in the management team. In such, I'm looking for CEOs like Lewis that have acquired that necessary "trace of wisdom" that are distinguished at least as much for their ability to control risk as they are for generating return. As I went on to explain:
I subscribe to the notion that I'm buying a premium brand - much like an insurance policy that offers me risk premium coverage for the dividend's future performance. Remember, risk control is invisible in good times, bet essential!
A New Wizard of O
As Lewis has now departed from his CEO position, the wonderful Emerald City now has a new sheriff. Prior to his appointment as CEO, John P. Case was the President and Chief Investment Officer of the company, a position he held since March 2013. From April 2010 through February 2013, he served as the company's Executive Vice President, Chief Investment Officer.
Prior to joining the company, Case was a real estate investment banker in New York for 19 years, most recently as Co-Head of Real Estate Investment Banking for RBC Capital Markets from 2009 to 2010 where he also served on the firm's Global Investment Banking Management Committee.
Additionally, Case was Co-Head of Americas Real Estate Investment Banking at UBS from 2006 to 2009 and began his career in Real Estate Investment Banking at Merrill Lynch where he worked for 15 years and was named a Managing Director in 2000. Case graduated from Washington and Lee University, with a Bachelor of Arts degree in Economics, and the Darden School of Business, at the University of Virginia, with a Masters in Business Administration.
Just days into his new job as the "Wizard of O," I caught up with Case to get some insight into his background as well as his reasoning into how Realty Income could sustain differentiation over time and through change. As Chris Zook wrote (in Repeatability: Build Enduring Businesses for a World of Constant Change), "the power of a repeatable model lies in the way it turns the sources of differentiation into routines, behaviors, and activity systems that everyone in the organization can understand". Zook went on to explain "that the stronger your differentiation, the greater your advantage."
Let's see what the new CEO of one of my favorite REITs - built on sound strategies and hardy forms of differentiation - has to say…
Thomas: John, congratulations on becoming the 3rd CEO in the history of Realty Income. Can you tell me about your experience in the net lease industry?
Case: First, as an Investment Banker, I banked net lease companies including Realty Income and others over the 15 years prior to joining the company. Then, I joined Realty Income 3½ years ago and have led the investment efforts of the company as CIO, and during that period, we have acquired approximately $7 billion in net lease assets
Thomas: As you know, we are seeing a wave of M&A growth in the Net Lease sector. I know that you were actively involved in the Q1-13 merger of American Realty Capital Trust. Do you believe there will be continued M&A activity in the Net Lease sector?
Case: I do. The acquisition volume is quite heavy right now, and it may ebb and flow, but I do expect M&A to remain active in the sector. We have had an opportunity to review most all of the major transactions that have occurred and we anticipate that will continue.
Thomas: You are stepping into the shoes of an established "battleship" - a REIT that has paid and increased dividends for almost 20 years in a row. How can Realty Income continue to "move the needle" and provide ample external growth opportunities?
Case: We certainly have done that in the past and think we can continue to do that. The key is constantly adjusting the strategy to meet the needs of the market and the economic outlook. In the 1990s, it was moving into numerous retail sectors for the first time. In the early 2000s, it was working with private equity to do transactions. Four years ago, we moved up the credit curve with tenants and also moved into industrial, distribution, agriculture and manufacturing properties with Fortune 500 companies. We continue to adjust as the market and economy evolve.
Thomas: As far as external growth, does your portfolio have leases that are adjusted for inflation? In other words, will your company be in a position to mitigate the risk of rising interest rates even though the portfolio has long-term contractual leases?
Case: Our leases, on average, grow at 1-1.5% per year, which is quite helpful. The external growth is the primary driver and we think that will continue to be the case. Relative to interest rates, we have a conservative balance sheet which will help mute any impact. We also have been moving up the credit curve with the tenant base which will help mute the impact on the tenant side. With a net lease portfolio, we are insulated from rising property expenses in an inflationary environment. Additionally, cap rates tend to adjust upward over time as interest rates rise and we think that will also allow for additional growth.
Thomas: It seems that your biggest competitors today are banks and other financial institutions that lend money to net lease owners. How does Realty Income compete and what's the value proposition for Realty Income to be a landlord?
Case: That has always been the case, but the drive to borrow rather than do sale leaseback is much less today. Think about it, after 32 years of declining interest rates we are likely to see rates rise in the future. Borrow and you are likely to have to refinance at higher rates in the future. Do a sale leaseback and you do not have to refinance. Very compelling today and easier to compete against lenders.
Thomas: I know S&P recently upgraded Realty Income to BBB+ (from BBB). What are some of the metrics that made Realty Income an improved credit in the eyes of S&P?
Case: (1) Size: now ~$13 billion in TEV. Diversification by tenant, industry and geography: 3,681 properties, leased to 194 corporations, in 46 industries, in 49 states - under long term leases …. Very stable cash flows. (2) Increased exposure to investment grade tenants (~38% of revenue). (3) Conservative leverage structure (~30% debt/TMC at 6/30/13) (Debt/EBITDA 5.9x at 6/30/13) and sound coverage ratios (FCC ~3.3X at 6/30/13), (4) Track record: increasing cash flows for 44 years and the portfolio has never been below 96% occupancy (5) Compelling investment opportunities.
Thomas: I often cite Howard Marks in his book, The Most Important Thing, as he explains that "risk is inescapable." As the new CEO of "The Monthly Dividend Company," what do you believe are the biggest risks for REITs today and how can investors prepare?
Case: Increasing interest rates…. Make sure your tenants are prepared to protect your cash flows. Changing economy… the internet in retail and a low end consumer that will struggle to purchase discretionary goods… make sure you have adapted your portfolio. Don't lose your focus… know who you are…We are The Monthly Dividend Company, dedicated to paying increasing dividends to a shareholder that appreciates that income. So, make sure your portfolio moves reflect that. Finally, don't overpay and only buy properties you want to hold for many years to come to produce income.
Thomas: John, thanks for taking the time for this interview and for helping us all "sleep well at night."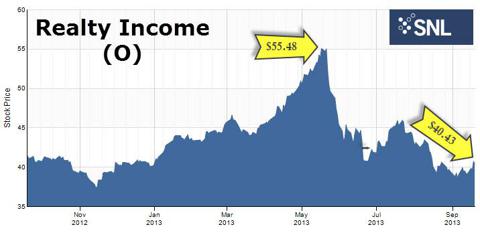 Newsletter: For more information, check out my REIT newsletter here. Starting in October, I will provide a full Triple Net REIT Report. There is not a tremendous amount of analyst coverage for this sector and I believe this will be a valuable service for my newsletter subscribers
Disclaimer: This article is intended to provide information to interested parties. As I have no knowledge of individual investor circumstances, goals, and/or portfolio concentration or diversification, readers are expected to complete their own due diligence before purchasing any stocks mentioned or recommended.
Disclosure: I am long O, HCP, VTR, HTA, GPT, DLR, ARCP, UMH, STAG, CSG. I wrote this article myself, and it expresses my own opinions. I am not receiving compensation for it (other than from Seeking Alpha). I have no business relationship with any company whose stock is mentioned in this article.