While Silver Wheaton (SLW) has faced weaker earnings as the price of the commodity has fallen, I still believe that the silver streamer is the best play in metals. Unlike traditional miners like Pan American (NASDAQ:PAAS) and First Majestic (NYSE:AG), Silver Wheaton is not exposed to the vagaries of the mining industry. The company forges contracts with other miners to buy the silver production of those other miners at a pre-determined, fixed cost. That cost is currently around $4.14 per ounce, meaning that silver would have to fall quite a bit farther before the company's profitability is really threatened.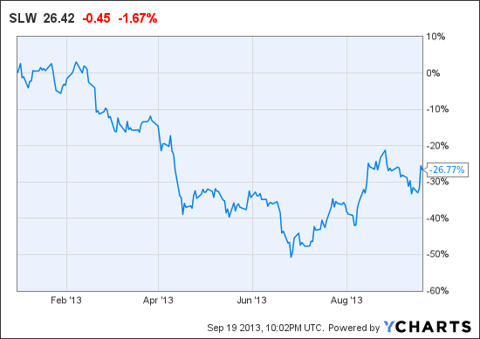 I also continue to prefer silver to gold as a matter of industrial usefulness. While gold is not lacking in industrial uses, the applications of silver are more numerous and are in significant growth areas. In the video below, I discuss why I feel that Silver Wheaton is where to maintain exposure to the precious metals and why I believe it can be a profitable part of your portfolio.
Disclosure: I have no positions in any stocks mentioned, and no plans to initiate any positions within the next 72 hours. I wrote this article myself, and it expresses my own opinions. I am not receiving compensation for it (other than from Seeking Alpha). I have no business relationship with any company whose stock is mentioned in this article.