The Cline Shale is approximately a 1.6 million acres area in the Permian basin. This shale layer is found at approximately 9000 - 11,000 feet of depth. It is approximately 200 to 550 feet thick with total organic content of between 2% and 8% and a porosity of 5% - 12%. It has produced light sweet crude with an API gravity of 38 to 42 degrees, which is similar to Eagle Ford Shale light sweet crude oil. The above make the Cline Shale an excellent candidate for horizontal drilling and hydraulic fracturing. The early information from the Cline Shale indicates that it may contain up to 30 billion barrels of recoverable oil. Another study by Devon Energy and Chesapeake Energy states that the Cline Shale contains 3.6 million barrels of recoverable oil per square mile. At 140 miles long and 70 miles wide, its 9800 square miles could contain roughly 35 billion barrels of recoverable oil by this study. A map of the Permian Basin below delineates the approximate location of the Cline Shale.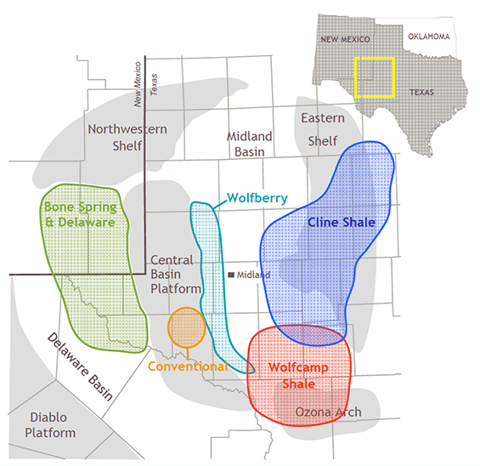 The old adage that "the early bird catches the worm" is probably true in the oil business too. The early E & P companies will probably be the biggest beneficiaries of what may turn out to be the most prolific shale field in the US. Some of these are: Apache Corp. (NYSE:APA) -- 520,000 net acres, Range Resources (NYSE:RRC) -- 100,000 net acres, Clayton Williams Energy (NASDAQ:CWEI) -- 40,000 net acres, Devon Energy Corp. (NYSE:DVN) -- about 650,000 net acres in a JV with Sumitomo Corp. of which much is thought to be prospective for the Cline Shale, Laredo Petroleum Holdings (NYSE:LPI) -- 142,000 net acres, and Gulfport Energy Corp. (NASDAQ:GPOR) -- has a 12.1% interest in Diamondback Energy (NASDAQ:FANG) and a joint operating agreement with the company.
Positions in the Cline Shale, if they turn out to be as successful as some are predicting, will have the biggest beneficial effect on the smaller E & P companies. There are 640 acres in a square mile. The table below shows the purported potential recoverable oil in the above listed small companies Cline Shale holdings (using the Devon Energy and Chesapeake Energy study estimate of 3.6 million barrels per square mile).
Stock

Number of Net Acres

Number of Square Miles

Number of Barrels of Potentially Recoverable Oil

(in millions of barrels)

Market Capitalization (in millions)

Range Resources

100,000

156.25

562.5

$12,670

Clayton Williams Energy

40,000

62.5

225.0

$643.5

Laredo Petroleum Holdings

142,000

221.875

798.75

$3,700
CWEI is the only really small company listed above. For it, 225 million recoverable barrels of oil would make a huge difference. If proved out (proved reserves), they would become worth perhaps $20 per barrel while still in the ground. For CWEI that would amount to $4.5B, which is about 7 times its entire market cap of $643.5 million. The Cline Shale could prove to be a very big deal to CWEI (and to its investors). In LPI's case proved reserves might total $15.975B. This is about 4.3 times LPI's market cap. Even for Range Resources , which is a large company, if the reserves proved out they might total $11.25B while still in the ground. Even for RRC this would be as much as its entire market cap; and it has a huge amount of other holdings.
The article is only meant to point out some of the stocks investors should probably watch. Their holdings in the Cline Shale may have potentially huge impacts on their top and bottom lines in the near future. Since the analysts usually don't raise their estimates on oil stocks until the picture is almost completely clear, investors have an opportunity to make multiple gains on the current stock prices. I have not fully examined each stock; but the table below may at least give some idea of the fiscal health of each company (for the small companies above).
| | | | | |
| --- | --- | --- | --- | --- |
| Stock | CWEI | LPI | RRC | FANG |
| Price | $52.02 | $29.20 | $78.83 | $44.02 |
| 1 Yr. Analysts' Price Target | $66.00 | $30.79 | $89.60 | $51.60 |
| P/E | N/A | 91.61 | 192.57 | 84.43 |
| FPE | 59.83 | 30.89 | 39.28 | 17.05 |
| Beta | 2.91 | 0.776 | 0.98 | 2.141 |
| Market Cap | $632.89M | $3.69B | $12.55B | $1.85B |
| Mean Recommendation | 2.4 | 1.8 | 2.2 | 1.8 |
| Price/Book | 1.90 | 4.24 | 5.34 | 3.00 |
| Short Interest as a % of the Float (as of August 30, 2013) | 4.90% | N/A | 7.10% | 15.70% |
| Total Cash | $16.20M | N/A | $284.00K | $81.90M |
| Total Debt | $664.61M | N/A | $2.95B | $266.00K |
| EPS Growth Estimate FY2013 | -185.10% | +8.80% | +51.10% | +3.10% |
| EPS Growth Estimate FY2014 | +135.40% | +51.60% | +43.90% | +96.90% |
| % Held By Institutions | 41.09% | 86.99% | 95.08% | 82.95% |
| Total Debt/Total Capital (mrq) | 66.40% | 62.29% | 55.28% | 0.04% |
| Quick Ratio (mrq) | 0.99x | -- | 0.51x | 1.13x |
| Interest coverage (mrq) | 4.57x | 28.51x | 5.21x | No Debt |
| EPS Growth (mrq) | -103.13% | 12.92% | 156.85% | -6.10% |
| EPS Growth (NYSE:TTM) | -147.91% | -65.54% | 48.25% | -500.12% |
| Revenue Growth (mrq) | -5.44% | 26.08% | 49.99% | 183.18% |
| Revenue Growth | -1.48% | 13.73% | 27.11% | 101.84% |
| Dividend Yield | 0% | 0% | 0.20% | 0% |
| Gross Profit Margin | 65.22% | 86.70% | 86.47% | 75.66% |
| Operating Profit Margin | -3.30% | 27.70% | 6.78% | 29.37% |
| Net Profit Margin | -11.50% | 6.41% | 3.86% | -26.89% |
The trouble with using fiscal data to analyze these companies is that they are often in too early a phase of development to show good fiscal numbers. That seems to be the case for most of the stocks above. However, a few things standout.
Diamondback Energy has 65,000 net acres in the Midland Basin, which includes the Cline Shale. FANG has great revenue growth numbers of over 100%, including +183.18% in the most recent quarter. It has a good gross profit margin of 75.66%. It has an FPE of 17.05. It has a mean recommendation of 1.8 (a strongish buy). It has a decent cash position with little debt. It is 82.95% owned by institutions, which gives it good stability. Plus Gulfport Energy corp. owns part of it as an investment/partnership. For more information on Diamondback Energy follow this link to the Q2 2013 summary. It contains some great recent well results. These seem to make FANG a good longer term investment.
CWEI has the most potential upside based on its ratio of Cline Shale acreage to market capitalization. Potentially its Cline Shale holdings could cause the company's stock price to move up 7-fold; and that is without considering any other growth that it might manage during the next several years. It has 85,000 net acres in the Wolfcamp and Bonesprings areas of the Permian Basin. The Cline intersects the Wolfcamp shale. Plus it has over 1000 proven drilling locations in the Eagle Ford Shale. It has 100,000 to 125,000 net acres in the Eagle Ford Shale, which has already proven to be highly profitable. CWEI already has a good gross profit margin of 65.22%. As it develops its Cline Shale property, one would expect that to increase. Well costs should go down. One would also expect the Operating and Net profit margins to improve. Even so, its adjusted net income for Q2 2013 was $11.7 million. This was a very positive sign. It averaged 13,875 Boe/d in Q2 2013, which is very positive. This is a lot for a $643.5 million market cap company. For instance, Kodiak Oil & Gas Corp. (NYSE:KOG) had daily production of about 34,000 Boe/d in Q2 2013. Yet it has roughly five times the market cap at $2.98B. In other words, it produced about half as much per dollar of market cap. This statistic makes one like CWEI, especially when you consider how prolific the Cline Shale is purported to be (better than the Bakken). The following link is to CWEI's Q2 2013 report. It is a buy, although it is a less strong company than FANG due to CWEI's greater debt load.
Both of the other two companies can also be considered buys. These are small E & P companies with a lot of growth potential. RRC is probably medium sized, but it has other assets which add further to its growth potential. These include already proved reserves of 6.5 Tcfe as of December 31, 2012. Getting oilier as it grows production in the Cline Shale can only help it be more profitable.
The two year charts of these stocks provide some technical direction to investors.
The two year chart of CWEI is below: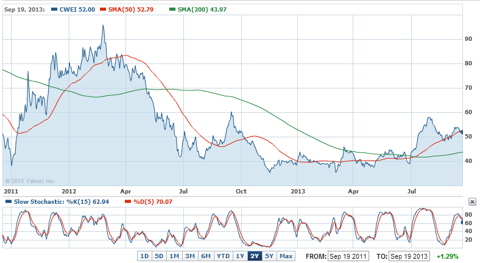 The slow stochastic sub chart shows that CWEI is near overbought levels. The main chart shows that it made a bottom in late 2012 and 1H 2013. It consolidated for long enough to give it a good impetus to go up. The Cline Shale development should provide that impetus over the next several years. CWEI is a buy; but most investors may wish to wait for an overall market pullback to begin buying. Alternatively one might decide to average in over time. It does have a lot of debt; and its EPS and net profit margin numbers are still weak. It could be hurt substantially in a bad economic environment. With the Fed recently lowering its economic growth estimates for the US for 2013 and 2014, an investor probably does not want to buy in on CWEI whole hog at this moment in time. Averaging in over the next year may be a good strategy. Still CWEI does have huge growth potential for anyone's portfolio.
The two year chart of LPI is below: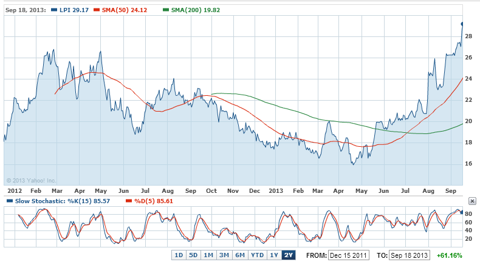 The slow stochastic sub chart shows that LPI is at overbought levels. The main chart shows that LPI is in a strong uptrend. However, the uptrend appears to be overextended. It would probably be smart for investors to wait for a pullback before investing. Still the strength of the uptrend is encouraging.
The two year chart of RRC is below: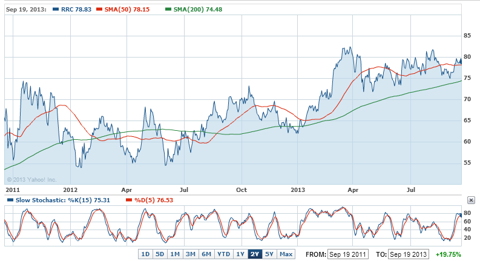 The slow stochastic sub chart shows that RRC is near overbought levels. The main chart shows that RRC is in a weak uptrend. It has a lot of natural gas production. If natural gas prices fall demonstrably it will be hurt. It might be wise to wait for a pullback in RRC before buying, especially with the overall market overbought. As a bigger company, RRC's Cline Shale holdings are a smaller part of its portfolio.
The one year chart of FANG is below: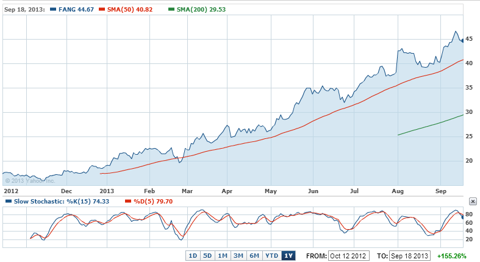 The slow stochastic sub chart shows that FANG is near overbought levels. The main chart shows that FANG is in a strong uptrend. The fundamentals uncovered above tend to support the continuation of this uptrend. Plus stocks with strong charts are often what they appear to be -- strong. However, with the current market overbought, it might be a good idea to average in.
NOTE: Much of the above fundamental financial data is from Yahoo Finance and TD Ameritrade.
Good Luck Trading.
Disclosure: I have no positions in any stocks mentioned, but may initiate a long position in FANG, CWEI, LPI over the next 72 hours. I wrote this article myself, and it expresses my own opinions. I am not receiving compensation for it (other than from Seeking Alpha). I have no business relationship with any company whose stock is mentioned in this article.