Rising mortgage interest rates pushed more buyers to close deals, but monthly sales are likely to be uneven in the months ahead from several market frictions. - Lawrence Yun, Chief Economist, National Association of Realtors
Yesterday's (Thursday) existing home sales report from the National Association of Realtors (NAR) showed a 1.7% increase in home sales from July to August. Although it looks like a month-over-month gain on the surface from a seasonal perspective, it's not a statistically significant increase in sales because August is often the second-highest sales month of the year. What I believe occurred in August was a push by the last of the available pool of ready and willing homebuyers who were sitting on the fence and who jumped in to buy a home before interest rates go even higher. After a big bounce off support, the homebuilder stocks are reinforcing my view, as the DJUSHB (homebuilder stock index) dropped nearly 2% yesterday despite a negligible decline in the S&P 500. Today, as I write this, the DJUSHB is down nearly 3%.
Perhaps the most shocking aspect of the NAR press release (linked above) was Chief Economist Lawrence Yun's admission (my opening quote) that sales going forward were likely to be what he termed "uneven." This is a stunning admission from someone who always reports even the smallest of silver linings in questionable data.
In looking at the data, I saw some items that should be quite troubling for anyone doing their homework on the sector with a critical eye. Here's a pdf of the data: NAR National Existing Home Sales. First, I like to look at the unadjusted data, which the NAR thankfully reports along with its seasonal calculations. As you can see, while single-family home sales increased from July to August by 2.2%, multi-family unit sales plunged by 4.7%. Moreover, while the financial media headlines reported year-over-year price gains, you can see that the median and average prices for single family homes dropped in August to the lowest level of any of the prime summer selling months (June, July, August).
While a housing market bull can certainly pull some positives out of the data, as a whole the data is telling me, along with everything else I've analyzed in past articles on the housing market, that the so-called housing recovery is running out steam.
Let's see what the stock market thinks with this 1-yr daily of the DJUSHB: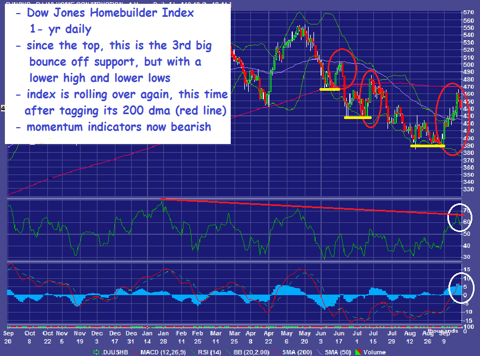 From a technical perspective, the chart is actually quite bearish. Since the index peaked in mid-May, the index has experienced a series of lower highs and lower lows. The red circles show the big bounces, which have failed at key technical levels (50 dma, 200 dma) and the yellow lines show the lower low areas, which happened to be support areas that triggered the bounces. Finally, the white circles show that the momentum indicators which I like to use - the RSI (top) and MACD (bottom) - are rolling over again. The red line shows that the RSI has also experienced successive lower highs, which reinforces the fact that there's more selling than buying when the DJUSHB bounces.
The housing stocks are a lot more volatile than the overall stock market, which makes it even harder to time trade entries, especially when your trade strategy is to short the sector. This means that you have to save capital and be willing to add to your position when the market goes against you. I shorted DHI (DR Horton) originally at the end of January in the high $23s. The market went against me but it also gave me the opportunity to "average up" my cost basis when I added to my short in the high $26s. Now the stock is at $20.27 and I added a little more to my short position yesterday in the low $21 area.
I continue to believe that housing is in the middle of a secular bear market that started roughly seven years ago and has a long way to go before both prices and volume bottom out. Because of that, I still believe strongly that the DJUSHB will trade back down to at least its November 2008 low close of 143 and maybe even lower. In addition to my DHI short, I also like shorts in Ryland (NYSE:RYL), Pulte (NYSE:PHM), Centex (CTX), Lennar (NYSE:LEN), Beazer (NYSE:BZH), KB Home (NYSE:KBH), MDC Holdings (NYSE:MDC) and, for the those with nerves of steel and strong stomach NVR (NYSE:NVR).
Disclosure: I am short DHI. I wrote this article myself, and it expresses my own opinions. I am not receiving compensation for it (other than from Seeking Alpha). I have no business relationship with any company whose stock is mentioned in this article.