EQT Midstream Partners (NYSE:EQM) is the midstream arm of one of the leading natural gas producers at the Appalachian Basin EQT Corporation (NYSE:EQT). EQT Midstream owns, operates and develops midstream assets in the region. EQT Midstream's primary assets are the Equitrans Transmission and Storage System and the Equitrans Gathering System. The business provides its services to EQT Corp as well as other companies. The partnership was formed by EQT Corp in June-2012. EQT is the general partner and owns 44.6% of the equity interest (2% GP and 42.6% LP interest).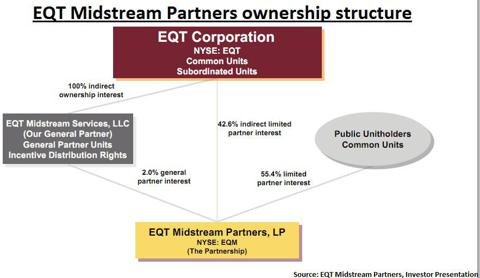 EQT Midstream's primary assets and its association with a leading player at Appalachian Basin makes it a premier midstream operator in the region. The firm is in a good position to capitalize on the growing demand of Marcellus' supply.
Equitrans Transmission and Storage System is the life and blood of EQT Midstream. It includes 700-mile FERC-regulated interstate pipeline system which connects with other pipelines and distribution companies. By the end of 2012, the system had a throughput capacity of 1.4 TBtu/day, which has now increased to 2.1 TBtu/day. In 2012, the system's throughput rose by 53% from a year ago to 606 BBtu/day. Equitrans Gathering System includes 2000 miles of FERC regulated low-pressure gathering lines that connects with other transmission and storage systems.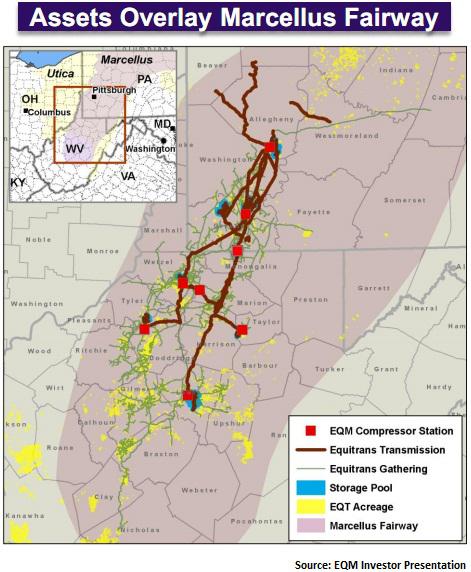 The business has typically earned more than 85% of its revenues from Equitrans Transmission and Storage System and more than 12% from Equitrans Gathering System.
Quarterly Results and outlook
In its last quarterly results for the three months ending June 2013, EQT Midstream reported a 51.14% year-over-year increase in total operating revenues to $44.84 million. Its operating income and net income also rose by 50.92% and 48.93% to $24.14 million and $17.89 million respectively. Excluding the effects of Sunrise acquisition (discussed later), the firm's total operating revenues rose 19.94% to $35.58 million while its operating income rose 24.12% to $19.86 million.
Most of the company's operating revenues and all of its income has come from its transmission and storage system. In the previous quarter, 93.58%, or $41.96 million, of its total operating revenues came from transmission and storage while the unit generated an operating income of $27 million, as opposed to the Gathering systems operating loss of $2.85 million.
The increase in adjusted operating income was mainly due to the higher throughput and increase in contracted transmission capacity following the completion of Blacksville Compressor project at the end of Q3-2012. Overall, the partnership's throughout from its transmission pipeline rose from 517 BBtu/day in Q2-2012 to 1,152 BBtu/day in Q2-2013 on the back of an increase in activity at Marcellus play. On the other hand, the gathering volumes, which were not available in the press release but were disclosed in its 10-Q, dropped by 32.5% year-over-year to 56 BBtu/day. The drop was attributed to "affiliates utilizing direct interconnects between EQT's [the parent's] other gathering systems and the Company's transmission and storage systems." This would also explain some of the uptake in transmission throughput.
EQT Midstream is expecting a sequential increase in operating expenses in the coming quarter due to the expected unfavorable weather conditions. In Q2-2013, excluding Sunrise acquisition, the partnership reported a 15.05% year-over-year increase in operating expenses to $15.72 million.
Total maintenance capital expenditure for the current year is going to be $17 million, of which $4.2 million was spent in H1-2013 while the rest, $12.8 million, will be spent in the second half. In other words, the company's maintenance CapEx will significantly increase in H2-2013, particularly in the current quarter, which is also a reflection of the weather conditions, and is going to be one of the highest the firm has ever recorded in its short life. As a result, its coverage ratio will fall to 1.0x, as opposed to its 12-month average of 1.25x.
Due to the seasonality factor, the coverage ratio is expected to swing between 1.0x and 2.0x, but over the long term, EQT Midstream is targeting at least 1.1x. Due to seasonal issues, under normal circumstances, I believe that EQT Midstream would likely report a drop in operating expenses in the beginning of every year, particularly the first quarter, and will incur most of its maintenance CapEx in the final half of each year.
Distributable cash flow for the quarter was $21.1 million while total declared distributions were $19.51 million. Quarterly cash distribution per unit rose 8%, or $0.03, from the previous quarter to $0.40 for 48.78 million units. This includes the 12.65 million units issued two months ago and 0.75 million units issued to EQT Corp related to the Sunrise acquisition (discussed under 'Sunrise acquisition and its implication').
EQT Midstream is eyeing considerable growth, both organic and inorganic, in the coming quarters and will significantly increase the cash returns to its unit holders. The management's confidence is evident in its plan to increase its quarterly cash distribution by $0.3 in each quarter through the end of 2014. In short, the firm will steadily increase its distribution by 45% from $0.40 in Q2-2013 to $0.58 in Q4-2014.
Investors should note that since the partnership closed its IPO on July-2012, therefore all prior results, including those of Q2-2012, correspond to its predecessor Equitrans LP.
EQT Midstream also did not record any income taxes in Q2-2013 due to the change in the business's structure following its IPO as a limited partnership. On the other hand, its corresponding 2012 results included income tax expenses of $6.9 million.
Sunrise Acquisition and Implications
EQT Midstream has recently acquired Sunrise Pipeline, a wholly owned subsidiary of EQT Corp for $507.5 million cash and $32.5 million as common and general partner units. An additional $110 million will also be paid if a third party agreement becomes effective after the closing of EQT Corp's sale of its gas business. The sale is currently awaiting regulatory approvals which the EQT Corp expects to receive by the end of the current year. Essentially, the only contingency is the regulatory approval which, I believe, will likely happen within the given time frame.
The acquisition was funded through an offering of 12.65 million common partnership units which translated into net proceeds of $529 million. Therefore, the acquisition did not have any meaningful impact, positive or negative, on the partnership's cash flow distribution.
Since the firm has already used the option of issuing additional partnership units and it has no debt on its balance sheet, therefore, I think EQT Midstream will likely use some leverage to make the additional $110 million payment to its parent. EQT Midstream's primary long term target is to achieve and maintain investment grade rating so it is aiming for 3x to 4x Debt-to-EBITDA ratio in the long run. Any decision to tap into debt will be made considering its Debt-to-EBITDA target. The firm's chairman and CEO David Porges said during the conference call that EQT Midstream will use "debt as acquisitions happen in the future, but we're not going to talk about how we'll specifically finance any individual transaction right now. Just expected that usage to go up overtime toward that investment grade kind of a metric."
Before the completion of acquisition, EQT Midstream used to make lease payments to the EQT Corp related to Sunrise. But since EQT Midstream has closed the transaction, therefore, it will stop making these payments from Q3-2013.
The pipeline runs parallel to, and interconnects with, the Equitrans Transmission and Storage System, the Jefferson's compressor station, and interconnects with Texas Eastern pipeline in Greene County. Sunrise, which has a throughput capacity of 400 BBtu/day, earns annual adjusted EBITDA of nearly $40 million which is expected to double by 2015. EQT Midstream plans to significantly increase Sunrise's capacity to 950 BBtu/day by Q3-2014 through a $30 million compressor expansion.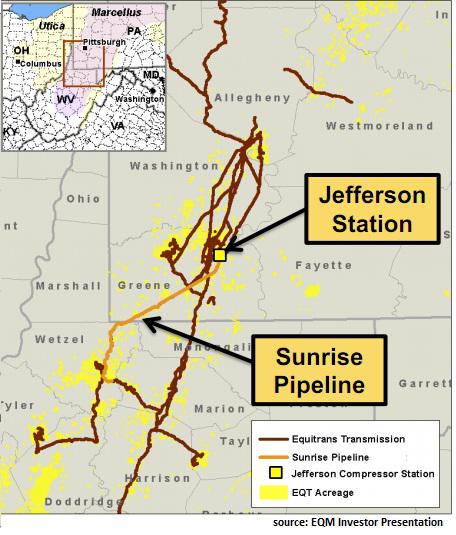 Through this acquisition, EQT Midstream will add a 41.5 mile FERC-regulated pipeline to its portfolio. The pipeline connects natural gas liquids processing with downstream operations therefore Sunrise will enhance EQT Midstream's capability to develop both liquid rich and dry gas plays. This is a fairly risk-free investment since Sunrise has been an integral part of the larger organization, and its current and future capacity is fully subscribed under long term contracts. Sunrise will immediately start contributing to the partnership's sales mix but through the investments in compressor expansion, Sunrise will start making considerably bigger contributions from 2015.
Capacity Expansion
EQT Midstream has also added incremental capacity of 300 BBtu/day to Equitrans Transmission. This capacity expansion, coupled with the Sunrise's capacity, was the main reason behind the increase in Equitrans Transmission's capacity from last year (as mentioned earlier). EQT Midstream is also working on the Low Pressure east expansion project by investing $30 million. The expansion will provide incremental capacity of 150 BBtu/day and will become operational from the next quarter. Through these efforts, and Jefferson compressor expansion, EQT Midstream will have a total capacity of 2.8 TBtu/day by the end of 2014.
EQT Midstream has a healthy balance sheet. As identified earlier, it has zero levels of debt. Following its IPO in early July last year, EQT Midstream entered into a five year $350 million credit facility with Wells Fargo. By the end of H1-2013, the firm had no amount outstanding under the facility. Moreover, it has nearly $46 million of cash left after the previous equity offering and Sunrise acquisition.
The Bigger Picture
EQT Midstream is a Marcellus pure play and is therefore relying on the production growth in the region for its own growth. The markets are expecting "explosive" increase in output from Marcellus in the current as well as the coming years. The area, which has been the "most productive natural gas field" in the United States, has more than 1,500 wells in backlog which will drive the 2013 and 2014 growth. The area could be home to nearly 50% of the proven American natural gas reserves. Last year, the production totaled 7 bcf/day, which represents nearly a quarter of all the U.S shale gas production, and is nearly twice as much as the 2011 production. Moreover, Wood Mackenzie believes that the area's production would increase to 14 bcf/day by 2020, representing a 100% increase from the 2012 levels. In short, there are going to be significant infrastructure demands from Marcellus' natural gas producers for many years to come. This will create substantial third-party organic growth opportunities for EQT Midstream in the long run.
One of the strengths of EQT Midstream is its close association with a leading Marcellus producer, EQT Corp. EQT Corp has nearly 560,000 Marcellus acres with 6.0 Tcfe of total proven reserves and a total of 25.9 Tcfe of 3P reserves. Moreover, the company's production volume has been increasing at an impressive pace. In its previous quarter, EQT Corp reported a 54% year-over-year increase in production volume led by 111% year-over-year increase in Marcellus shale output. In 2013, EQT Corp will increase its annual production by ~40%, which will be bigger than its already impressive 33% growth in 2012. The company will considerably increase its Marcellus output in the coming years and no other midstream company is in a better position to capitalize on this than EQT Midstream.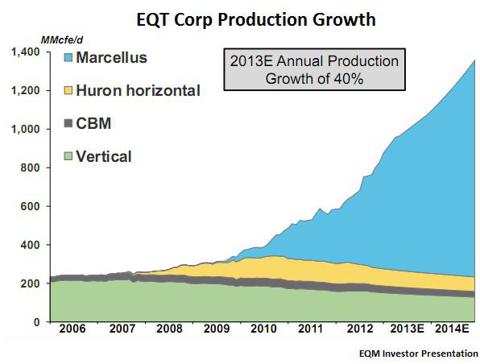 Conclusion and Price Targets
EQT Midstream is a small firm which is eyeing significant growth in the coming years. The company is backed by a premiere player at the Appalachian Basin. EQT Midstream's inorganic growth will be driven by further acquisitions in the future, which will mainly come on the back of more drop-downs from its parent EQT-Corp. The company will continue to invest in its transmission, storage and gathering systems and therefore it will be in a good position to capitalize on the increasing Marcellus production. The firm will also increase unit holders' value through a steady increase in cash distributions. It also has a strong balance sheet and more than enough resources to fuel its expansion without any threat to its investment grade. Therefore, I believe that EQT Midstream's units are a buy as it continues its growth story.
My current price target on the stock is $90.64, at which its shares would be trading at 14x its 2014 annual sales and represents an upside of 45.4% from its current levels. Investors should note that UBS AG have a price target of $99, BMO Capital have a price target of $120 while M. Partners and Oppenheimer have price targets of $50 and $55 respectively.
Disclosure: I have no positions in any stocks mentioned, and no plans to initiate any positions within the next 72 hours. I wrote this article myself, and it expresses my own opinions. I am not receiving compensation for it (other than from Seeking Alpha). I have no business relationship with any company whose stock is mentioned in this article.