Sprint Corporation (S) posted its second quarter results on July 30, 2013, showing its highest ever wireless revenue of $7.2 billion, an 8% year-over-year increase, but it incurred a net loss of $1.6 billion due to the shutdown of its Nextel network. However, it is buzzing with the news of its acquisition of Clearwire (CLWR), which happened in July. The company hopes to expand its 4G network in the U.S. with this acquisition. Also, news of Softbank's (SFTB.PK) takeover of Sprint will bring much needed investment and technological advancement in wireless broadband service. Let's look how these corporate changes can revive Sprint Corporation.
Long term evolution for Sprint
Sprint is finally putting things in order and acquired 100% stake in Clearwire, a wireless broadband service provider, on July 9, 2013. After having a complicated relationship with Nextel, which closed in June this year, it took a step towards future 4G technology. Sprint had to raise its offer three times in order to delight Clearwire's shareholders and fight off its rival Dish Network (DISH), a satellite TV provider. Clearwire has a 160MHz wireless spectrum in the U.S., which could help Sprint bolster its 4G Long Term Evolution, or LTE, network. LTE network is wireless broadband technology that supports internet access through cellphones and other devices. While other carriers moved on to 3G and ultimately 4G, Sprint was left with the slow, aging 2G Nextel network. With the acquisition of Clearwire, we believe Sprint will be able to build a robust LTE network and compete against the likes of AT&T (T) and Verizon (VZ).
Sprint offered $5.00 for each share of Clearwire to buy 1.47 billion outstanding shares. The deal is worth $7.35 billion for 49.2% stake, valuing Clearwire at around $15 billion. This is almost a 50% premium over Sprint's initial bid of $2.90 per share in December 2012 and shows how much value Clearwire holds for Sprint.
This acquisition will give Sprint a much needed 4G network to expand its wireless service. Although Sprint had a majority stake in Clearwire earlier, Clearwire's board acted independently and in the interest of its shareholders. Now that Sprint has full control, it can move forward with its plans.
Soft bank to assume majority stake
After striking the deal with Clearwire, Sprint is being acquired by Softbank, a Japanese telecom company, to strengthen its 4G network further. Softbank will assume 78% stake in Sprint for a total value $21.6 billion. Sprint shareholders will receive $16.6 billion, and $5 billion will go to the company. The company will be called Sprint Corporation instead of Sprint Nextel after the acquisition.
Softbank founder Masayoshi Son told Reuters that he was preparing a "secret weapon" to revive Sprint - a "very innovative product, innovative service that no other carriers in the world are preparing.
The secret weapon could be its expertise in running Time-Division LTE, or TD-LTE, network, a type of LTE network in Japan that it plans to bring to U.S. markets. In the U.S., major wireless providers, AT&T and T-Mobile (TMUS), use Frequency division LTE, or FD-LTE, which is different from TD-LTE network, as it uses different frequencies and is much costlier than TD-LTE.
We believe that using TD-LTE in two different countries will allow Softbank to negotiate better deals with network equipment manufactures and handset companies. This will bring cost synergies to Sprint and allow them to lower the cost of operations. The company said that the combined entity is expected to save $2 billion per year from 2014-2017, and $3 billion per year after that.
Many questioned how would Sprint compete against the likes of AT&T and Verizon, but with Softbank's financial strength and advanced technology, Sprint can strengthen its position in wireless broadband. Softbank will help upgrade its 4G network and bring financial backing, as currently Sprint is struggling with a huge debt.
The expertise of these two entities, Clearwire and Softbank, will allow Sprint to build a vast network and challenge the duopoly of AT&T and Verizon.
Rivals getting stronger
With sky rocketing demand of broadband services, AT&T and Verizon dominate the U.S. market. Recently AT&T announced that it is acquiring $1.9 billion worth of unused spectrum from Verizon. AT&T will gain 700MHz spectrum, which it will use to improve its LTE service to cover 42 million customers in 18 states in the U.S. It has been growing its LTE network and has coverage in 397 cities, covering 225 million people. The demand for 4G LTE is expected to grow at 45.65% from 2012-2016. The acquired spectrum will help AT&T expand its 4G network and deliver services to subscribers without disruptions. In exchange, Verizon will receive advanced wireless spectrum in five markets, including Los Angeles, Phoenix, and Albuquerque from AT&T. This will add further capacity to Verizon's 4G LTE network. Combined these companies control 70% of the wireless market and continue to amass additional spectrum to grow their subscriber base.
Bottomline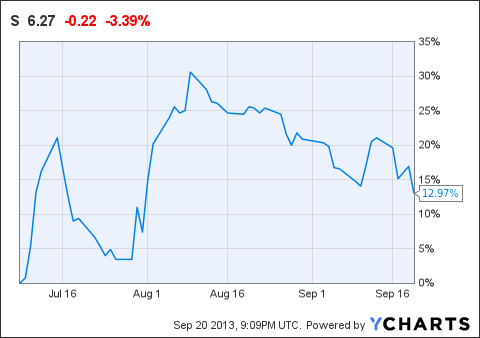 The newly named Sprint Corporation has given 12.97% appreciation in returns since July 8, 2013. Looking at the valuation, Sprint doesn't seem very attractive with negative earning per share, or EPS, of 1.44 in comparison to AT&T's EPS of 1.31 and Verizon's 0.55. This is because Sprint suffered heavy losses in the last two quarters. However, Sprint's EV/Revenue is lower among its peers AT&T and Verizon, signifying Sprint has revenue potential in the coming years. EV/Revenue is the ratio of enterprise value to revenue, comparing what price investors are actually paying with money generated by the company.
| | | |
| --- | --- | --- |
| Companies | EPS | EV/Revenue |
| Sprint | (1.44) | 1.25 |
| AT&T | 1.31 | 1.99 |
| Verizon | 0.55 | 1.56 |
Sprint is on its way to revival with the successful completion of acquisitions. Going forward Clearwire will expand Sprint's LTE network and will increase its subscriber base. Sprint will also achieve significant cost-synergies with Softbank. We believe the stock has upside potential and is a good investment option.
Disclosure: I have no positions in any stocks mentioned, and no plans to initiate any positions within the next 72 hours.
Business relationship disclosure: Fusion Research is a team of equity analysts. This article was written by Rohit Gupta, one of our research analysts. We did not receive compensation for this article (other than from Seeking Alpha), and we have no business relationship with any company whose stock is mentioned in this article.