Trash haulers make big money from commercial and construction, which means sales haven't grown much since the recession, particularly in hard hit California. Unemployment in that state got over 12% during the recession.
But, the economy is off its back and climbing again and that means more businesses are opening, more buildings are being built and more homes are being renovated. That's good news for waste collection and disposal companies like Waste Connections (NYSE:WCN).
The company has been scoring strong all summer in the system used by my firm E.B. Capital Markets, LLC, and it recently improved, suggesting it's a good time to look more closely at the company.
Source: E.B. Capital Markets, LLC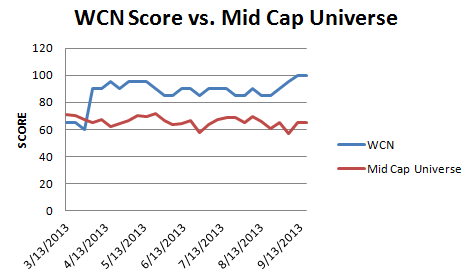 I've reviewed the SEC filings, earnings transcripts, press releases and marketing material and believe Waste Connections is positioned to capture volume and revenue growth from improving economic activity and growing domestic oil exploration and development.
The major catalysts supporting the company over the coming year include:
1. Economic recovery in its largest markets, including California;
2. Competitive pricing improvement; and
3. Growing demand for its oil field remediation business.
Cashing in on waste
Waste Connections primarily targets rural rather than urban markets. It's built a waste hauling business serving 2 million residential, commercial, industrial and energy customers within 31 states. Waste Connections also provides recycling collection and disposal. Roughly 50% of its business comes from California. Outside of traditional solid waste and recylcing, the company also operates R360, an environmental waste company specializing in cleaning up oilfield drilling sites in major formations such as the Bakken Shale and Eagle Ford.
The traditional waste business is a stable business with predictable sales. About half Waste Connections traditional waste business is contracted with automatic price escalators tied to the consumer price index. As a result, revenue in those markets climbs alongside inflation. The remaining markets are price competitive, making them more volatile as pricing sags in recession and rebounds in period of expansion.
In both CPI linked and competitive markets, sales growth is tied to consumer consumption, which boosts volume and weight, commercial and residential renovation and construction site activity. Those markets are highly tied the economic cycle.
Breaking out sales by business, solid waste collection represents 55% of Waste Connection sales. Waste transfer and disposal accounts for 27.6%. E&P waste treatment, disposal and recovery is 11.9% and solid waste recycling is 3.4%. The company also has a small intermodal business based near west coast ports. That business accounts for just 2% of sales.
The economy is providing waste tailwinds
Nationwide, the average person throws out 7 pounds of garbage daily. While Americans only represent 5% of the global population, they produce 25% of the world's trash. That's 2 times more trash per person per day than in 1960 and represents so much trash that if packed into trucks they would form a line halfway to the moon.
That means towns are spending big money collecting and disposing of garbage. According to U.S. Census data on municipal budgets, communities are paying more for waste management than services such as fire protection.
That spending will likely climb as populations grow. For example, population increases over the coming 10 years in Los Angeles are expected to drive solid waste beyond available capacity with some 48,000 tons of trash per day being generated by 2018.
But, it's not just the size of the population dictating waste management demand. The economy has a profound effect on the industry too. That means Waste Connections growth is closely tied to residential, commercial/industrial and construction/demolition activity.
1. Economic slowing means consumers buy less, in turn producing less waste.
However, that headwind has shifted to a tailwind for Waste Connections as retail sales have climbed from recessionary lows. That's boosting Waste Connections volume and pricing in key markets, particularly in West Coast states like California. Those western states make up about half Waste Connections sales.
"We took all of the downside through the Great Recession in the West Coast because of 100% market share in every one of these franchises. We took all of that, and as it comes back, we get 100% of that recovery at a guaranteed price, so it is incrementally very -- contributes tremendously," said CEO Ronald Mittelstaedt in the Q2 earnings conference call.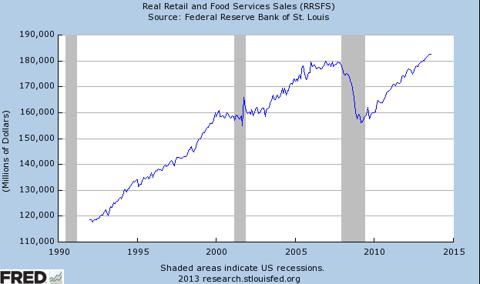 2. A more significant impact is found in commercial and industrial as an economic slowdown, reflected by commercial vacancy rates and industrial production, forces stores to close and reduces overall production, decreasing waste.
As more stores open, Waste Connections will enjoy greater growth. So far, data is tepid. The amount of vacant mall space remains a headwind; however, the measure is stable after vacancy hit an 11 year high of 9.4% in 2011. As of Q2, 2013, the regional mall vacancy rate stands at 8.9%, down from 9% in Q1. Vacancies at strip malls were 11% in 2011 and have improved to 10.8% in Q2, according to REIS.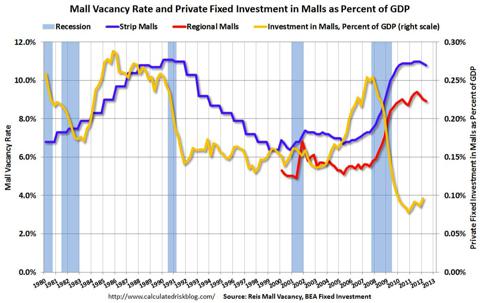 The industrial picture has been better for the company. Despite anemic GDP growth, industrial production has climbed off the recession lows as capacity utilization has improved from 66.9% in June 2009 to 77.8% in August.
"We saw the strongest period of gross new customers added commercially in Q2...we've seen in many periods," said Mr. Mittelstaedt. That admission suggests ongoing growth in industrial production, coupled with eventual new store growth, provides a solid future growth opportunity for the company.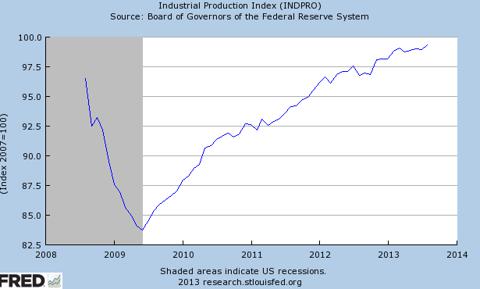 3. A downturn in the economy profoundly impacts construction and demolition activity, as reflected by housing starts and construction spending.
Housing starts have picked up as low rates, affordability and improving employment has resurrected the industry. That activity should continue to support Waste Connections hauling and disposal demand given the less volatile housing permits have also improved. That measure reached 918,000 units in August, up from 513,000 in early 2009.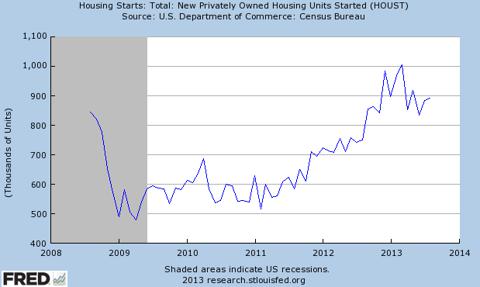 An improving economy translates into stronger sales and profits.
Waste Connections rural focus means its appetite to acquire smaller businesses is strong. The company devotes a section of its website toward that mission and in 2011 announced deals to acquire $200 million in annualized new revenue.
Acquisitions continued in 2012 with the purchase of Minnesota's SKB Environmental, with $30 million in annual sales, and the much larger and important $1.3 billion dollar acquisition of R360 Environmental Solutions a year ago. R360 disposes of non-hazardous oil field waste, operating facilities throughout booming shale formations including Bakken and Eagle Ford.
Buying the company added $300 million in revenue to Waste Connections growing environmental disposal segment. Importantly, R360's higher margins boost Waste Connections lower margin solid waste businesses.
In Q2, Waste Connection's sales were 19% higher at $489 million, with those acquisitions in 2012 contributing 16.7% of the growth.
"Favorable solid waste trends experienced earlier this year accelerated during the second quarter, resulting in revenue, adjusted EBITDA, and adjusted free cash flow all exceeding our expectations," said CEO Ronald Mittelstaedt in the Q2 earnings conference call.
Adjusted EPS rose 205% to $0.47 in the quarter, reflecting in part the benefit of R360's higher margin business. Adjusted EBITDA increased 28.7% to $169.4 million as the measure improved 2.6% to 34.6% of sales in the quarter from last year, above the company's forecast of 34.2%. Overall, Waste Connections acquisitions last year added 2.1% in year-over-year margin growth.
Margins in its solid waste business, on a same store basis, grew 0.50% in the past year thanks to higher disposal volume and better pricing. That combined to offset lower margins in recycling, where commodity values shrank.
Core pricing in solid waste improved 2.6% in Q2, while volume increased 0.9%, leading to 2.9% overall growth in solid waste. Pricing in CPI-linked markets is improving between 1.8%-2% while competitive market pricing, which makes up 48% of its solid waste business, is improving 4%-4.2%.
The improving results were spread across all 3 solid waste businesses, as disposal volume grew 14%, construction and demolition volume rose 26% and special waste volumes grew 7%. Year-over-year solid waste volumes improved throughout Q2, growing from up 8% in April to up just shy of 20% in June. Additionally, the company saw disposal tonnage improve at 70% of its landfills last quarter. That improvement meant organic volume growth came in about 2% higher than Waste Connections previous internal forecasts.
"Our solid waste business continues to benefit from an improving economy, with municipal solid waste volumes at our landfills showing the strongest year over year increases in several years," said Mr. Mittelstaedt.
The improving cash flow allows Waste Connections to boost its capital spending plan, pulling forward purchases of lower cost natural gas trucks, which allows it to benefit from bonus depreciation this year. The purchases are part of the company's plan for mitigating fuel costs. In Q2, fuel expense was 5.9% of sales as diesel prices increased $0.06 year-over-year to $3.58 per gallon.
As a result of Q2 strength, Waste Connections sales grew to $939.3 million in the first half of 2013, translating into profits of $103.5 million, or $0.84 per share. For comparison, the company's annual revenue was $1.08 billion in 2008. The sales growth resulted in net cash from operating activities expanding from $205 million in the first half of 2012 to $255 million so far this year. Net income has been growing too, climbing from $103 million in 2008 to $159 million last year.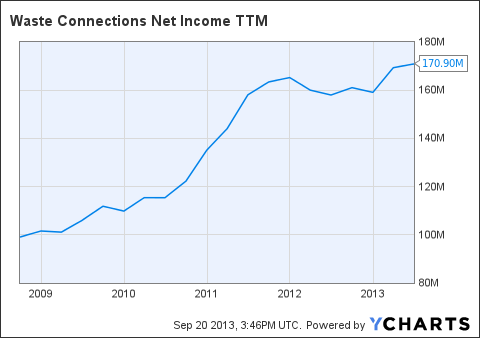 WCN Net Income TTM data by YCharts
Business should remain strong.
Results going forward for the company's E&P segment should improve given unusually wet weather depressed activity in the Bakken Shale last quarter. As everything dries out, temporary pit remediation demand could provide upside this fall. The company also has a new E&P landfill planned for the Permian Basin, which should boost sales beyond 2014.
In solid waste, the Western region is giving Waste Connections the biggest lift. Roll-off revenue grew 6% in the region last quarter, outpacing 3% growth for the company's eastern region. The weakest region was central, which was flat. The company expects volume growth to continue in Q3, rising 1.5-2.5% sequentially from Q2.
The company is also addressing recycling commodity headwinds and expects improving prices for old corrugated containers to improve from $129 in Q2 to north of $140 this quarter. If prices stay around that level this quarter, it would be 20% higher than Q3, 2012. That would mark the first quarter since 2011 where commodity values support the business, rather than hinder it. Waste Connections also expects the consolidation of 2 facilities in Washington and the outsourcing of a California facility will provide margin tailwinds thanks to lower future capital spending.
Waste Connections should also enjoy ongoing growth in E&P. The company handled 9% more E&P waste in Q2 than in Q1 and segment EBITDA improved 5% quarter-over-quarter. Q3 results could improve if seasonal oilfield remediation demand picks up, as is expected. And new facilities in the Bakken and in Oklahoma should provide tailwinds. The company also expects a permit for a new landfill in Eagle Ford early in 2014.
Combined, Waste Connections is guiding Q3 sales of $500-$502 million, up 18% from last year. Organic growth is expected to contribute 2.5%-3.5% of that growth as both pricing and volume heads higher. Operating income is guided to 23% of sales and should benefit from some leverage as labor has been reduced about 15% since the recession.
For the full year, the company estimates sales of between $1.925 billion and $1.95 billion, up from $1.66 billion in 2012 and $1.51 billion in 2011. That guidance may prove conservative, given the company has outpaced the street expectations for earnings in 3 of the past 4 quarters. Currently, analysts expect earnings to reach $2.02 in 2014.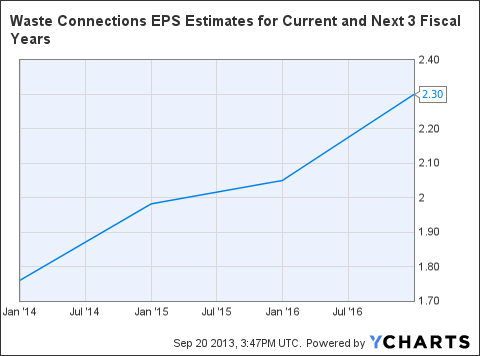 WCN EPS Estimates for Current and Next 3 Fiscal Years data by YCharts
That gives Waste Connections a forward PE ratio of 22x -- a bit rich when compared to 17.6x for competitor Waste Management (NYSE:WM) and 16.7x for Republic Services (NYSE:RSG). However, some of the premium is warranted given Waste Connections operating margins are better.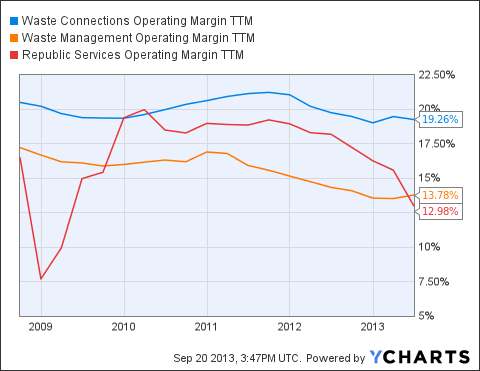 WCN Operating Margin TTM data by YCharts
As for timing, investors may find fall rewarding. Waste Connections has traded higher in 7 of the past 10 3-month periods starting September and finishing November. Over that period, shares have produced an average and median 4.32% and 4.84% return, respectively.
Source: Seasonal Investor Database

Given rising solid waste demand tied to the improving economy, new facilities serving highly active oilfields, and stabilization in recycling commodity prices, investors may want to consider adding Waste Connections to portfolios, particularly if shares consolidate from recent new highs.
Disclosure: I have no positions in any stocks mentioned, and no plans to initiate any positions within the next 72 hours. I wrote this article myself, and it expresses my own opinions. I am not receiving compensation for it (other than from Seeking Alpha). I have no business relationship with any company whose stock is mentioned in this article.