Darden Restaurants, Inc. (NYSE:DRI) reported first quarter 2014 earnings on Friday, September 20, 2013 of $0.53 per share, compared to analyst estimates of $0.70 per share. Revenue did gain 6.1% year-over-year lifted by new store openings, however, at $2.16 billion it did fall about $30 million below estimates. The company announced that it will seek to reduce costs by $50 million per year as it cut 80 to 85 operations jobs and cut some spending programs. At the company's largest brand, Olive Garden, same-restaurant sales fell 4% in the quarter and same-restaurant sales at Red Lobster fell 5.2%. However, trends did improve some at the end of the quarter as Red Lobster was lifted by its endless shrimp promotion.
I did recommend shorting Darden at the end of 2012 and the stock largely traded higher from that point; however, it has lagged the S&P 500 this year. Today Darden trades about $1 per share higher than where I recommended shorting the stock.
Another negative in the quarter was the 1.5% decrease in same-restaurant sales at the company's recently acquired Yard House brand. Management sighted the difficulty involved with integrating Yard House as the reason for the slowdown but also stated that the process was progressing as planned. Darden has added six Yard House locations since it acquired the brand and the company plans to add six more throughout the rest of fiscal year 2014. Yard House ended the quarter with 46 locations, Darden has said the brand could reach 200 outlets someday. Darden could certainly ramp up the pace of Yard House openings once integration is complete; however, should the slowdown in sales continue at this brand, it would be troubling for Darden.

When you look at Darden compared to some of its peers, you can see that on an EV/EBITDA basis the company is fairly valued. The average EV/EBITDA of this group is about 8.8, and Darden at 8.61 falls slightly below this average. However, Darden is equal to Brinker International Inc. (NYSE:EAT), the owner of Chili's, and Maggiano's. However, when looking at Darden's PEG ratio it appears overvalued, 3.38 compared to .98 at Brinker and 1.72 at DineEquity, Inc. (NYSE:DIN), owner of Applebee's and IHOP.
One of the challenges facing this company is that cash flow after the dividend payment was negative in the quarter. Darden continues to stick to a capex plan of $600 to $650 million for fiscal year 2014 driven by remodels and a plan to open 80 more outlets over the next three quarters. It appears that without a significant improvement in same-restaurant sales, the company will have a hard time maintaining the dividend and the capex budget over the medium term. The planned cost reductions announced on Friday are helpful but do not appear to go far enough.
There are a number of trends working against the company and management does not appear to be adapting to that change fast enough. One of those trends is job and economic growth that remain very weak. Darden being at the upper end of casual dining restaurants is dependent on a strong economy. The Fed's decision to not even make a slight cut to the rate of QE this week points to continued slow growth in the economy over the medium term. Another challenge Darden is facing is attracting a younger customer to its restaurants. One thing that could help Darden in this respect is that the current COO is retiring at the end of the quarter and he will be replaced by the current president of the specialty restaurants group that includes Capital Grille and Yard House. However, it appears as though there is little reason for current trends to reverse within the year and same-restaurant sales are likely to remain volatile with a possible downside bias. Darden has lowered guidance now saying same-restaurants sales will be flat this year, but that still means same-restaurant sales will have to be positive over the rest of the year to reach that guidance.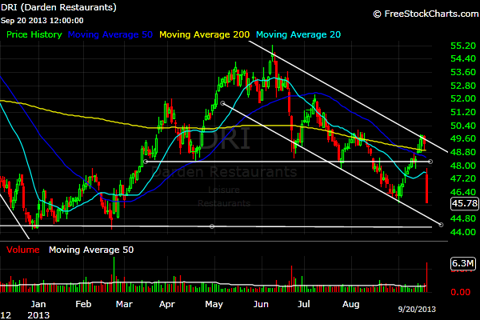 Looking at Darden's chart, it appears there could be more downside in this name. You can see a head and shoulders pattern that set up over the summer and has now lead to the down channel that the stock is in. The stock could recover some of the lost from the earnings announcement on Friday; however, I believe the shorts will be rewarded in this stock over the next few months. I would look to take a short position between $47 and $48 per share. The $44 per share level as this has been an area of support in the past and could again stop the fall in the stock price. However, if the market pulls back, Darden could be hit harder than the market as a whole and that could be enough to push it below that support level. Longer term Darden has a diverse group of brands and management could turn the company around restoring long-term growth. However, in the intermediate term, the headwinds facing both the company and the industry will likely be significant.
Data sourced from: Company filings, and Yahoo!Finance. Chart from: Freestockcharts.com
Disclosure: I have no positions in any stocks mentioned, but may initiate a short position in DRI over the next 72 hours. I wrote this article myself, and it expresses my own opinions. I am not receiving compensation for it (other than from Seeking Alpha). I have no business relationship with any company whose stock is mentioned in this article.