Investors in developing pharmaceutical and diagnostics company, OPKO Health Inc (OPK), received a boost of confidence this past Thursday. On September 19, CEO Phillip Frost resumed his regular purchasing of company stock. The zealous billionaire, whose fortune was last estimated to be worth $3 billion by Forbes, has become a motivating force for investors. With a reputation for successfully investing into companies he leads and eventually selling them for a profit, Frost's holding in OPKO has received much scrutiny.
According to the Form 4 found here, Frost now indirectly controls 152,228,805 shares of OPKO Health. With the closing share price of $8.38 on September 20, his position in OPKO stands at a value of $1.28 billion. With roughly 40% of his fortune devoted to a single company, investors have much found much reason to find confidence in the purchases of this particular insider. This is especially the case when considering that Frost had been purchasing company shares on a regular basis since he became the company head in 2007.
Yet for nearly two months, Frost's purchases of company stock had been missing. Despite regularly purchasing shares on a near daily basis, the leading officer atypically halted his insider purchases in late July. As seen in the chart below, Frost's last purchase was seen on July 25 as the company continued to set new 52-week highs. This led many investors to question whether the company's valuation was beginning to get too rich for one of the world's richest individuals.

Nevertheless, Frost's most recent purchase on September 19 has helped to diminish such perceptions. The insider purchased 20,000 shares in a transaction valued at $165,966. With 152.23 million shares, Frost's latest update gives him a 37.7% ownership in the company he now leads.
Over the last 5 years, Opko's share price has steadily climbed as the company brought together an impressive portfolio of pharmaceuticals and diagnostics. As seen in the chart below, the company's share price increased over 300% in light of this potential. While revenues have also significantly climbed over the same time period, the company's share price continues to remain pinned to the underlying potential found in OPKO's pipeline.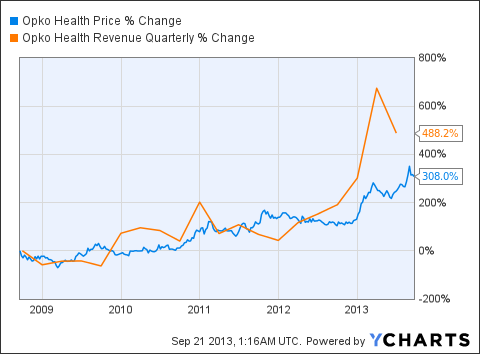 Over the last year, OPKO has conducted roughly six strategic acquisitions in an aggressive strategy to build a strong product pipeline. Indeed, it is potentially the most recent acquisition which may account for the gap in Frost's purchasing habits. On August 29, OPKO Health completed its acquisition of PROLOR Biotech, a company containing four late stage candidates in the areas of growth hormone deficiency, hemophilia, obesity, and diabetes. As a leading shareholder and insider for both OPKO and PROLOR, it may have been advantageous for Frost to restrain his purchasing.
As of September 20, one noteworthy aspect of the company is that the short interest remains alarmingly high. As of August 30, there were 34.14 million shares short. This stands as one of the highest readings in the company's history as seen in the chart found here. As of September 10, there were 403.61 million shares outstanding according to the filed Schedule 13D found here. This means that practically one out of every twelve shares was being shorted as of last late August. Inevitably, there will be a need to cover this short interest which may place additional buying pressure on the company's stock.
Based on Friday's close, the company now trades with a market capitalization of $3.38 billion based on 403.61 million shares outstanding. Still operating at a loss and carrying only $641 million in total assets as of June 30, it remains abundantly clear that investors continue to play a hefty premium on the company's shares. Nevertheless, it is the product pipeline that continues to attract investors into the story now forming here. According to Seeking Alpha contributor Josh Ginsburg in his article found here, the company stands poised to address an estimated market worth $79.8 billion over the long-term.
Final Thoughts
As the leading officer and Chairman of the Board, Phillip Frost undoubtedly plays an important role in the OPKO's ongoing development. For some time, the successful billionaire has displayed a consistent record of insider buying at ever higher prices. The officer's latest purchase helps to renew investor confidence following the large acquisition of PROLOR Biotech, a transaction made entirely with company stock.
Opko now trades with an excessive premium when one considers the current status of the company's financials alone. In 2012, the company only brought in $47 million in revenue which to a loss of $31.2 million. Apart from the late-stage pipeline potential, the development company has little to merit the current $3.38 billion market capitalization it now wields. Nevertheless, OPKO Health remains a speculative investment with a strong insider leading the way. Holding nearly 38% of the company's shares, Frost continues to show his willingness take a greater position in the company he leads. As shown in the company's price to date, it remains difficult to believe that investors won't fail to do the same as long as he continues to do just that.
Disclosure: I am long OPK. I wrote this article myself, and it expresses my own opinions. I am not receiving compensation for it (other than from Seeking Alpha). I have no business relationship with any company whose stock is mentioned in this article.